In a small plaza just off of Lake Avenue sits Sugarfish, a small sushi restaurant that is known for having sushi that "melts-in-your-mouth."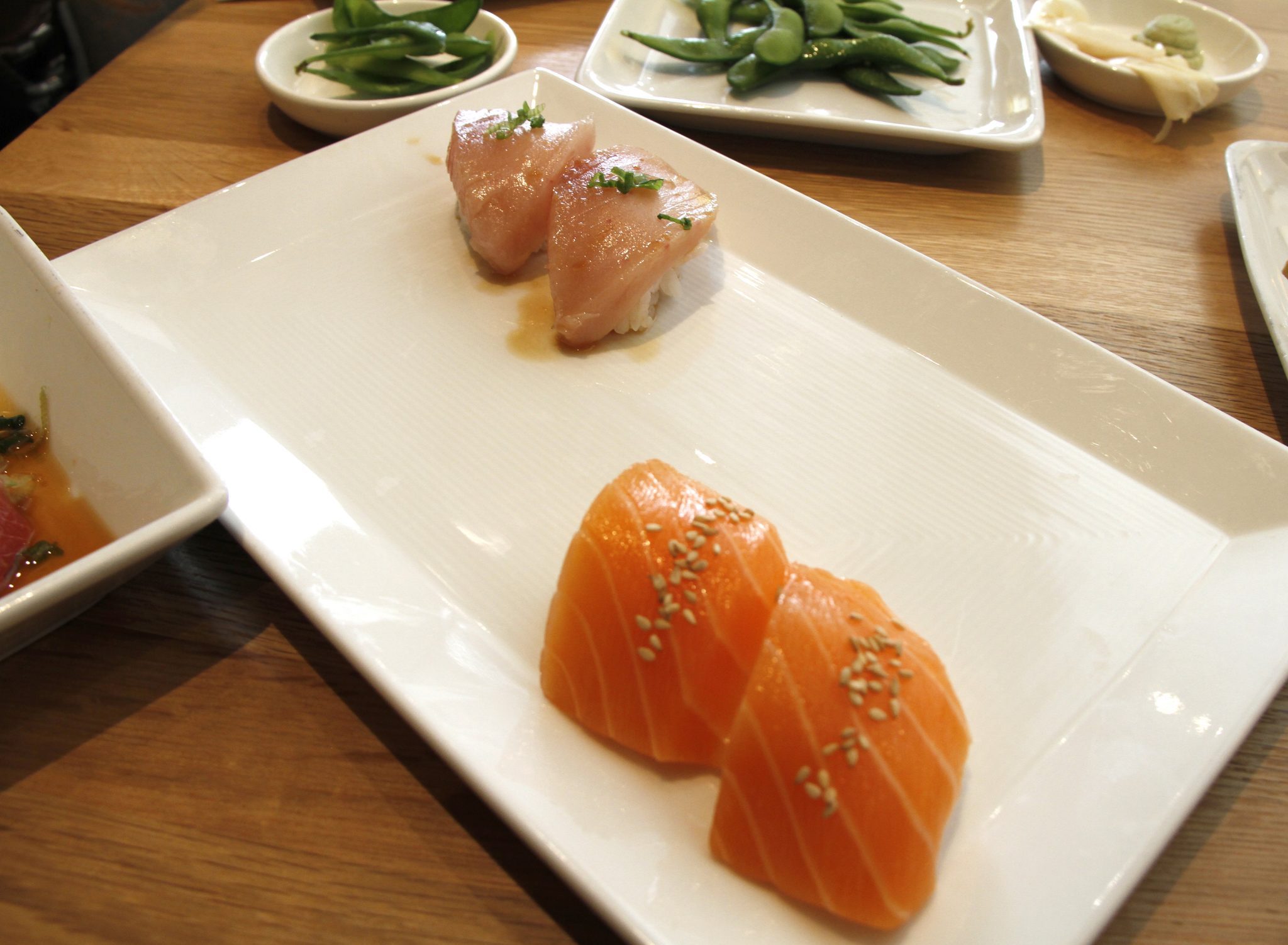 After receiving a 4.6 star-rating on Yelp and being dubbed as one of the best sushi restaurants in Pasadena, it's safe to say that I walked in with some pretty high expectations.
I arrived at 12 p.m. on a Wednesday afternoon and instantly noticed the restaurant was missing something that has been central to almost every other sushi experience I've had — there was no sushi bar.
According to Sugarfish's official website, this is because they set their space up for maximum quality and efficiency, rather than for purposes of putting on a show for the customers.
I was seated in a booth almost immediately, even though there were only about a dozen tables and 10 counter seats in the entire restaurant. While it was small, it seemed to be filled with corporate executives on their lunch breaks, as most other customers were dressed either in suits or business casual attire.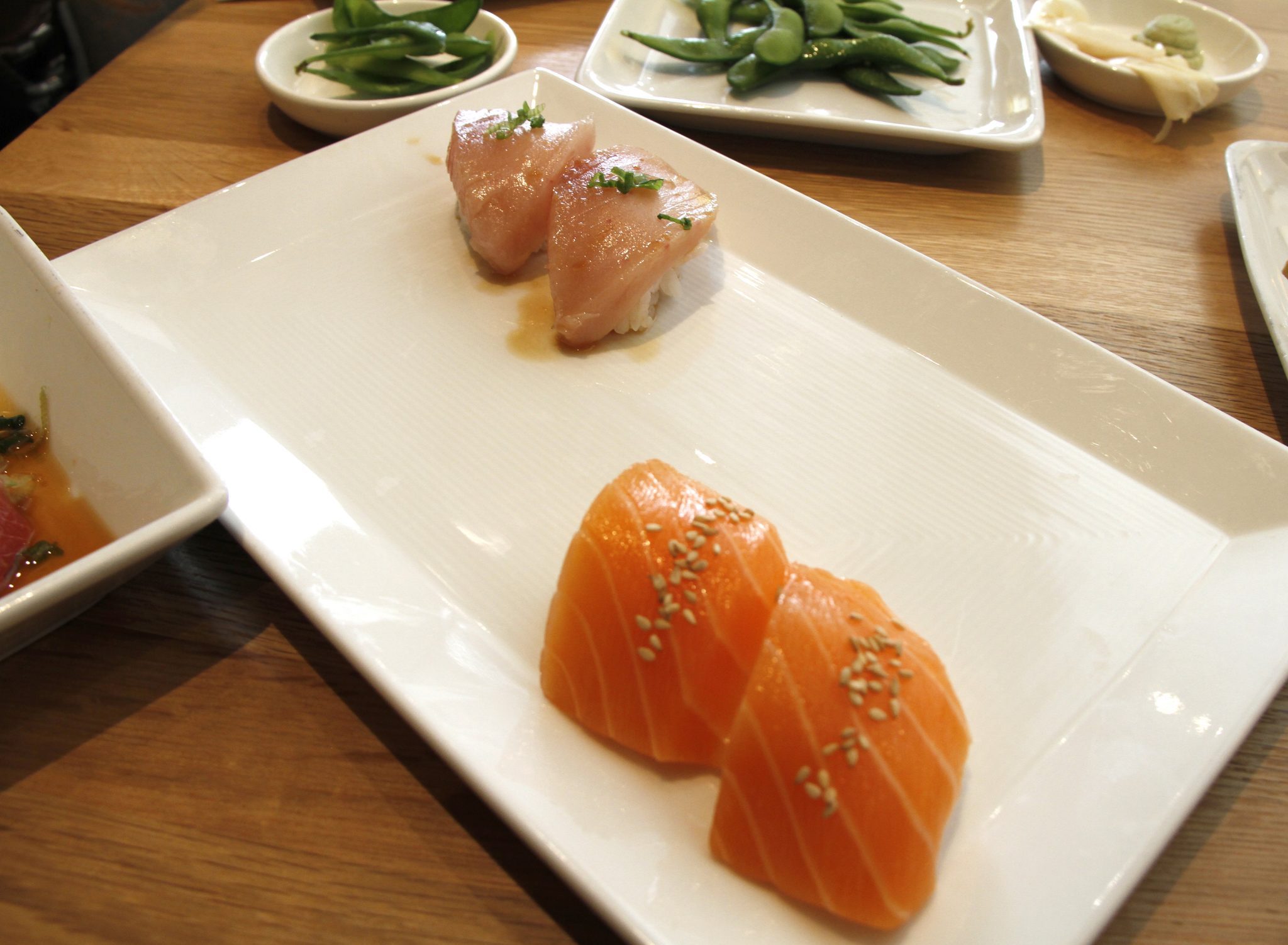 The atmosphere can easily be described as picturesque, the brick and wood walls are earth-toned and industrial lamps hang from the ceiling, making the quaint space seem calm and inviting. Music was playing overhead, though hardly audible over the ambient noise and loud chatter of other diners, and the walls were decorated with multiple pictures of knives and fish on cutting boards.
Since it was my first time at the restaurant, the waitress was quick to give me a rundown of the menu, where I immediately read a few things I wasn't used to seeing at my regular sushi spot.
First, they don't want you to tip. I was told twice that a 16% service charge was already being added to my bill — once right when I sat down and again when I was handed my check.
Secondly, they tell their guests not to wait for all of the food to reach the table before they start eating and how the hand rolls should be eaten first, before the seaweed starts to get soggy. They also strongly advise against dipping already-sauced dishes into soy sauce and will "politely decline" requests for any extra sauce, rice or salt the customer asks for.

If I had any plans to dip my tuna rolls in eel sauce, I knew right then that wasn't going to happen.
According to their menu, Sugarfish's style of sushi is focused on quality. They advertise that simplicity and balance should be used to enhance the natural flavor and texture of the fish, the rice should be warm and loosely packed (so that it "melts in the mouth") and that sushi should never be stringy, chewy, tough or fishy.
Unlike most other sushi restaurants, Sugarfish doesn't serve specialty rolls and is known for their "Trust Me," "Trust Me Lite," and "The Nozawa Trust Me" options on their menu, which all include a little bit of everything the restaurant specializes in. Being quite picky about my sushi (I'm an avid spicy tuna fan), knowing that I would have to almost blindly trust the sushi chef, who I couldn't even see, with my lunch was a little disconcerting.
I ordered The Nozawa Trust Me, which came with organic edamame, tuna sashimi, albacore sushi (2 pc.), salmon sushi (2 pc.), yellowtail sushi (2 pc.), hirame sushi (1 pc.), snapper sushi (1 pc.), a "toro" (fatty tuna) hand roll, a blue crab hand roll and their daily special (2 pc.).
Although the idea of raw fish literally melting in my mouth is slightly revolting, when I tried their albacore sushi, I understood what all the fuss was about. I only needed to chew maybe once or twice before the warm, sweet rice and fresh tuna seemed to dissolve, making the two pieces I was served disappear faster than I wanted them to.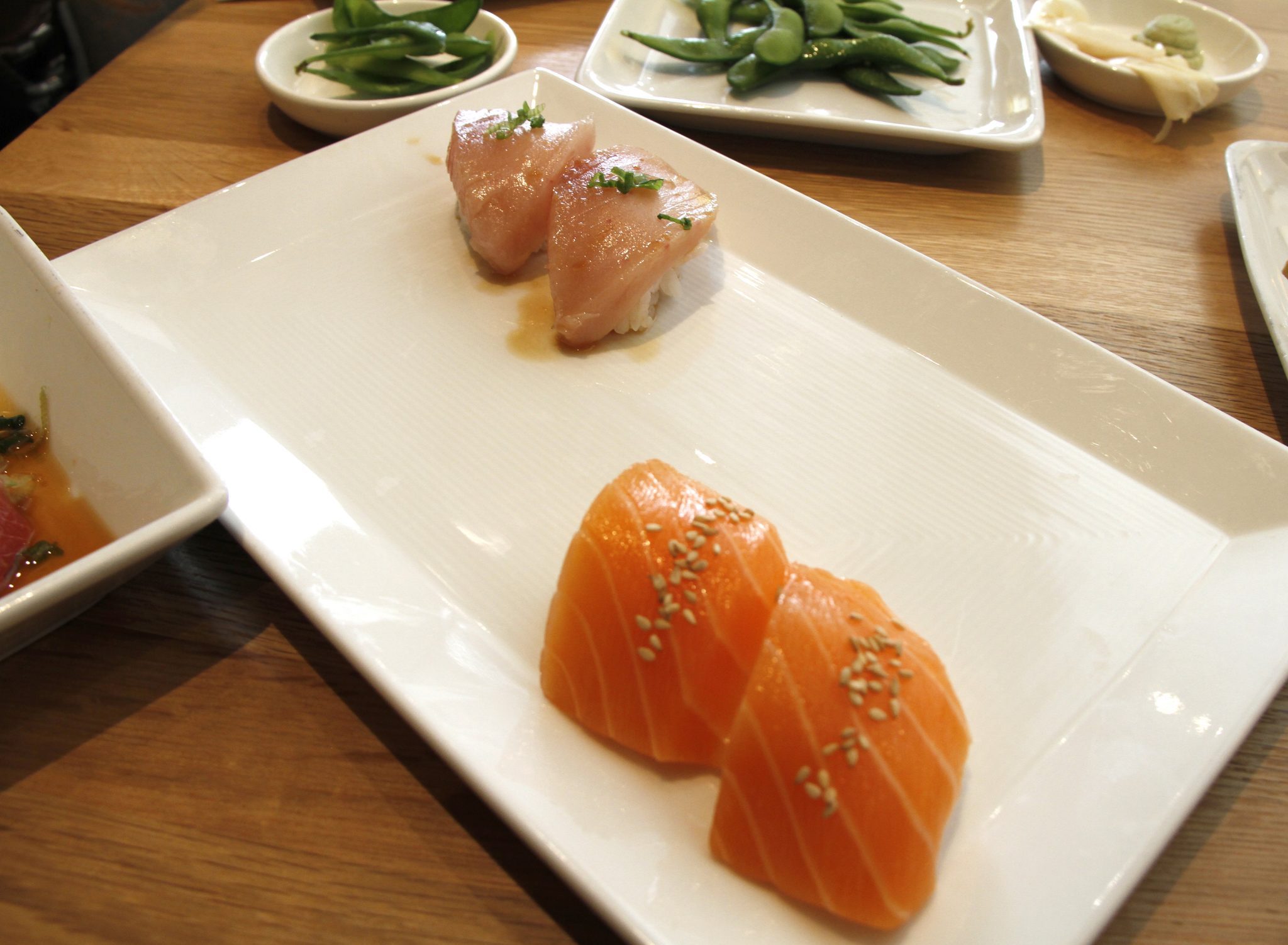 Mostly everything was delicious — the tuna sashimi was fresh, the salmon was tasty and the toro roll (my favorite) was mouthwatering.
The only part I wasn't a fan of, however, was the blue crab hand roll. Something about it just didn't seem right. It was crunchier than I was used to—and before you ask… no, the crunch wasn't the seaweed. It left a weird aftertaste in my mouth that I do not want to relive.
Overall, the sushi was great. For the price I paid, however, it was only good. I thought I was full when I left, but instead, I was hungry a mere two hours later. While, yes, sushi's typically a light meal, I'm usually full for a much longer span of time when I leave my usual sushi spot (and my wallet's a little fuller, too).
Sugarfish's style seems a bit too strict for me. I was constantly told which rolls should be dipped in soy sauce and which ones shouldn't. If you order takeout, they'll even give you a condiment guide.
While some people may be grateful they're being told how to eat their food in order to maximize taste and experience, I wasn't. If I want to add salt to my fish, or get a side of eel sauce to dip my rolls into, I feel like I should be able to get that. After all, I'm the one paying nearly $50 just to have lunch.
Rating: 3.5/5 sushi
Latest posts by Cailynn Knabenshue
(see all)