PCC's Latin Jazz Ensemble serenaded Lancer's Pass last week, collecting passing students who were entranced by the genre's infectious rhythms. 
The ensemble, led by Dave Tull, played classics from the Latin jazz repertoire, such as Mama Guela, Como Fué, Llegó La Banda and Mambo Diablo, and swing songs redone in the Latin style. Cantaloupe Island is a jazz standard that the ensemble played as a samba and There Will Never Be Another You was played as a mambo. The ensemble played the jazz standard Mr. PC in the Latin style as well, and Tull called this Latin rendition Mr. PCC. 
"We are not just strictly a latin ensemble, we are a latin jazz ensemble," said Tull. "I come a little more from the jazz side so my ensemble tends to be some latin jazz and salsa but also a certain number of arrangements of jazz standards for latin style."
The ensemble consists of a piano, bass guitar, trombone, guitar, trumpet, alto and tenor sax, congas, bongos, timbales, singers and other percussion. In some moments many of the musicians in the band sang despite not being miked, and throughout the set each musician got a chance to solo. The musicians interlace to create a tapestry of rhythm and melody that is unique to a genre. 
"I think the group did very well overall, especially because this was their first performance of the semester, just over a month from the first class meeting," Tull wrote in an email to the Courier. "I was pleased at the enthusiasm and energy that they all brought to the performance and the amount of material they have learned since the first rehearsal in early September." 
Tull believes that the ensemble could improve their reading skills and as a result fix small rhythmic and melodic errors. Students need some reading skills to get accepted into the ensemble, but it is a skill that can be improved over the course of the semester.
"We are an educational institution, so the whole goal is to present material that pushes the students out of the comfort zone that they may have had in earlier playing situations," Tull wrote. "This is especially true for freshmen who are getting used to the way a college level band functions as opposed to a high school level ensemble."
Jessica Steele is a music major at PCC and a vocalist in the ensemble. She has been singing for 12 years and has been getting music education for five years. Steele sings in different styles but she explained that singing in the latin style has a particular feeling.
"The energy is just completely different," Steele said. "There is a lot of involvement and a lot of adlibs going into there. The rhythms are very different from traditional jazz. There is a lot thrown in there, but it is a lot of fun!"
Steele compared the musicians in a latin ensemble to pieces in a puzzle. Each piece is there to support the pieces next to it, and if any piece is absent the puzzle doesn't come together. 
"When you are listening to the music you are really immersed in it and I think everyone in the band plays such a specific part," Steele said. "I think there is a lot of attention and focus that goes into it and a lot of passion to it and that is what makes every ensemble so different."
Ismael Balle is the bassist in the ensemble and Gus Tello is the saxophonist. Balle, Tello and Steele used to play together in an LA band. Balle and Tello joined the ensemble because Steele recruited them, and they became PCC students specifically to join the ensemble.
Latin jazz, like swing jazz, involves improvisation. There are strict limitations to improvisation in Latin jazz that ensures the player sounds good within the style. 
"I enjoy it [improvisation], but I would say it is kind of difficult in the latin setting, because there are so many rules you have to follow," Balle said. "Even if you are playing drums and if you want to solo or do a fill there are curtain rules that you have to follow with that instrument. It's hard, but when you execute those rules it sounds really nice!"
Tello can play saxophone, trumpet and does vocals. Along with playing saxophone, Tello sang during the set. Tello agrees that latin jazz needs a greater amount of coordination between the musicians than other genres.
"The overall communication within an ensemble has to be spot on," Tello said. "With any kind of music obviously you have to have communication, but there is something about Latin jazz especially. Specifically on vocal improvisation, you have to be spot on with the group and whoever else is doing vocals with you. You have to have a special connection with your ensemble to be able to pull that off."
Part of what makes Latin jazz so special is its history. Latin music is a product of rhythms and melodies merging from the conquistadors of Spain and Portugal, slaves transported from Africa and the music of original peoples of the American continent. This rich musical heritage had one more merger to create the contemporary style of Latin jazz.
"Latin Jazz, going back in history, I would say it is very special because of how hard it was for it to actually become a thing," Balle said. "For example, way back when you had this bebop trumpet player, Dizzy Gillespy, the only reason Latin music came to be is because he brought over Arturo Sandoval and they started meshing styles. He had Arturo, who was a Cuban-Puerto Rican mix, and when he and Dizzy Gillespy joined, Latin jazz really started taking over."
This collage of musical styles is mirrored in the composition of PCCs ensemble which consists of musicians that come from a mishmash of backgrounds.
"What is special about this group in general, the PCC Latin ensemble, is the fact that everyone comes from a different musical background," Tello said. "From what I know, there is not one person in the ensemble that is only dedicated to Latin music, you know. We have people that do classical music. One of our percussionists, Christian, has more experience with the African drum beats."
If someone wishes to join the Latin Jazz Ensemble, Tull invites PCC students to audition by showing up to the first class of the semester. If they get into the ensemble they can get an add code and add the class.
"If a student is interested in being involved in the latin jazz group, they have to have a little bit of reading ability and it is helpful if they have played their percussion or horn or something a little bit in previous situations, but I think some students get scared away because they believe you have to be really great," Tull said. "They don't have to be in the music department, they can come and audition for the latin jazz ensemble and be part of it and we would love to have them come try out."
For those wanting to listen to latin jazz, Steele recommends listening to Celia Cruz; Balle recommends listening to the group Fania and a song called Manteca, and  Tello suggests listening to Buena vista Social Club.
The next performance will be on Nov. 15 at 12 p.m. in Lancers Pass by the Center for the Arts building. The ensemble will also be performing a concert in the Westerbeck Recital Hall on Dec.12.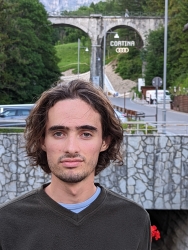 Latest posts by JD Alibrando
(see all)