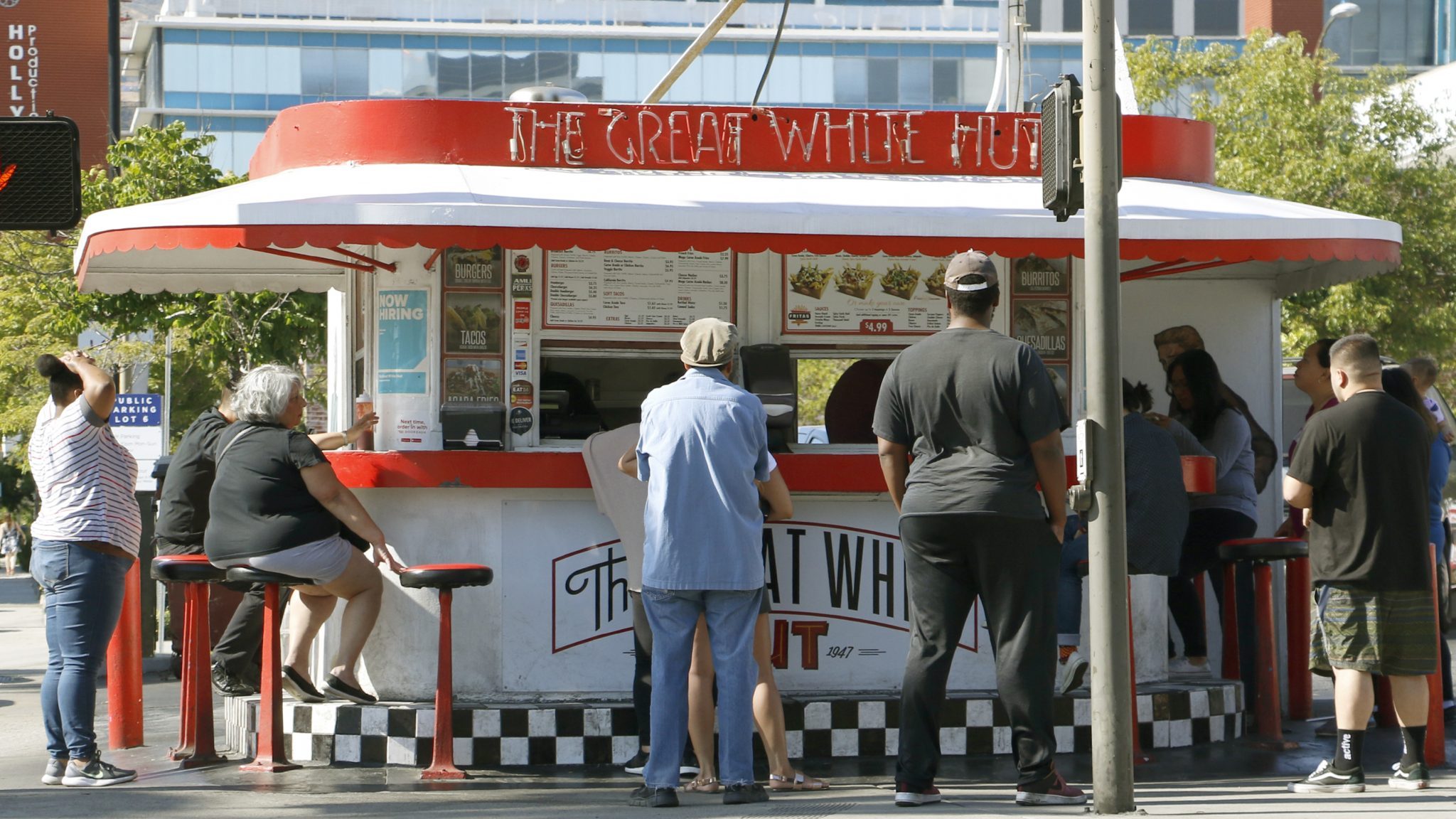 On the corner of California Avenue and Orange Street in Glendale sits The Great White Hut, a burger and fries restaurant that impossible to miss if you know what you're looking for: a white hut.
I've walked past this hut quite a few times after working out and have long appreciated the irony in their restaurant name — the great white hut is actually a very small white hut. But the size of the space hasn't seemed to affect the number of customers they're able to serve as there is usually a lot of people waiting in line.
I arrived just after 7 p.m. on a Tuesday night and placed my order after one or two minutes of waiting at the register, which was quite fast given that there were only three employees working at the time.
If you've ever been to an In-N-Out that only had outdoor seating (the drive-thru one on Foothill Blvd. in Pasadena), it's easy to imagine what going to The Great White Hut is like. Except there's no drive thru and there are only about ten or so barstools that are located around the perimeter of the restaurant.
The staff were just about as friendly as those at any fast food restaurant (except for those at Chick-fil-a, who never have off days when it comes to customer service and everything is "their pleasure). They said hello and smiled when they gave me my order, but nothing extraordinarily out of place.
I waited only about 10 or so minutes for my food, which wasn't bad for a cheeseburger and an order of "gourmet fritas," which are essentially fries topped with three toppings and two sauces of your choice.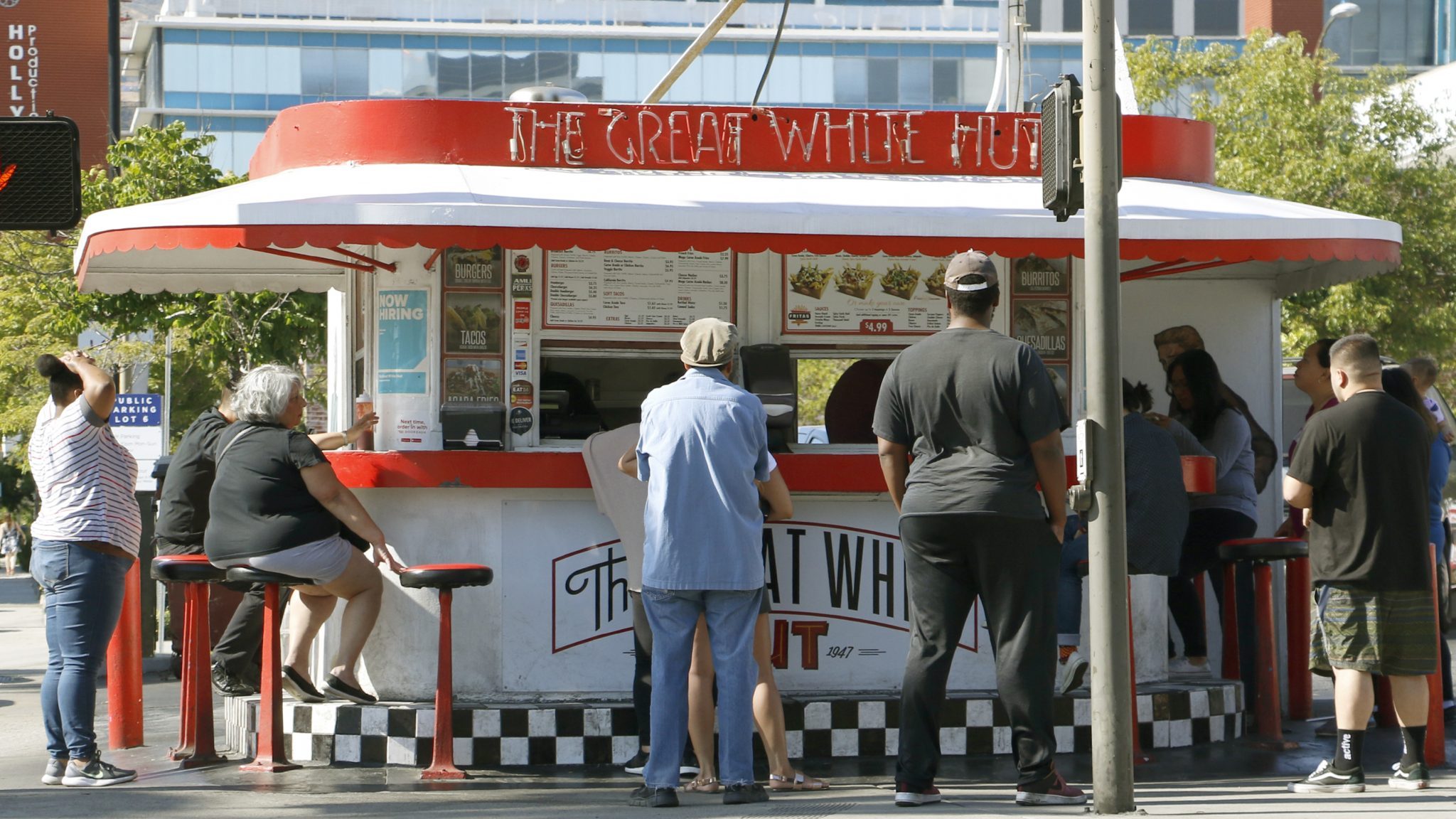 Their burgers all come topped with lettuce, onion, tomatoes, thousand island and pickles, and the Americano fries came with bacon, cheddar cheese, grilled onions, ranch and a spicy garlic aioli on top.
I was unimpressed with their burger, it was small and nothing about it stood out to me. If a burger was all you were looking for, I'd go down the street to Shake Shack instead.
The fries, however, were delicious. They were served with a fork, which was understandable once I saw what I was in for. I could hardly even see the fries underneath all of the toppings and sauces. The garlic aioli wasn't overpowering and it added the perfect amount of spice, complementing the salt from the bacon and sweetness of the grilled onions.
If anything's worth going back to the hut for, it's their fries. If the pre-made selections on the menu aren't appealing, there's a wide array of toppings and sauces available so that even the pickiest eaters can create an order of "gourmet fritas" to their liking.
The Great White Hut is open Monday – Thursday from 6 a.m. to 9 p.m., Friday from 6 a.m. to 3 a.m., Saturday from 9 a.m. to 3 a.m. and Sunday from 11 a.m. to 5 p.m. If you're ever up super late (or early) on a Friday or Saturday night and are in need of a good place to satisfy those late-night munchies, this is definitely a place to keep in mind.
Rating: 3.5/5 huts
Latest posts by Cailynn Knabenshue
(see all)