Tucked away by the E building and the library, Cafe de Leche invites lancers to try out its large assortment of drinks and pastries.
Opened by Matthew and Anya Schodorf, Cafe de Leche has three other locations in the LA area, one in Highland park, another in Altadena, and its most recent directly on PCC's campus. The couple were inspired to open a location at PCC because of Matthew's history with the school.
"My whole family speaks spanish so I took some classes here to catch up," Schodorf explained. "We had wanted to expand but pre-pandemic was really hard. Thankfully the pandemic really helped us out in getting this off the ground."
Working hard through the pandemic the duo was able to get working right away and open this past summer. They were sure to bring tons of their popular recipes from their other locations, as well as create a menu with cheaper drinks, specifically for lancers passing by to introduce them to the shop.
"We have our traditional menu with our cold brews and other choices, but we wanted to give students a chance to try things for cheaper," Schodorf said. "Our most popular item is the hibiscus lemonade on the lancer menu, tons of students love it."
While not just bringing its menu items with them to PCC, the team has also brought its work ethic with them as well. While pre-pandemic they had relations with coffee bean farmers in countries like El Salvador, Guam, and Nicaragua, but they have since had to limit to just farms in the US due to higher import prices. But this hasn't stopped them from having good relations with their partners.
"We always try to build good relationships with the farmers and take a good amount of time to handpick the coffee we bring back to roast," Schodorf said.
While it started off slow, business has been great for the small team of baristas working there. Being placed in the middle of a high-traffic area has helped to get students' attention, as well as their cozy little seating area next to the small gazebo that houses the shop.
Its welcoming space has been a highlight for students like Samantha Isteefan, who enjoys its presence on campus.
"I have friends at GCC that have a Starbucks and Coffee Bean on their campus so having our own little place is nice," Isteefan said. "The sitting area is incredibly nice and ties the whole thing together."
Some students have welcomed this new addition to PCC with open arms, Valeria Garcia, a first year pre-med student here at PCC is already a devoted fan.
"Everyone is just so nice and friendly when you walk up, they're also very quick with your order," Garcia explained. "My favorite drink to order is the thai styled cold brew, it really helps to keep me energized."
Cafe de Leche is an incredible addition to campus and has been very well received by students. In the future, the team is looking to host evening events/get-togethers to invite more students to stop by this cozy space on the PCC campus.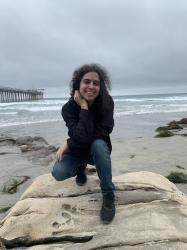 Latest posts by Samuel Valencia
(see all)