The Lancers so dominated their last season game against El Camino College Compton Center that Pasadena's goalkeeper, Angie Ulmer, only touched the ball once, in the second half, with her foot.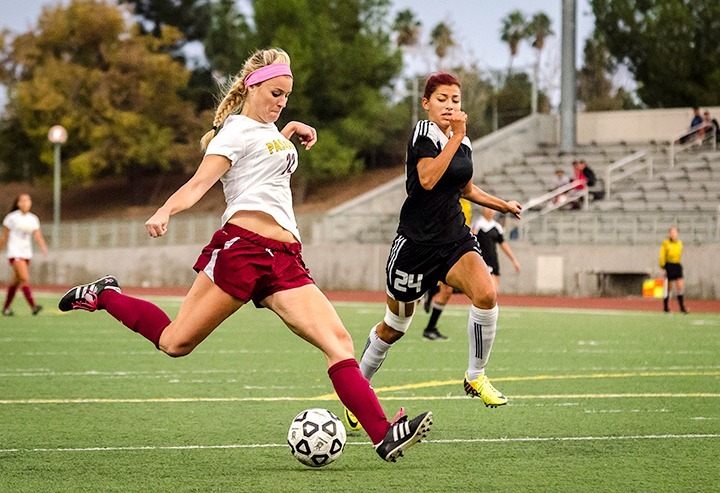 The ladies on the bench kept calling out to her, jokingly trying to keep her awake.
With the final score of 3-0 at home in Robinson Stadium on Friday, the Lancers finished with a 5-4-5 conference record and a 7-6-7 record for the season.
Pasadena opened the scoring with Amanda Papac crossing the ball from the right side. Bianca Martinez, after a momentary bobble, headed it home. "I made the run and [Papac] crossed it, and I tried to use my whole body, so it hit my thigh and it went up and the I headed it in," Martinez said.
The second goal came when Alexandria Jimenez chipped the ball over the ECC defense, for Papac to take a touch or two and drive the ball into the bottom corner.
Then the players began to enjoy themselves, as Coach Reggie Rivas flipped around the players. For some time the defender Bailey Shaw played forward, while the forward Papac played in defense.
There were a number of chances that bounced off the post, but the Lancers finally got their third goal when Lizbeth Rodriguez made a perfect volley into the bottom corner.
The end of the game was marred when Martinez and ECC Compton Center's Stephanie Pacheco got in a fight, dragging each other to the ground and clearing the benches. Both players were ejected from the game.
"It was a good game, but it got little rowdy in the second half. That is the second time this happened with this team, our first game we played against them they slapped one of our players," Papac said.
But the tense ending didn't mar the celebratory feel as the women finished their season on a high note.
Latest posts by Benjamin Simpson
(see all)