The Lancers were defeated by the Long Beach Vikings in a home game at the PCC Aquatic Center this past Wednesday. PCC scored their first and only goal during the final quarter, ending the game with a score of 15-1. 
Although the team was strong in the water, the opposing team had quick tactics that allowed them to continuously score goals. Sophomore Fernanda Alvarez scored the team's one goal, although it was due to a penalty.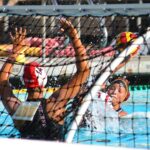 "It feels good but I want other people to score too. I want the whole team to get involved in offence," Alvarez said. "Most of the team is new, there's only three returning players. But I've played with some of them since high school so I know them." 
The team's goalie, Jackie Collier, displayed vigorous stamina in her position. So much so, that she unfortunately sprained her elbow during the third quarter of the game; the team then called a timeout and switched goalies.
 "It was a freak accident," said Collier. "It's not common for these types of injuries to happen, most injuries are shoulder, hamstrings and cramps."
The team's coach, Terry Stoddard, assured that injuries like this aren't common, and this particular incident was surprising. Stoddard has been coaching the Waterpolo team for 21 years. He has been the only water polo coach at PCC so far. 
"I've been the coach here since we first acquisitioned in 1999, nothing crazy happens," said Stoddard.
To view a gallery of the game, click below
Latest posts by Lizette Delgado
(see all)