After an amazing 2012 season, a No. 7 national ranking, and a share of the South Coast Conference Championship, the PCC women's volleyball team is prepared and enthusiastic for the upcoming 2013 season.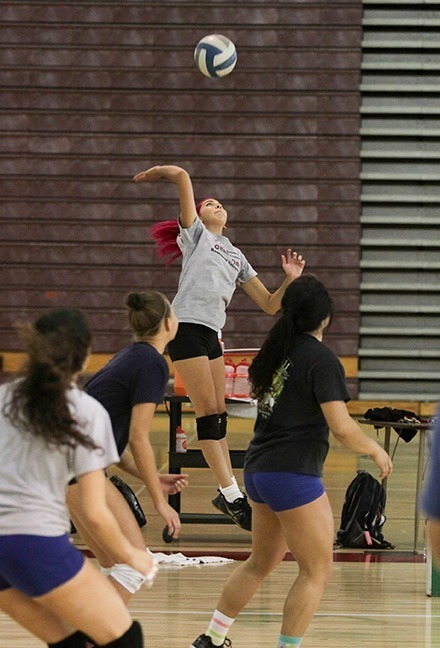 In his first year as interim head coach, Bill Sanchez looks to build on last year's successful season that ended just short of a regional championship.
Led by returning outside hitters Nora To'omalatai, nursing, and Thula Parks, mathematics, this year's team will rely heavily on To'omalatai and Parks' ability to adjust to new leadership roles, as well as the development of this year's freshmen class.
"I don't feel my role has really changed from last year, I'm still playing the same position," To'omalatai said. "Everything is basically the same. I'm more of the lead by example type, and I'm not that much of a talkative person so I leave that up to Thula."
With the loss of 2012 All-State Selection Jackie Valle-Acosta, and five of last year's six starters, there's no doubt that this young team will depend on To'omalatai's leadership and success.
Last year the athletic To'omalatai led the Lancers (21-5 overall,13-1 conference) with 3.02 kills per set, which also ranked her third in the South Coast Conference.
First year assistant coach Kari Post has seen major improvements in both To'omalatai and Parks and is eager for them to showcase their talents.
"Nora and Thula have gotten a hundred times better since we've started training this season," Post said. "I'm really excited for those two ladies, they just need to keep their good attitudes and keep being positive examples on and off the court."
For Parks, the more vocal and inspirational leader of the team, encouraging and challenging her teammates is something she's already known around the courts for.
"I like to talk and try to help lead the team," Parks said. "I like to help lead the team in a way that makes everyone comfortable on the court. It helps when everyone is playing on the court together as a family."
For Parks, her production will also be relied upon a little more this year. While only a freshman she averaged 1.33 kills per set behind a cast of all-conference hitters in To'omalatai, Valle-Acosta and Magen Callen.
"To improve from last year we just have to work on our chemistry and everything else will fall into place," Parks said. "We just all need to sustain that passion of the game that we all love, and if we keep that passion and grow together we can take this team a long way."
Both Parks and To'omalatai are expected to contribute to this year's team, but in order for this team to make another run into the postseason, the freshmen class will have to continue to grow.
"This year's freshman class is really strong and we're going to have a lot of new and different techniques that the ladies now know," Post said. "We're going to be a whole new team compared to last year; other teams won't know what to expect."
"A lot of the freshmen have gotten a lot better since the beginning of practices," To'omalatai added. "It's been surprising how much the freshmen have improved since they've stepped on the court here."
"To improve from last year we just have to work hard as a team, become closer, and that will happen as the season progresses," To'omalatai said. "We just lost height, but we're still a good team."
And because of that loss of height, assistant coach Post expects this team to be very defensive oriented.
"We're a very good passing team that plays good defense, that's how we're going to make up for our lack of height this year," Post said. "We're going to be constantly sending the ball back over when teams aren't expecting us to."
The women's volleyball season kicks off on the road, this Friday, Sept. 6th against Rio Hondo College.
Latest posts by Daron Grandberry
(see all)