The women's water polo team dropped their first two games against the Rio Hondo College Roadrunners and East Los Angeles College Huskies at the Aquatic Center on Sept. 18 in their season openers.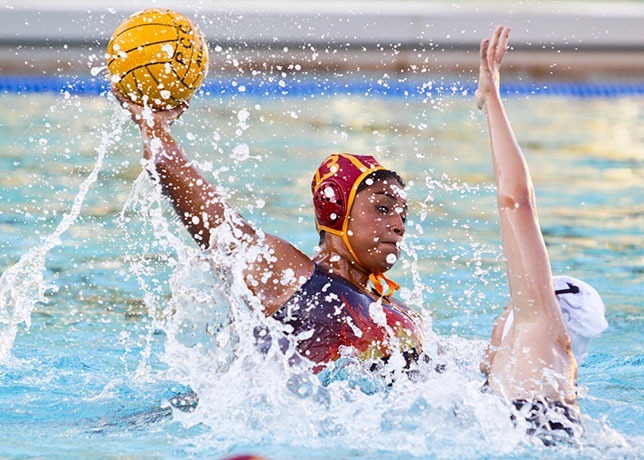 The final scores were 16-6 against Rio Hondo and 10-9 against ELAC.
Things didn't bode well when Rio Hondo scored its first goal in the first seven seconds and then maintained a healthy lead throughout the game.
"That was a bit of a surprise for us," said Lancers head coach Terry Stoddard. "I think that they were very, very aggressive, and we let that affect our game."
Roadrunner Kelci Carcamo, center forward, scored ten goals for Rio Hondo, effortlessly hitting the back of the net time and time again.
The Lancer's eventually started scoring in response but couldn't catch up.
"I just got frustrated so I made goals," said Jazmine Hernandez, utility, who scored two goals.
"We had opportunities," said Stoddard. "We had five power play opportunities that we missed. It's our home court and home goal. We should have put those in the back of the net. They get letting behind bother them."
The loss was chalked up to first game jitters since the team is almost exclusively made up of freshmen.
"There's thing we need to work on," said Camille Saurenman, wing.
The Lancers then had to jump right back in the water and put up a valiant effort against ELAC in a back-and-forth game.
With four minutes left in the fourth quarter the score was 9-9 but the decisive goal came from ELAC not long after.
"We weren't prepared for a double header," said Stoddard. Team captain Mariana Silva said that they were worn out after playing Rio.
"Unfortunately we didn't get over the first game. They did a lot of things a lot better in the second game," said Stoddard.
Stoddard said they would go back to the drawing board and he wasn't OK with starting with two losses but he's happy that the team is together and committed to winning.
Latest posts by Luis Rodriguez
(see all)