After losing at Ventura College Wednesday and dropping a home match against Long Beach City College on Friday, the Lancers have now dropped nine of their last eleven sets, including all of their last six.
Opposite position player Paige Clingaman felt that Wednesday's match at Ventura College was a tough game, but the team didn't play strong enough to win. "We definitely want to push harder in the gym and come out stronger in the next week's games." Clingaman said. "I think our main problem is that we make a lot of unforced errors, like hitting it out or hitting the net."
Lancer's libero Grace Crawford said that, "Wednesday was an interesting game. We were playing all together but it was a game where we didn't know what to do to win. It wasn't a bad game it was just frustrating because we didn't know what to do."
PCC were missing Freshman middle blocker Danielle Johnson and Sophomore player Emily Leung due to injuries. Danielle Johnson, who suffered an ACL tear two weeks ago, will be out for the remainder of the season. Johnson and Leung were replaced by Tehya Topalian and Heather Collado for Wednesday night's game. "I think our centers who replaced [Leung] really stepped up their game on Wednesday night," said Grace Crawford.
Even though Danielle Johnson was playing well for the team, the Lancers feel that they have enough talent to back her up. "No matter who gets injured, we have people to step up and take on the challenge of being a starter. I believe in our team and I think we all believe in each other," said Paige Clingaman.
The Lancers also lost in straight sets (25-18, 25-14, 25-15) on Friday night, this time to Long Beach City College (LBCC).  A team ranked 12th in the state, LBCC is coached by 3-time olympic gold medalist, Misty May-Treanor.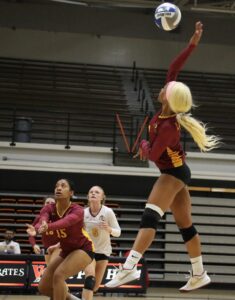 "It's about discipline, working hard, working together as a unit." Treanor said. "Not that I feel bad for the athletes I have, but I do, because I expect them to perform at a different level than others, because I've been to the highest level."  
LBCC seemed to hit the ball with higher power than any team to play in the Hutto-Patterson gym this year, as Lancers struggled to record digs. Only six Lancers recorded any digs at all, compared with twelve LBCC players. After Grace Crawford had 32 digs in the last home game (4 shy of a school record), no PCC player had more than 8 digs Friday.
"They're a very well-coached team, a very talented team. They outplayed us, they outcompeted us, they outcoached us tonight," Lancers coach Mike Terrill said.
While it is a possibility that the Lancers were simply outmatched, their 14 errors indicate the score could have been closer than it was. Many of those errors occurred after miscommunication about which Lancer should return the ball. PCC has been addressing some of the mental aspects of the sport in practice this week.
"We're talking about how each of us, coaching staff and each individual player, is preparing mentally. We're having to really take a hard look in the mirror and see are we getting out of this what we want." When asked to specify what the team wants, Terrill said, "I think we're still trying to figure that out. We've talked about going for a North Division championship in our conference. Our team is for sure talented enough to do it, but I think we're finding that in our preparation mentally, we need some work there."
Kendall Schmedes, one of the outside hitters, believes the team should not be so nervous during a game. "No matter what, volleyball is still the same. Even though there is different faces on the other side you're still playing the same game that you play in practice every day. If you're playing tense it will not help out in the game and it will not help out each other," said Schmedes.
On a positive note for PCC, Emily Leung, who had been out of the lineup for nearly two weeks, returned to action Friday. She had 22 of the team's 26 assists. Sophomore middle Lania Potter had 3 total blocks, while sophomore outside hitters Vanessa Lopez and Paige Clingaman each had 8 kills. Clingaman tacked-on a block assist to lead the team in points (8.5).
The Lancers next match is on Wednesday, September 27th, at LA Harbor College at 6 p.m.
Latest posts by Robert Hollar
(see all)