After an impressive 2-0 start to the young Volleyball season the women's volleyball team looked prepared and poised to pick up where they left off.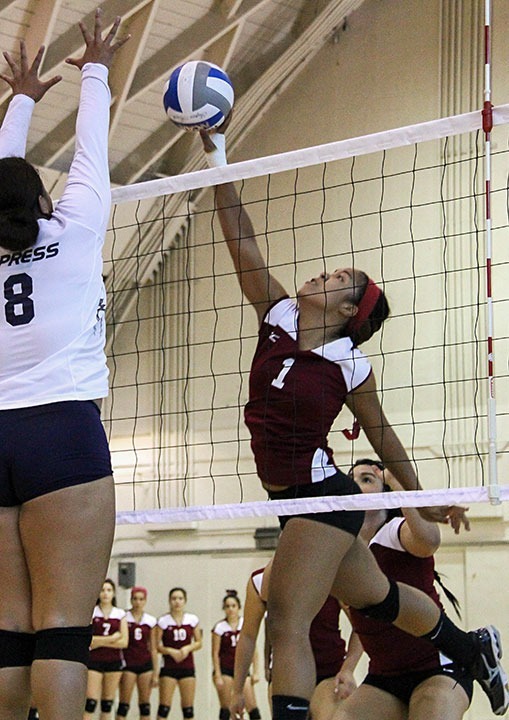 Unfortunately for the Lancers, the program hit a few bumps in the road this early season.
The weekend got off to an awful start with news that the team had to forfeit their opening two wins at the Rio Hondo Quad Tournament last week due to a CCCAA by-law violation.
Wins against Victor Valley and Rio Hondo were forfeited as a result of eligibility forms not being in place in its required spot on CCCAA's website.
With exciting victories in the Rio Hondo Quad tournament, the women's volleyball team entered last week's play with a reverse record of 0-2 instead of the undefeated record they worked hard to obtain.
Looking impressive and prepared in their opening game against No.14 Cypress College, 25-22, the Lancers went on to drop their next three in close defeat, 23-25, 21-25, and 22-25.
Despite another standout performance from sophomore outside hitters Nora To'omalatai, 19 kills and 15 digs, and Thula Parks, 15 kills and 11 digs, the Lancers could not overcome the Chargers of Cypress College.
"We went up against some of the state's best and we had our moments," said interim head coach Bill Sanchez. "We let that Cypress match get away from us, but now we'll face that team again at home. The goal now is to improve in all facets of the game."
Sophomore setter Tiffany Roesler also came up big with 41 assists despite the defeat.
"Tiffany improved on her setting, moving the ball through the offense instead of just focusing on one player," said assistant coach Kari Post. "We spent all our energy in that match and got tired by the time we faced Santa Barbara."
In their second game of Friday's El Comino Tournament, the Lancers played a familiar foe in Santa Barbara Community College. Last year it was the Lancers who eliminated SBC in the first round of the SoCal Regionals.
However, in the El Comino tournament it was all Santa Barbara, which won in straight games, 26-28, 16-25, and 14-25.
Santa Barbara, a team with more height, returns eight players to their 2013 squad listed at 5 feet ll inches or taller, including the 6 foot sophomore Madison Waddell (3.85 kills/set) and 5 feet 11 standout RS Jenna Anderson (2.46 kills/set).
Despite the Lancers lack of height, competing at a high level is something this year's team knows they're capable of doing.
"Although we play against a lot of taller teams, height didn't really play a factor in our losses this weekend," said outside hitter Thula Parks. "We just need to work on our conditioning and work at getting those loose balls that we're more than capable of."
"Tournament settings test your stamina," Sanchez added. "We lost our legs a bit versus Santa Barbara, but we battled them in that first game."
The women's volleyball team will attempt to get revenge against Cypress College in their home opener at 5 P.M. Wednesday.
Latest posts by Daron Grandberry
(see all)