With their backs against the wall, the Lancers volleyball team could have easily given up against state No. 15 Cypress College (4-3) in their home opener at Hutto-Patterson Gymnasium.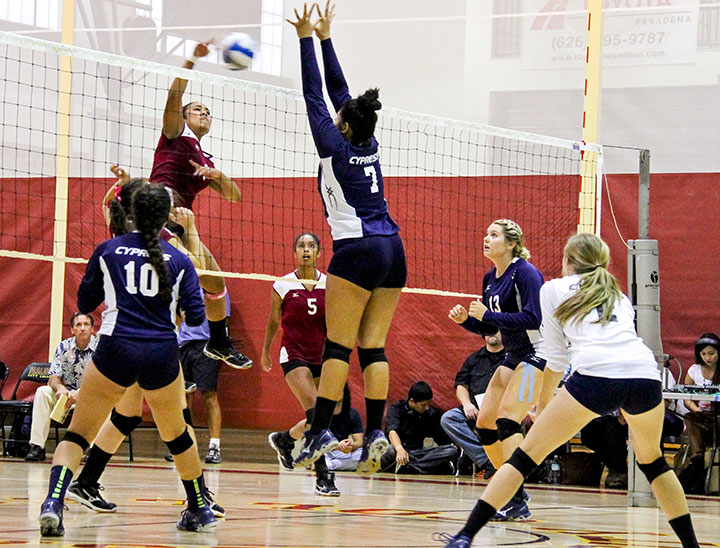 Led by outside hitter Ivana Escobedo, it was Cypress College who defeated the Lancers earlier this season in the El Camino Classic. The Lancers lost in a close four game match.
In their home opener, the Lancers got out to an early lead in the first two sets. In game 1 the Lancers led 15-11 and in game 2 the Lancer led by as many as seven points (13-6).
Although the Lancers defense and freshmen looked much improved, the Lancers lost their first two games against Cypress (25-27 and 21-25).
Once again the sophomore duo of Nora To'omalatai and Thula Parks led the Lancers both emotionally and statistically. The pair rallied the Lancers on both the offensive and defensive ends, leading the unranked Lancers from two games down to defeat Cypress in the final three games (25-23, 25-12, and 16-14).
With the team down two games, and the crowd on their side, the Lancers began the third game with a different energy.
"Nora and Thula plugged away and do what they do," said head coach Bill Sanchez. "Our whole rotation hustled and didn't get down after mistakes."
Parks recorded 25 kills and made 22 digs while To'omalatai nearly matched her with 25 kills and 21 digs, to go along with three aces.
"It was a great comeback and a big boost to team morale," Sanchez added. "Freshman middle blocker Kendra Logan made a huge difference too."
In their two home games, the Lancer freshmen have shown improvements in both their defense and serve-receive.
"Sage (Spence) has had a very good progress since training has started," said assistant coach Kari Post. "She knows it, and she's finally finding that confidence."
In their second home game of the season the Lancers took on another powerhouse in the state No. 11 Orange Coast College.
Against Orange Coast, the Lancers gained a much needed lift from freshman libero Saige Spence (Pasadena High).
The 5-foot 4-inch Spence was a nightmare for Orange Coast on the defensive end. Spence finished with one of the highest single-match totals in PCC history with 36 digs and was also impressive on serve receive.
"We showed desire and that ability to not quit," said Sanchez. "Orange Coast is easily one of the best programs out there, and we battled all the way to five sets."
"Our defense can improve, but in our two home games we played some of our best defense of the season." Added Spence.
In the Orange Coast match, it was the powerful swing of outside hitter Nora To'omalatai that rallied the Lancers to another come-from-behind five game thriller.
To'omalatai scored her career Lancers' high with 29 kills and added 16 digs and three serving aces.
PCC was outstanding all evening on the serving end making only three errors the whole match and finishing with eight aces.
"We have to feel pretty good about ourselves this week," Sanchez added. "We have some work to do, but the players are understanding of just how close they are of being one of those top-ranked squads. From a competitive standpoint, we belong with all of them."
Sophomore setter Tiffany Roesler once again had an impressive day with 50 assists (113 in the home opener alone). Roesler leads the South Coast Conference in assists per set (10.13). The emotional leader made two dump kills during the fifth set rally against OCC that cut the deficit to 9-10.
Ultimately, OCC's height, including three players at 6-feet or above, proved to give the Lancers too many problems. OCC finished with 18 team block kills to only 6 made by the smaller Lancers.
Orange Coast slipped past the Lancers in five exciting sets 22-25, 13-25, 25-18, 25-23 and 11-15.
Sophomore Thula Park added 13 kills and right side player Briana Hilton added 6 kills and 13 digs.
Although the Lancers were unable to stay undefeated at Hutto-Patterson Gymnasium, their freshmen class looked to be progressing very well. The trio of Sage Spence, Angela Banuelos and Kendra Logan played key roles against both Cypress and Orange Coast.
"The three of us have worked really hard since getting here," said Spence. "I feel we're getting more comfortable as the season progresses. Against Orange Coast we worked harder than we've ever worked before and we battled back."
"We would have loved to win both games, but we can learn and take positives from both home games," Logan added. "We knew we could play with those teams. We had to let them know we're here, and we were not letting down."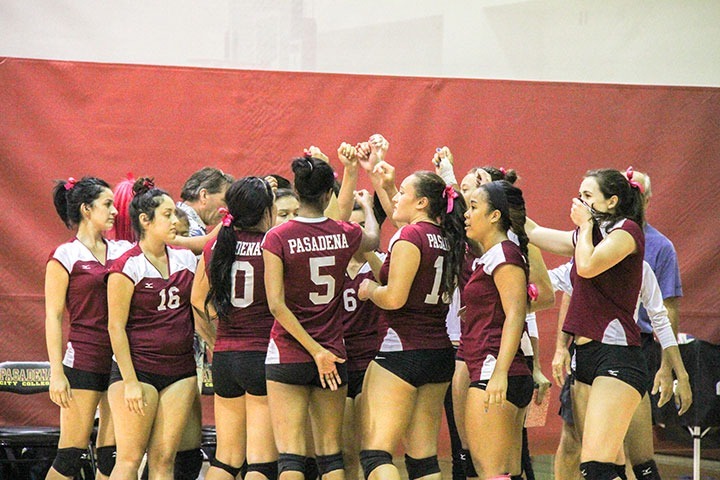 Latest posts by Daron Grandberry
(see all)