At 6'3 and 260 pounds, it's no wonder that Lancer lineman Dalyou Pierson is able to explode past blockers and sack quarterbacks well behind the line of scrimmage.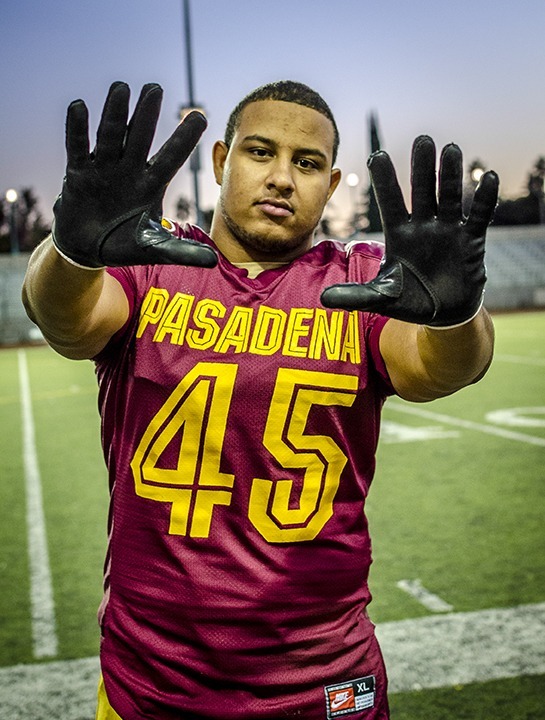 It's also no wonder that, with 10.5 sacks, he is pace to break a long-standing PCC record.
"I never go into a game thinking that I'm going to get a sack or two," the humble Pierson said. " I always think about getting the win first, because that's all that matters in the end. At the end of the night, it is nice to have had a few sacks, though."
It has been about 47 years since a Lancer player established the team record of 14 sacks in a season, and with his latest sack in the books, Pierson is four sacks away from eclipsing the mark set by PCC Sports Hall of Famer Curtis Seagrove in 1966.
Seagrove also holds the records for the most tackles at PCC, with 144, 85 of which were solo tackles.
"It's an extreme honor to be in that conversation," Pierson said. "I just have to go out there and continue to play to my strengths."
Pierson's 10.5 sacks are the most by any defensive player in the Southern California Football Association this year. "It's not surprising that teams like the University of Iowa and Arizona State are looking at him," head coach Fred Fimbres said.
Pierson is a returning sophomore on the football team and he is considered a captain by most of the defensive team, according to defensive back Dashon Wade.
"[Pierson] and I have been on the team together since last season," Wade said. "He makes us better on and off the field. No matter what, he keeps our confidence up when we are out on the field and is very valuable to this team. He makes some outstanding defensive plays and is a real leader."
The coaches haven't missed the brilliant play from Pierson either. Defensive coordinator Carl Lopez said that he gives grades after every game based off of how the player did. He said that Pierson is always near the top of that list.
"What can I say about him," Lopez said. "[Pierson] gives everything he has when he is out on the field. I can't complain about the way he plays. He did a lot of work in the off-season, and makes our defense better when he is out there."
Fimbres said that he thought that Pierson and other returning players had helped keep games close.
"The offensive and defensive lines have really helped us out all season," Fimbres said. "[Pierson] has been one of those guys that we rely upon a lot. If he keeps on his pace, he will break the record."
Latest posts by Philip McCormick
(see all)