PCC's basketball team will host the 5th annual Skip Robinson basketball tournament this week from Thu to Sat at 7 p.m. in Hutto-Patterson Gymnasium.
The Lancers (1-3) will play three back to back games against Barstow, Glendale and LA Pierce, respectively, giving the head coach Ryan Frazer a chance to live up to the tournament's namesake and to celebrate the former athletic director Skip Robinson. This is Frazer's "first semester, first year, first everything" as PCC's 16th head coach in the school basketball team's 99-year history. 
"The beautiful thing has been being able to be in one place and to start to establish roots and learn and grow. So far it has been a good experience," Frazer said.
When the previous head coach Michael Swanegan left his position abruptly in 2021, he left the interim head coach Hosie Ward with a lot to manage. This is part of the reason PCC flopped last season with a 1-26 record. Some improvement this year is to be expected. 
"To win at any college athletic event is really hard no matter what the level or previous success or lack of success," said Frazer. "I'm encouraged that we already tied the record from last year with one win, and we have shown that we can definitely win more."
Frazer wants to create a culture and identity for the Lancers in the wake of the pandemic and to establish a style of play that has some consistency. He is encouraging his team to remain focussed among the various different play styles of other teams as well. 
The strategy consists of containment and contesting, according to Frazer. An open shot is an easy shot. Containment and contesting is to make sure that everyone is always covered so that there is always a Lancer between the opponent and the basket.
"So, that is still our strategy," Fraser said. "We have kind of tweaked it and added some things to help us do both those things, but so far we have done pretty well with it. We have held teams under their average. We just have to score the ball a little better."
Robinson was PCC's first African-American athletic director. He was a defensive back in 1966 on PCCs football team, became an assistant football coach at PCC in 1969 after graduating from USC, and then was head coach of track and field, cross country, and golf before becoming the athletic director from 1995 to 2007. He is in PCC's hall of fame along with five of his track athletes. 
"He [Robinson] is a staple in the community, so it is done in honor of him," said Frazer. "He is entrenched in the fibers of the fabric of PCC. So, I can't say that I am the person who started the tournament, but I am lucky to continue it and after meeting him I am honored to do so."
Frazer wants to encourage people to come out to the tournament and other games.
"I will say, my first game ever here, which was last Saturday, it was amazing to be in a gym that was packed," Frazer said. "It just was a really good environment and hopefully the start of something that we could continue at PCC."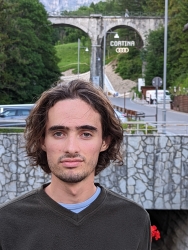 Latest posts by JD Alibrando
(see all)