PCC's baseball team took on Rio Hondo for their first conference match of the season. Coming into the best-of-three series matchup, the Lancers were a .500 ball club with a record of 6-6, but they had a lot to look forward to because they defeated Rio Hondo in all three matches last year. In fact, PCC only allowed 2 runs over last year's three game series, while scoring over 23 runs.
"Rio Hondo is always well coached," said head coach Pat McGee, "Their kids play hard and they play smart. If you don't respect that, you get exposed. And that's what happened on Thursday and Saturday. We played to our abilities on Tuesday and then we took the rest of the week off. As a result, they kicked our backside."
The Lancers defeated Rio Hondo Tuesday 11-0 at Brookside Park. The opening game series was business as usual for the Lancers. All-American sophomore third baseman Marco Martinez went 4 for 5 at the plate and three of his four hits were doubles. He also scored 3 times and was credited with an RBI.
"Anyway I can help the team, will put a tremendous smile on my face," said Martinez. "Just being able to play the game well makes me happy. I just stuck to my approach and did what I was coached to do."
Martinez wasn't the only player having success against Rio Hondo Tuesday afternoon. Shortstop Jacob Ogle went 2 for 4, produced 3 RBIs and scored twice. Right fielder Tai Walton also went 2 for 4. Walton produced 2 RBIs and scored once. Seven players were credited for the 11 runs. The Lancers hit 5 doubles, 2 triples, 11 RBIs, 1 sacrifice fly, and a stolen base.
The pitching was also a reason for the lopsided win. Right handed pitcher Ryan Graves pitched 7.2 innings. He gave up 0 runs and had 3 strikeouts.
"Coming into the game I felt pretty good, nice and relaxed, and warmed up," Graves said, "I was coming off of a game where I had some success, so I was pitching with confidence early in the game. I throw a fastball, slider, and changeup. And Tuesday, my fastball and changeup were my go-to pitches."
The second game started just like the opening series with PCC being the first on the scoreboard. At the top of the second inning, two Lancers were on base with two outs. Second baseman Moises Sanchez was just hit by a pitch and placed on first base, while left fielder Aryonis Harrison was on third base. Center fielder Gabe Arrellano hit a double, which brought in Harrison and Sanchez to make it 2-0. Before the inning was over, the All-American Martinez brought in Arrellano. At the time, the Lancers were up 3-0.
"I wouldn't say that the players mailed it in," said McGee. "[Rio Hondo] they played harder and they played smarter and they were better prepared. As a coach, that's my job is to have us ready to play. And I did a poor job of that, obviously."
PCC wound up losing the second game to Rio Hondo Thursday 7-6 at Rio Hondo College. Pitcher Chase Peterson came into the game in the 5th inning with a 6-4 lead. Peterson struck out two batters and got another to hit a pop fly, but all the momentum changed at the bottom of the 6th inning. The Lancers gave up three costly runs in the 6th inning. Two of the three runs earned by the Rio Hondo were scored off of errors. Eerily, zero hits were given up because of those errors.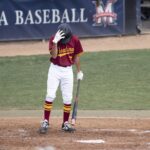 "Coach has spoken to me about the errors," said Martinez. "We both know that they're just minor adjustments, getting people to play hard or getting people to buy into what we're trying to do as a team defensively and offensively. And he knows that it's just a matter of time. At the beginning of the season our offense was on and our pitching wasn't, and now our pitching is on and our offense is kind of not clicking at full force."
In the third and final game, PCC lost to Rio Hondo Saturday, 3-1, at Brookside Park. Pitcher Cody Crowder pitched 8 innings and struck out three batters. Even though Crowder gave up 3 runs, he received very little run support from his teammates. The Lancers got on base more often than Rio Hondo, which was 10 times versus Rio Hondos 9. Once PCC was in a position to score, the results were less than ideal. The Lancers left runners in scoring position five times.
"The few times we left runners in scoring position, we didn't execute certain parts of the game," said left fielder Harrison. "Sometimes we had a man on second and instead of hitting the ball to the right side, we pulled it or something. We didn't execute certain parts of the game like the bunts and stuff that we can fix in practice."
The Lancers are now 1-2 in conference play and rank 6th in the South Coast conference. The next series starts Tuesday against Mt. San Antonio College at 2 p.m.
Latest posts by Kevin Seavers
(see all)