While the offense for PCC's men's soccer team scored two goals against El Camino College, the Lancers defense could not thwart El Camino's offense, losing the game on Friday at home by the score of 4-2.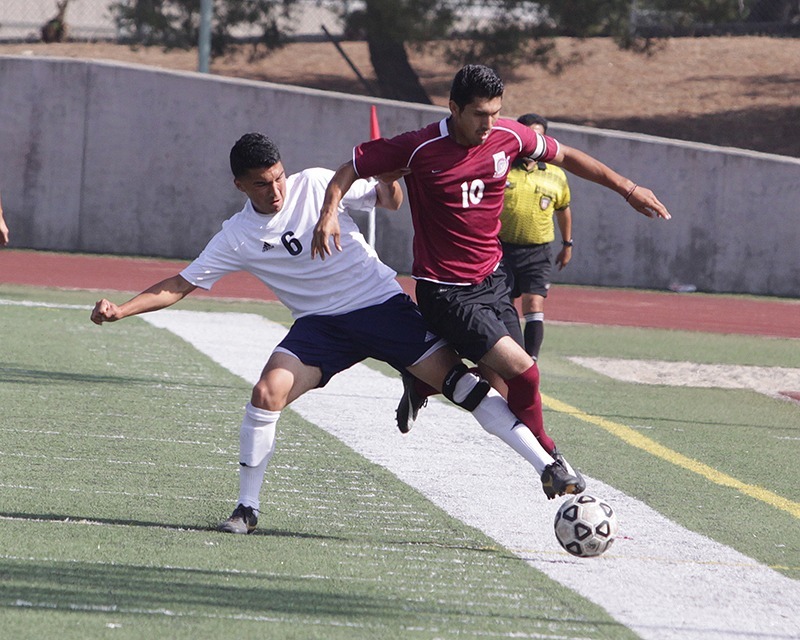 PCC struck first with a goal by Eric Chavez. He collected the ball from Luis Flores on the left side of the 18-yard box, beat one player, cut back inside and struck the ball into the near post.
But El Camino fought back to score a goal prior to the first half whistle. The shot came off a cross by Derrick Hamilton to the number 9 striker Kyrian Nwabueze, who easily tapped it in at the front post.
Nwabueze was a thorn in the side of PCC all game as his speed and touch created holes in the PCC defense.
The second half started out as a free flowing game, with both teams shooting freely and running the ball up and down the field.
It was El Camino who struck first in the second half, with a mess in the PCC 6-yard box. The ball bounced around, finally finding it's way to the back post where Branddon Cando poked it into the corner.
PCC fought back with numerous shots on goal, and finally got the equalizer in a perfect volley by Sergio Benitez. Zach Larson had the ball at the end line, and launched it over everyone to Benitez who was running in to the back post. Benitez produced a wonderful one-touch volley hard into the back of the net.
Again El Camino fought back, with a similar goal to the first, as Hamilton crossed and Nwabueze finished, making the score 3-2 for El Camino.
PCC didn't give up, and had two shots within the span of a minute saved beautifully by the El Camino keeper Christopher Mellone.
But with only a few minutes left to play, the wind was taken out of PCC's sail as keeper Gaetano Perez picked up a back pass. El Camino capitalized on this mistake, scoring their fourth goal and putting the game out of reach.
"It was a pretty bad game on our part, we really didn't want it as much as we were supposed to. We have to work hard to in the next two games to make playoffs," Benitez said.
"It was a tough loss," Chavez said.
Latest posts by Benjamin Simpson
(see all)