After a double-digit comeback, the Lancers men's basketball team was defeated by a last-second three pointer by El Camino College, losing 71-70 on Feb. 6.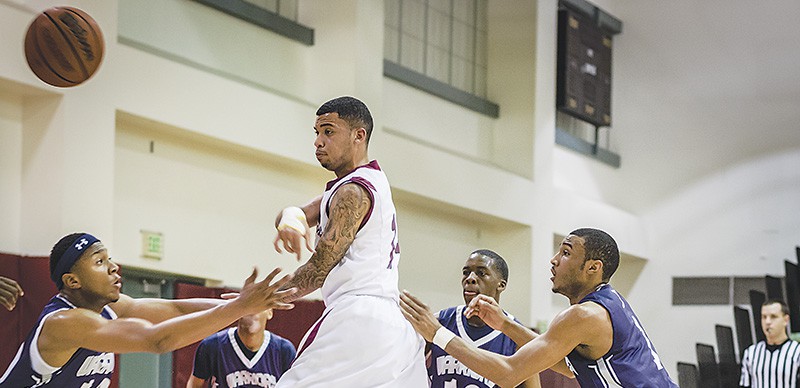 The Lancers were losing by 12 points with 17 minutes remaining in the second half and finally retook the lead with 5:45 left in the game. PCC sophomore guard Chris Smith drove to the basket and put the Lancers up 70-68 with 3.8 seconds remaining. The loudest Hutto-Patterson Gym crowd in recent memory was instantly quelled by El Camino College's Joshua Wilson, who hit a game-winning three point shot.
"The kids came back and fought hard but it wasn't enough," Lancers Head Coach Mike Swanegan Sr. said.
The Lancers fall to 7-15 on the season and 3-6 in South Coast Conference play. El Camino improves to 7-13 with a similar 3-6 conference record.
A bright spot for the Lancers is the return of point guard Smith, who provided 15 points. Smith, who had been unable to play for weeks due to a knee injury, was cleared by Lancers trainer Alfonso Flores and played over 20 minutes in the narrow loss.
"I'm just happy to see [Chris] back on the court," Flores said. "We'll continue to rehab his knee for the next few weeks, but his progress has been great. It showed tonight."
Smith did not expect to play as long as he did, nor did Coach Swanegan intend to play him for that long, but the necessities of the game demanded it.
"You never know how long you can play a kid coming off of an injury," Swanegan said. "We trusted Chris with the ball and he played an excellent game."
Smith wanted the focus to be on the team itself, not his return.
"We wanted to get movement early and make their defense work," Smith said. "We had a good comeback and played tough but it wasn't enough. This is a tough way to lose."
The Lancers' bench players outscored the starters 47-23. PCC was kept in the game by sophomore forward Marquise Tolson's ten points, sophomore shooting guard Evan Brooks' nine points, and freshman forward Bryce Clifton's seven points, including a breakaway dunk that energized the entire arena during PCC's comeback drive.
"Momentum is an important thing," Swanegan said. "We picked up the pace of the game and made some stops to get the momentum but there isn't much you can do when the other team makes a shot like that."