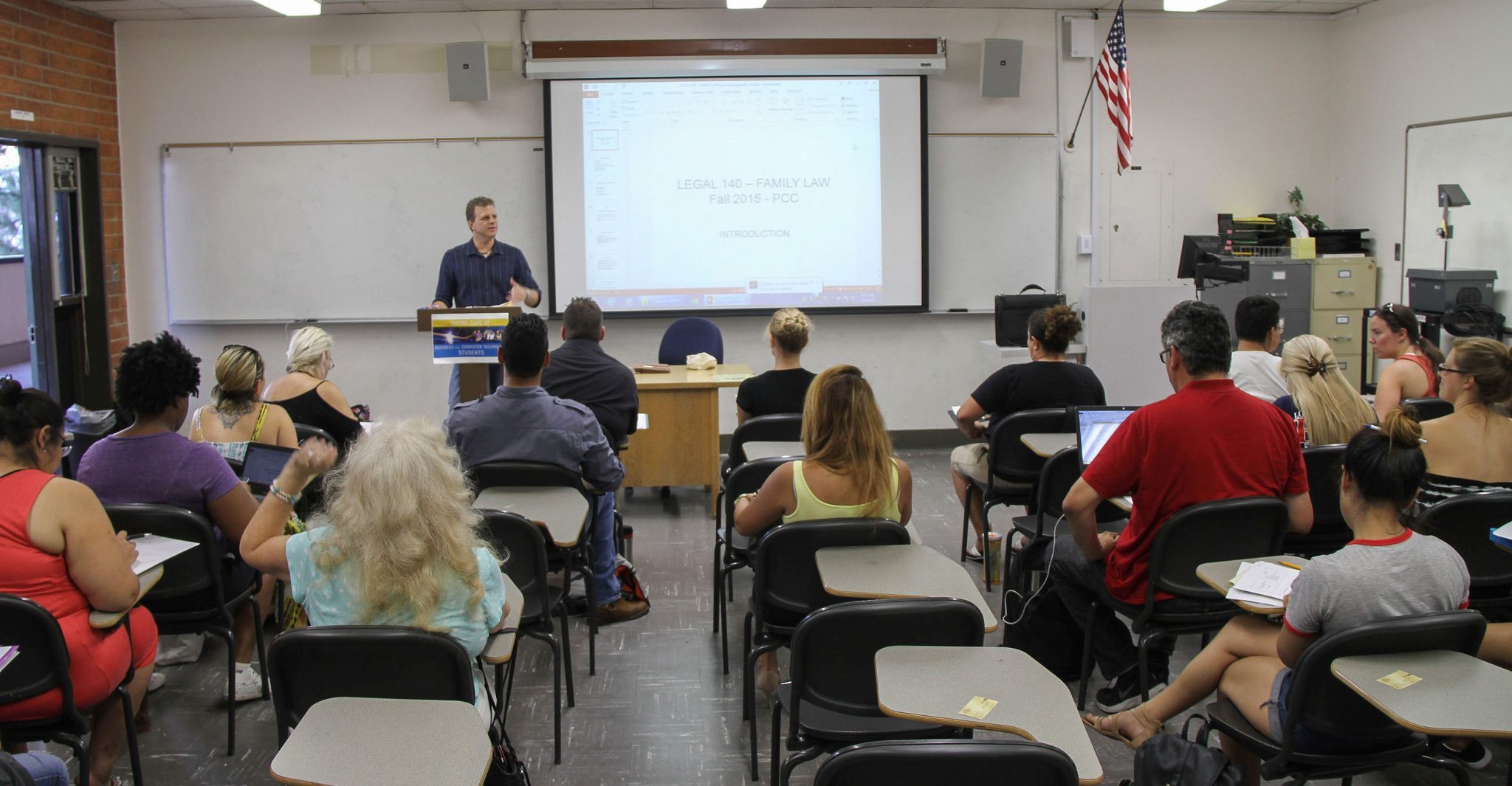 Pasadena City College's paralegal studies program was reapproved by the American Bar Association (ABA) for the fifth consecutive time since it was originally certified in 1995.
The program must meet rigorous standards set by the ABA and requires extensive self-evaluation reports, on-site evaluations and yearly reports. Programs that are successful keep their ABA standing for seven years.
PCC began its paralegal studies program in 1973 and first applied for ABA approval in 1992. The ABA does not approve programs that are strictly online as the it requires a more "hands-on and active learning legal research," said Dr. Carol Kellogg, the program director. PCC offers a certificate of achievement in paralegal studies; however, many students complete an associate's degree and choose to work toward a degree in law.
There are currently only 29 ABA approved paralegal studies programs in California and less than a dozen are in the Los Angeles area. Many of the ABA schools are very costly and require a Bachelor's Degree. Private schools are very expensive and are not ABA approved.
"I searched ABA schools in Los Angeles online and Pasadena City College met ABA criteria and price point," said Jennifer Feigerle, a PCC student who also plans to complete an associate's degree with her certification.
Feigerle who has legal assistant experience, tried an unaccredited school but said "there's a huge difference between ABA and not. ABA is very hands-on and that's crucial." When she would ask attorneys in her office, they preferred students that attended ABA approved schools.
PCC not only meets the extensive ABA requirements but allows for students to work for an associate's degree along with certification with a flexible schedule that offers classes in the mornings, evenings and Saturdays. Amanda Murillo, a single parent and president of the Paralegal Association, is in her second year of the paralegal studies program and working towards her associate's in science. Murillo feels that the flexibility and diversity of the program are keys to her success.
Another important component of PCC's success in the program is the Paralegal Association Club as well as the free tutoring program offered by paid and volunteer students available in room D300. The club meets one Saturday a month with an active page on Facebook and Instagram.
"The club helped me come out of my box and meet people which is a must," said Murillo.
According to Murrillo, the club is open to all majors and all ages.
"Anyone can come," said Murillo, who often brings her seven year old daughter, Alexis, with her to the meetings. "I want her see what I am working hard for, for her," said Murillo.
The club is a diverse group but they share the same goal: being involved in the legal field and an interest or passion for law.
Murrillo explains the club helps members meet and build networks in the legal field. Last year the club had a Cal State Pre-Law Society speaker describing what they do and giving them real life scenarios. They often have field trips to court houses, the Los Angeles Law Library and fundraisers like food drives.
"It's about helping people, it's what I believe in," said Murillo.
However, students like Feigerle and Murrillo are quick point out that the most valuable tool in their arsenal is the faculty in the program. Dr. Carol Kellogg and Dr. Elaine Fong, both advisers and the instructors, are all practicing lawyers and paralegals locally.
"Kellogg has so much patience and gives you examples that are very common sense," said Feigerle.
Tom Chavez, an attorney with an office in Pasadena and the Mayor of Temple City, teaches on Wednesday evenings and Saturdays at PCC and has done so for the last 23 years.
"I tell people I practice law for a living. I teach because I really enjoy it, and I'm trying to figure out why I'm a politician," said Chavez, who has practiced law for 30 years.
Chavez is proud of the program and has seen it change and grow. The program has over 600 students and the classes have little to no attrition and Chavez looks forward to full classes.
"We're an ABA approved program, which is a very big plus, but with that takes work and that's where Elaine and Carol really do a lot of work keeping up that approval," said Chavez. "To keep that is really a feather in our cap. If we were to lose that I think it would have a big effect on our program."
Kellogg has been a lawyer since 1989 and has taught full time at PCC since 1991.
"Student success is my goal," said Kellogg. She often has PCC grads contact her with job openings.
"They are wonderful students that help each other reach their goals and help each other after graduation," she said.