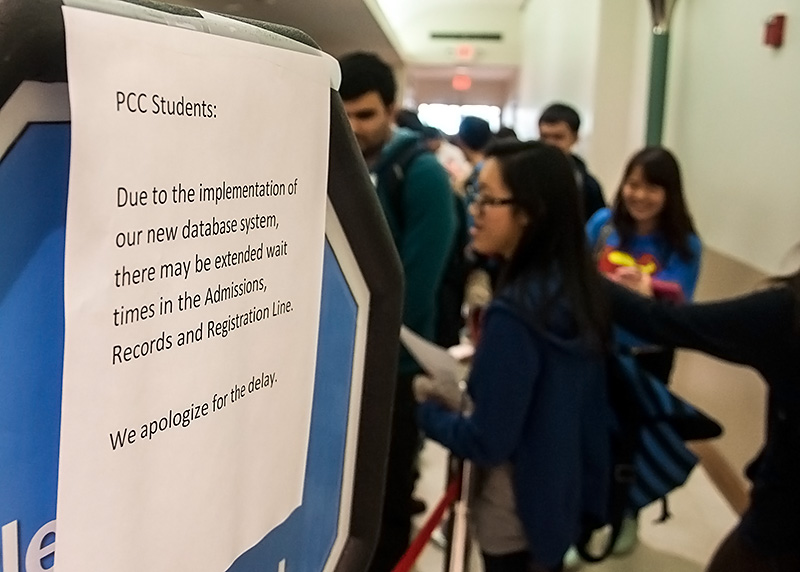 Hundreds of students who were overwhelmed by their inability to get into the college's online registration for Extended Spring registration waited in line for hours for help in the L building on Monday.
"What happened to the organization? How did this get so haywire?" said Paul Priego, chemistry. Priego waited in line for hours in order to add classes.
Students began lining up early in the morning trying to register for classes manually. Many students, like Anastasia Gershman, communication and sociology, woke up early to register. Â While standing in line, students continued to register to try online using their respective portable electronic devices in hopes of being able to add a class.
"I haven't gotten in yet. It's 11 a.m. [and registration] started at 7 a.m. I've tried to log in a total of like 115 [times]," Gershman said, she had classes all throughout the morning, but still attempted to register when time was available. "I've been trying to log on [with] my iPad and have had zero results," she said.
With no other alternative, students gave up class and work just to manually add classes. "I'm lucky. If I had work today, I wouldn't be able to do this at all," said Sarah Belknap, mathematics and computer science. "I feel bad thinking of all the students that are not waiting here in this line. They're not going to get their classes because they have jobs and they expected it was going work as advertised."
Counselors advised students not to give up on the system. "Some students are getting classes. Classes are open; be patient and keep trying," said Armando Duran, counselor.
For several students, it was their first time experiencing issues while trying to register. "This was the first time that this has actually happened to me. I woke up at 6:30 a.m. today and try  register at 7 a.m. There were over 500 people online, so I couldn't go in. It's ridiculous. There should have more people helping out ", said Kristin Min, accounting.
The line fluctuated throughout the day. It receded at some moments, but grew in number to the point that students were lined up down Colorado Boulevard. Some students waiting in line were disappointed. "It's a complete mess to be honest," said Brandon Grainger, criminal justice. "My first problem was that there was no priority for [registration] when it's supposed to be used for people who need to get out and need to transfer."
In this moment of frustration, the prominence of PCC diminished in the eyes of many students. "Why did I pay cash for these classes, and why do I bother coming here instead of [going] to Mt. SAC?" questioned Gershman. "Why do I bother coming here instead of coming to [Santa Monica College]? [PCC] was convenient and by reputational alone, this was supposed to be the best choice."
"Obviously I backed the wrong horse. I am regretting my time here", she said.
Latest posts by Alumni Staff
(see all)