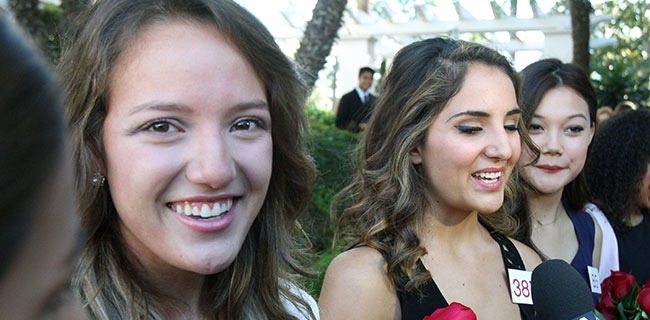 Two PCC students were selected from a group of 31 finalists to be princesses and Rose Queen candidates for the 2015 Tournament of Roses Royal Court.
First year students Mackenzie Joy Byers and Veronica Sara Mejia were chosen out of 700 Pasadena-are girls to act as ambassadors for the Tournament of Roses. The girls were selected based on poise, speaking ability, academic achievement, and community and school involvement.
The two girls will join five other princesses including Gabrielle Ann Current, of Flintridge Sacred Heart Academy, Bergen Louise Onufer, of Mayfield Senior School, Simona K. Shao, of Westridge School; Emily Alicia Olivas Stoker, 17, of Temple City High School; and Madison Elaine Triplett, of John Marshall Fundamental High School.
Byers, a Pasadena resident, was home schooled until eighth grade and recently graduated from Temple City High School where she was president of the show choir and acted as commissioner of the arts for the school's Associated Students, according to the Tournament of Roses website.
"I'm just so excited to go out into my community and really explore the unique beauty of Pasadena and be able to influence it in some way," Byers said in an interview with Pasadena Star News.
Mejia is majoring in communications and is a member of the Lancers track team, the release states. After college she hopes to work as a mental health counselor. Mejia's family is one of the longest standing Mexican-American families in the city of Pasadena moved here in the early 1900s.
Byers and Mejia succeed PCC student Sarah Hansen, who was named to the court last year.
"The college is thrilled to have not one, but two princesses to help the world usher in the New Year on January 1st," Interim President Robert Miller said in a statement. "We congratulate Mackenzie and Veronica and wish them the very best as their great adventure begins."
The Announcement and Coronation of the 97th Rose Queen and Presentation of the Royal Court is on Oct. 21 at the Pasadena Civic Auditorium Plaza.