Just three weeks after adult film star James Deen stirred the campus up, another adult film star Jessica Drake appeared.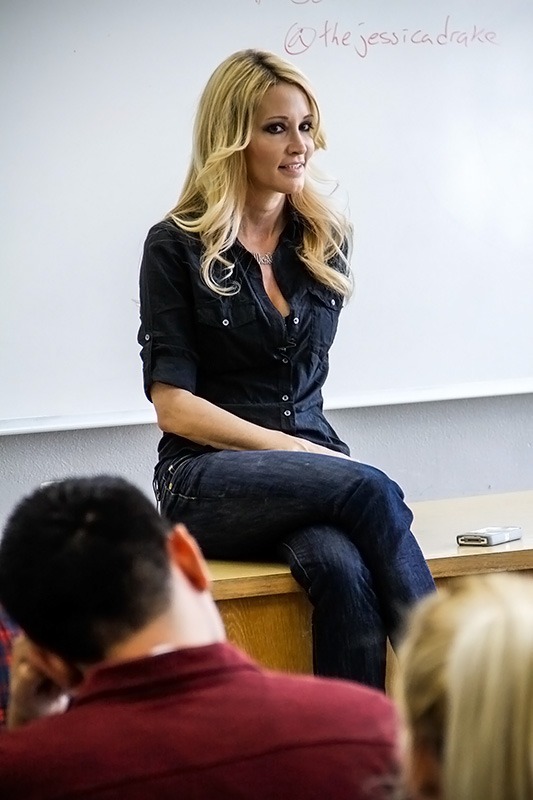 Drake, just like Deen was on campus to speak to Hugo Schwyzer's Humanities 3 class, unofficially titled "Navigating Pornography".
"This is not a job fair," Drake jokingly told the class before the lecture began. She also briefly discussed her own education.
"I was in your seats, I was going to school in Texas, I was a psych major [and] also stripping to get through school," said Drake.
On the differences between Drake and Deen, Schwyzer commented.
"With Jessica Drake, she's an educator too. Deen is not in the education business – he's a performer and an entertainer. Drake is a little bit older than James and she comes at this from the perspective of someone who wants to educate, someone who wants to transform people's lives," said Schwyzer.
After being in the adult industry for years – on both sides of the camera – Drake found that there was a dire need for an updated sex-education class. Drake is currently studying sexual instruction and is working towards becoming a licensed sex coach.
"More realistic sex education is what we need. Using pornography for sex-ed is like learning to drive by watching the 'Fast and Furious'," said Drake.
Drake also discussed some misconceptions people might have about the pornography industry and the changing demographic of fans.
"Everybody thinks they know what porn is like. A lot of people think that we just show up and have sex with anyone who is on set. But I don't do that, I only do it with people I have chemistry with," said Drake. "It used to be long lines of guys and occasionally you'd get the reluctant woman; that stopped. It seems there were men and more women coming out, they wanted to be a part of it. "
Aside from the adult industry Drake talked about communication in relationships in regards to sex.
"It all goes back to communication and consent. People naked and vulnerable are very tender people; you don't want to make them feel like they're doing it wrong," she said.
It was very evident that students in attendance liked that Drake was a female performer as opposed to a man like Deen.
Evan Rivkin, film felt the lecture was better rounded than the previous one.
"It was informative, entertaining and more well rounded than James Deen. I appreciated the openness of it all," said Rivkin.
Lauren Duckworth, English, also appreciated the fact that Drake is a woman and saw that as comforting.
"I loved hearing from a woman and felt more comfortable asking questions," said Duckworth.
Latest posts by Alumni Staff
(see all)