"I don't know what it means to be a professor," Shane Underwood told me. We were sitting in his office on an early afternoon of spring semester 2017 with about four other students crowded in on whatever available chairs they could find. Others stand in the doorway or spill out into the hallway, playing live action Frogger trying to stay out of the way of the passing professors. The low light from the desk lamp, the mini fridge and TV monitor on the walls conveyed an atmosphere of a college dorm room.
Underwood is wearing his usual blue jeans, black boots and black short sleeve crew neck t-shirt. With tattoos up and down both arms and a shaved head, nearly everyone who meets him for the first time thinks he's a student, rather than an English professor working on his doctorate.
"When I think about what my job entails and I think about like a framework or image of what a professor is, or I think about evaluations or questions people might ask in terms of whether or not they can justify if I do my job appropriately … I feel like these questions, establish kind of a discursive boundary of what it means to be a professor."
Underwood, a 38-year-old English professor, not only has a reputation for being one of the most difficult instructors at PCC in terms of workload but also one of the most popular. His classes regularly fill up every semester and many students sign up by word of mouth.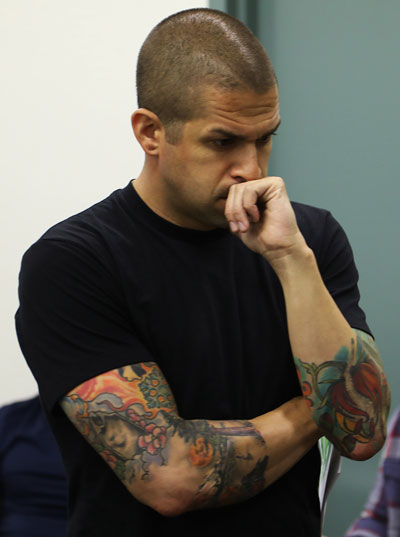 This past year, students did not have the chance to take to his classes due to his year-long sabbatical in order to finish his educational doctorate degree at California State University Northridge. However, as of fall 2018, Underwood will be back teaching several English classes and resuming his role as advisor for the Critical Theory Club.
A native of Colorado, Underwood came from a very impoverished family that made $30,000 a year for a family of six. He grew up in a two bedroom, one bath home with " a really mean father," and was the first in his family to go to college.
His interest in socioeconomics was rooted in coming to terms with understanding why people were like him and how economics influenced their conditions. He's not sure when he became interested in philosophy but he only read two books in high school, Jane Eyre and Hamlet.
At 17, Underwood described the day he was kicked out of high school as "the greatest day of my life."
"I just thought 'This is so sweet no more listening to people tell me who I am, or what to think.' I hated the dynamic of power and babysitting and pandering, I couldn't stand being told how to live my life, what to think, what to do and I still adamantly reject any teacher at any level that treats students as receptacles or a dumping ground," he said.
Underwood took an early interest in theory and proletariat philosophy in order to understand his own foundations that he emerged from. His goal was to understand where he had come from and how class facilitates individual mentality and how people live their lives.
He attended community college and remembers having great instructors. One in particular was Stan Rushworth, who he credits with exposing him to Native American cultures and allowing him to see the world through a different lens.
As for how he teaches his own classes, Underwood utilizes the Socratic method of instruction and always makes his students sit in a circle to facilitate open, face-to-face discussion.
"We're in a  circle as much as we can be, I like students facing each other, I like to see my students, I like to encounter persons, not like the framework 'student' and I want real human engagement that's not all planned out," Underwood said.
"I think planning an entire lesson to a T is about disseminating information, but not really the encounter that leads to true education. True education, in my opinion, is a cultivation of the mind it's not a degree," he continued.
Underwood is a previous recipient of the Risser Outstanding Teacher award, which awards instructors based on nominations from students. He has a 4.6 RateMyProfessor rating and is generally well liked, with the exception of a few negative reviews that felt his class was too hard, too strict or as one reviewer put it, "WORST PROFESSOR ENGLISH he is rude, not helpful, he think he is all that."
In the film "Higher Learning," directed by PCC alum John Singleton, Laurence Fishburne's character states, "One's primary purpose at university level should be to learn how to think." Current and former students of Underwood collectively agree that he indeed teaches his students, not what to think, but how.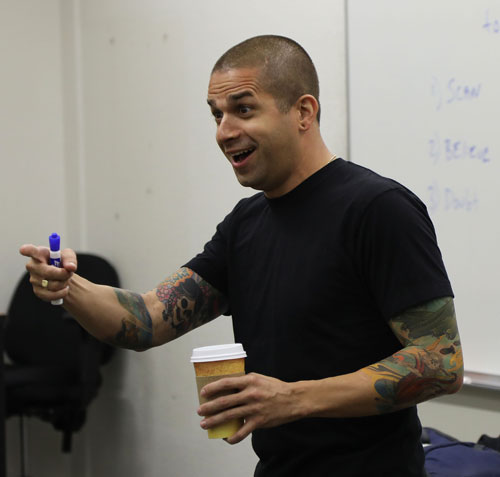 "I always tell other students to take his class because you're not just going to learn how to write and where the commas go and why it's important that sentences are well constructed, it's truly an enlightening course and you're going to leave that class a better human being," said former student Griselda Aguiluz who now attends University of California, Berkeley.
Former Critical Theory Club (CTC) member Dean Wyrzykowski, who also transferred to UC Berkeley after spring of 2017, stated that five former CTC students now study rhetoric at UC Berkeley because of Underwood's influence. Wyrzykowski said that many people in the rhetoric department are known as "The kids from PCC" and marveled at how cool it was to see how one professor had made such an impact on the transfer community there.
"He was so inspiring and he actively encouraged us to be critical thinkers and empower ourselves as students in that manner and despite his sometimes appearance of someone who can be hard, he's a deeply loving and caring person. He shows it at different times I think, but my first semester with him, it became quickly apparent that this guy lives his life with a deep sense of love. He really loves his students and loves what he does," Wyrzykowski said.
Upon learning of his acceptance to Berkeley, Wyrzykowski said that he was terrified. When he told Underwood,  he was advised to keep in mind that Berkeley would not give him everything he was seeking, and that it was up to him to own was he was learning. Underwood told him not to bank on Berkeley to provide him something that he needed to seek for himself.
Former CTC president Zelia Corbia has known Underwood since the fall of 2015 when she first took his English 1A class. Her initial impression of him was that he was intimidating. When she went to her first CTC "paper shredding" she recalled that she didn't stay the whole time because the material was very dense and she felt lost while others were discussing such massive, abstract ideas.
Paper shreddings are where students exchange assignments they're currently working on and essentially, "rip them to shreds" by pointing out every instance of error, lack of clarity or anything else that the student could improve on. While intimidating, students said they took part in shreddings because they felt that Underwood wasn't infantilizing them and by being so hard, it essentially helped them improve their writing as much as possible.
"People don't want to be coddled. I was home-schooled my whole life all the way through high school so coming to college was my first experience in an institution, and when I got here I was astounded at kind of the hand holding methods, but there's like a certain standard you're supposed to have and I think Underwood's interpretation of what you should already be at is kinda different than what other people see it as," said English major Mary Michelle.
Corbia's perception of Underwood is that he has a genuine interest in his students and works extremely hard to ensure that there is not a massive separation between professor and student, therefore making it easy for students to feel comfortable to seek help when they need it or request extra advice on papers.
"I think what kept me coming back especially in the beginning, were his office hours and how welcoming it was, I thought that it was gonna be like formal meetings so I did not really know how to go about it, but there were tons of students, really easy flowing conversations and it did not feel so stuffy," she said.
"Even pouring out of the hall, it's super hot and stuffy inside but everyone's so excited to be there, and he'll tend to every individual, but he also puts an emphasis on 'what does everyone else think as well?' because there's a big emphasis on a community in the classroom."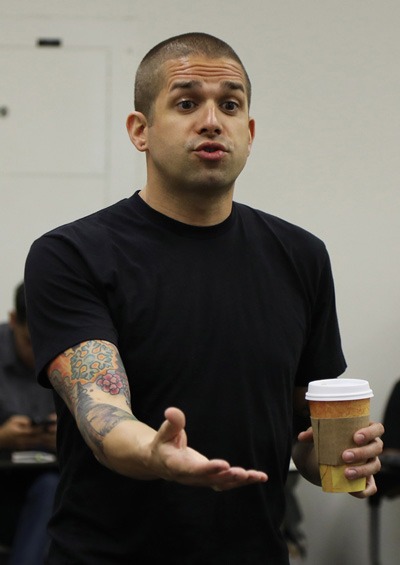 Corbia said that the emphasis on Socratic seminar really helped and she never felt like she would be in trouble if she did not understand the homework. She saw that there was no pandering down to students in his class and that only those who truly decided to challenge themselves would succeed.
Pandering and infantilization are common themes with his students and with Underwood that he actively attempts to avoid at all costs.
"I will say I think that there's a little bit of infantilization. I think in a lot of ways we dismiss our students amazing capacities for intellectualism at times and we frame them in terms of specific demographics. We express demographic information about students, we work with demographic information, but I feel like that's all method based and I feel like we miss the truth of humanity, the facticity of the human being."
Underwood chose to pursue his doctorate in education for administrators because he wanted to understand why and how administrators think the way they do, however he still plans to continue his career as an English professor because he has no interest in what he calls, the "politics" of working in administration.
"I would much rather engage students than work within the boundary of administrative responsibilities and duties to perform the will of a college president and a board of trustees. Politics are not where I'm effective or where I want to be … I get too much out of teaching because it is a real presence with human beings. I'm not about enforcing policy I'm about working with the people I come into contact with and the best way for me to do that is to teach and to be taught and to have a reciprocal relationship with my students, that very important to me."
Now that Underwood is returning to PCC in fall of 2018, the CTC will become active again as well. The club decided to go on hiatus during his sabbatical because the students felt that there was no other professor who could advise and lead the club in the same way.
"Underwood is so fundamental to the group, and you can't just hire a leader like that who is integral to the personality of the club and I think he is part of that," Wyrzykowski said.
His return is also an opportunity for his students to determine whether or not they continued to challenge themselves in his absence. Student Erika Nieblas felt that his sabbatical would put them to the test to determine whether they would all take what they learned from his classes and continue the discussion.
"A lot of people are creating their own groups because they are interested in rhetoric now and that's really important and they really wanna keep the discussion going, so I think now it's up to us to put ourselves to the test to see if we're gonna take what we learned and do something with it," Nieblas said last year.
With Underwood's return also comes a new course that he and a group of students wrote together called Queer Studies in Literature. The class was originally proposed by a professor named Judith Bransburg who retired several years ago before she could finish it. With the project sidelined, Underwood decided to pick it back up after thinking a lot about campus safe zones, LGBTQ frameworks and wanting a better way to make LGBTQ students feel at home and part of the discussion.
"I started to wonder why it is that we're so willing to create safe zones but we're not at the same pace keeping up with creating classes that allow for representations for the many different students that we see on campus?" Underwood asked.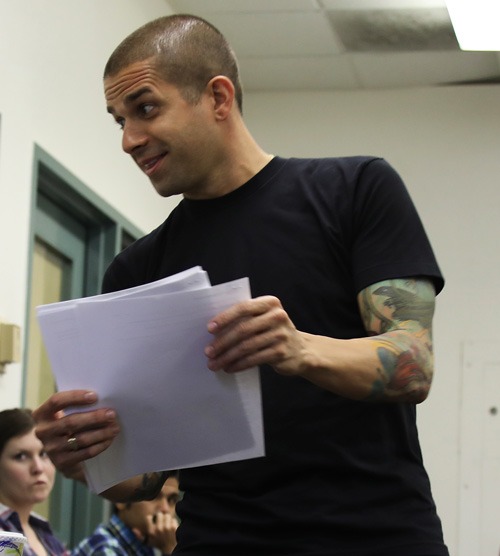 He and the students worked together to create a course that would be transferable to California State and University of California schools. Dr. Derek Milne gave his feedback on text selection and the course was eventually re-titled to Queer Studies in Literature to open it up to students who did not identify with gay and lesbian paradigms, but still wanted to explore the course.
While the queer studies course will be taught in spring of 2019, Underwood will not be teaching the inaugural class, due to being selected to teach the study abroad classes with Dr. Brian Kennedy in Oxford, England that semester.
When asked how he felt about not being the first professor to teach the class that he wrote, Underwood was realistic and complimentary towards professor Juan Mendoza who will step in to teach the course in his absence.
"Any work I do belongs to the college, it's not my course but it would be nice to take first crack at it, but I feel satisfied with him taking it. He's a good professor, he's engaged in these types of discussions, he's shown up to CTC events, so I think he's involved in approaching this from a pretty intellectual and philosophical position. It'll be an in depth course and he'll bring it to life," Underwood said.
His goals for fall semester are to get the students excited about CTC, recruit students for Oxford and teaching a world literature class for the first time. Underwood will be teaching English 44 which is world literature from 1500-1800. As is his style, he will approach the class from hermeneutic ideals and what it means "to be" in the Gadamerian or Heideggerian sense. He will discuss narrative identity in Don Quixote, along with ecology, environment and self-hood. Mostly, Underwood is looking forward to being back with his materials and his students.
"That's the greatest thing about being a professor. Students come here to get an education, you pay to be here, you purchase books, you do all this work, you come into class with your ideas and ask questions without realizing that all of that work is really you educating me and that is the coolest thing about this job, I exploit all of you," he said with a laugh.
"I find that every student has some perspective from their own historical horizon to offer that I haven't thought of and that's the sweetest thing, is this sort of will to happiness through my engagement with others and getting paid for it, how sweet is that? My favorite part of the day is coming here."
For fall semester of 2018, Underwood will be teaching English 1B on Tuesdays and Thursdays from 1:00 p.m. to 3:05 p.m. and 3:15 p.m. to 5:20 p.m. English 1C Honors on Monday and Wednesday from 4:00 p.m. to 6:05 p.m., English 26 Literary Criticism on Thursdays from 6:15 p.m. to 9:25 p.m. and English 44 World Literature 1500-1800 on Mondays from 6:15 p.m. to 9:25 p.m. The Critical Theory Club will resume meetings on Wednesdays from 6:30 p.m. to 8:30 p.m. location TBA.
Latest posts by Amber Lipsey
(see all)