I'm not a math person.
When am I actually going to use this?
The two phrases above are heard over and over again when Liberal Arts majors take math. But the PCC Math Department has two experimental classes this semester with big plans to change not only how math is taught, but how students learn math.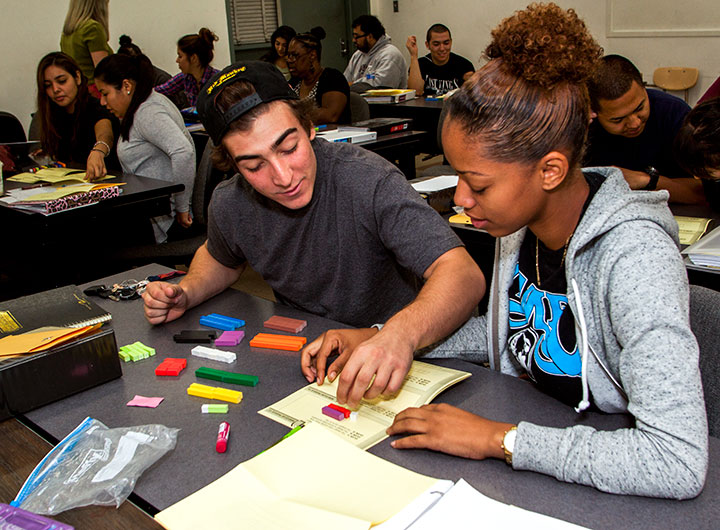 The two new classes are Quantitative Literacy I and II, also known as Math 250 and Math 150. Roger Yang, assistant professor of mathematics and one of the directors of the new courses, discussed how the name might put people off the course, but he joked that 'Real Life Math' would not be a good university transfer name.
The name describes the desire to help students become literate with number. Like students should be able to write a cover letter, students should be able to understand the calculations behind buying a house or interest from credit cards.
Yang went into the background of why the classes were created.
"The traditional education system is geared toward Calculus, which two thirds of our students don't need. So we called the new track the SLAM track (Stats and Liberal Arts Math) rather than the more traditional STEM (Science, Technology, Engineering and Mathematics) track."
In the traditional STEM math track, students would take Pre-Algebra (402), then Beginning Algebra (125) then Intermediate Algebra (131) before moving on to university transfer courses.
With the new Liberal Arts math track, students can take Quantitative Literacy I and II before moving to transfer courses. The new track is comprised of two rather than three classes, making the track faster.
"I was taking 402, this class condensed how long I have to be there because it combined Math 125 and 131, so it takes away time I have to spend here and I can transfer sooner," said Noelle Miller who is in Math 150.
But the idea is not just to fast track Liberal Arts students through math.
"We wanted to get away from the typical math class where the teacher lectures and students scribble notes," said Linda Hintzman, an assistant professor of mathematics who is one of the directors of the new classes.
"I like how active it is, because you move around and it's not just sitting in your chairs," said Judy Argueta, a student in Math 150. "It's good to interact with other students and talk, rather just sit and listen."
"We have found that [students] can sometimes say it in words that other students understand better than the way I explain things," Hintzman said.
But Yang and Hintzman are trying to do more than just have the students work in groups—they are trying to change the pedagogy: how PCC teaches the students.
"We are trying to make big changes. Who knows if it will stick?," Yang said.
Two years in the making, the new courses will focus on both teaching math, and how students learn math. Yang discussed "Bloom's Taxonomy" of how and why people learn. In two parts, one part is cognitive, or how people learn, from the bottom of the scale, which is memorization, to the higher skills, which are how to analyze, evaluate and be creative.
The new classes are trying to not just teach memorization, but also the higher skills of analyzing and evaluating.
The other part of the taxonomy is the attitude people have toward learning, called affective domain. The goal is to teach a growth mindset, rather than a ridged mindset. In other words, the classes try to take students who say "I'm not a math person," and teach them how to learn math.
"I don't need to teach them mathematics, I need to teach them how to learn mathematics," Hintzman said. "It's not so much the math content, but how you learn math, which is probably different from how you learn history or how you learn English."
"[Yang] goes into the psychology of math, why people feel like they don't do well," Miller said. "And he shows you in different ways how your brain is a muscle, because it is not inborn talent, but the harder you work the better you get."
There are a total of eight instructors—four in 250, four in 150­—teaching the new classes. There are plans to have a total of 10 classes next semester. In the future the department is planning to have all of the Liberal Arts majors take the new classes. Which would be approximately thirty classes in the SLAM track and approximately 10 classes in the STEM track.
Yang talked about the classes this semester as prototypes.
"You learn from your prototype, to improve it."
"We are all really excited, we believe in what we are doing. We believe this is going to be worthwhile," Yang said. "Let's try to build the best thing we can build. If we come up short, hopefully it is still really good."
"It is my third time taking math, I already took 131 twice," Argueta said. "I like how different it is, I feel like I can relate, as in real life, rather than just equations. I felt pretty confident when I took the first test, I could remember to do, rather than memorizing, as I did in my other classes."
Latest posts by Benjamin Simpson
(see all)