The 2020 election will be the first year that many college students are able to vote in a presidential election. Much has changed this year and even for experienced voters it may be  confusing to know how to cast a ballot. Voters may have questions about when voting starts, what the mailing deadlines are, where they can vote or drop off ballots, and how to find out whether they are registered to vote or not. These are all important things to know to ensure each vote gets counted. 
This week all registered California voters will begin to receive vote-by-mail ballots. Voters have a choice of whether to vote in person or by mail. With public discourse questioning the viability of the delivery of ballots via the U.S. Postal Service, there is another secure option.
Starting Oct. 5 voters can also deposit any properly completed Vote-by-Mail ballot into an official ballot drop-box.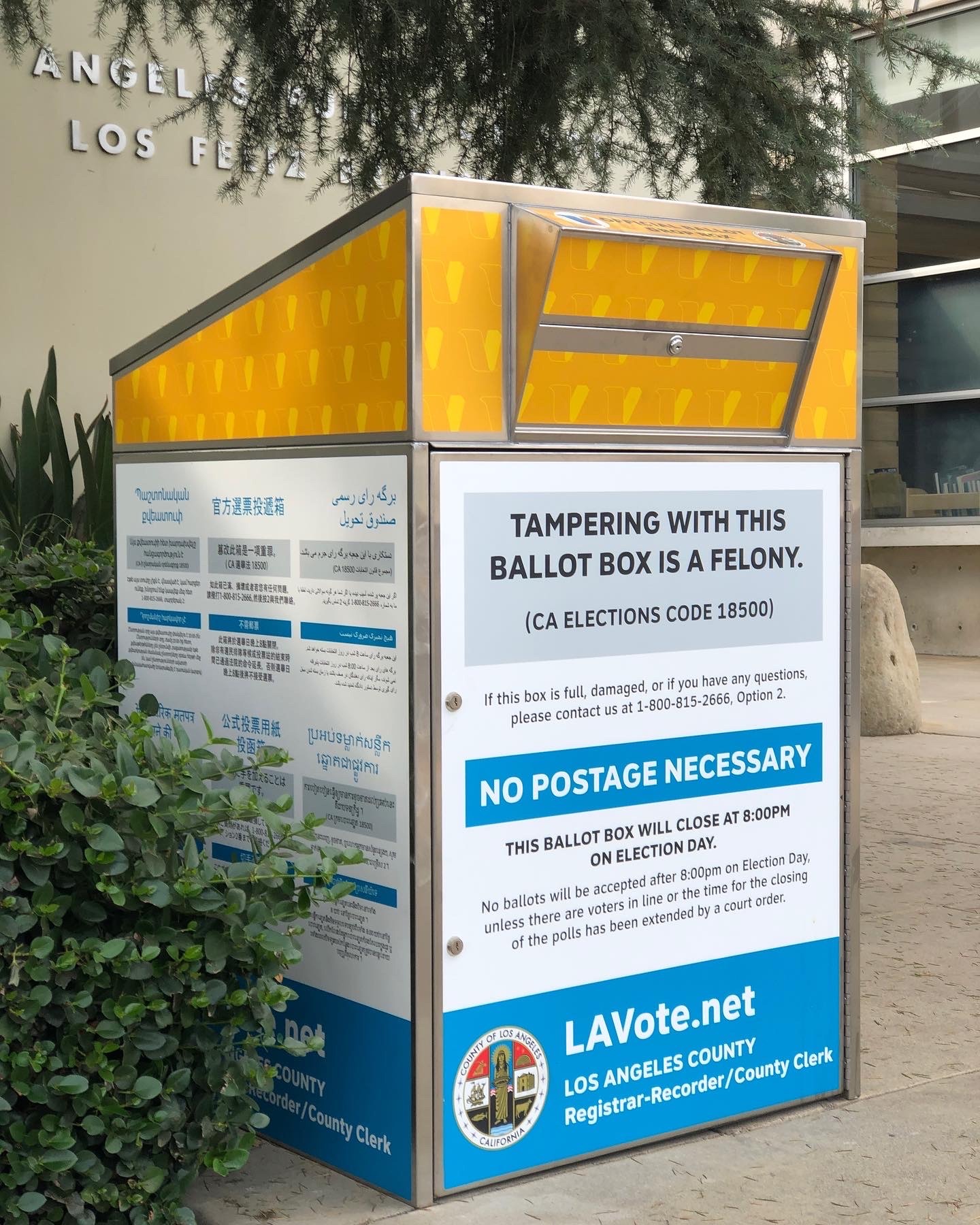 StreetsLA, a division of the City of Los Angeles Public Works Department, are installing 400 of the secure boxes across the city, mostly located at city libraries, parks and recreational facilities. If the directions are not followed exactly, the ballot could be rejected. This interactive map shows the location of every drop-box, which will also be placed at all voting centers.
"Nothing should keep Angelenos from casting their ballot, because our democracy is stronger when more people engage in our political process," Mayor Eric Garcetti said in a press release. "It's our responsibility to make voting as simple, easy and accessible as possible, and these new ballot boxes will place the power of participation in the heart of local communities, preserving and promoting every Angeleno's democratic rights."
Locally, there will be an official voting center on PCC campus, at Creveling Lounge, which will open for early voting starting Oct. 24 from 10 a.m. till 7 p.m., through Election Day Nov. 3 when it will be open 7 a.m. to 8 p.m. The location is open to the general public, and also gives PCC students a chance to be on campus for perhaps the first time since the pandemic began.
Voters can skip the line and drop off a completed vote-by-mail ballot there, or at any voting center.
To vote in person, bring the vote-by-mail ballot to any LA County voting center. There, voters will be asked to turn it in to poll workers before casting a vote.
Even if a resident thinks they're already registered, it doesn't hurt to check the status using the California Secretary of State's voter status tool. It is still not too late to register to vote. Residents have until Oct. 19 to get registered. If that deadline is missed, visit an open voting center and fill out a Conditional Voter Registration and vote conditionally, meaning the ballot will first be validated before it is included in the count.
Residents who are already registered, but temporarily living at an address other than the one listed on their registration, can go here to request­ that a ballot be sent to the temporary address. 
If a ballot is sent by regular mail, it needs to be postmarked by Nov. 3, though many Angelenos indicate being leery of trusting the USPS to process their mail correctly and are opting for the drop-box.
Once a ballot is submitted, either in the secure drop-box or via USPS, voters will be able to keep an eye on its progress as it makes its way through the system. The State of California has provided a vote by mail status tool, where a ballot can be tracked to its destination.
Although LA County voters can cast a ballot in-person at any voting center in the county, some locations might be more exciting than others.
For example, any registered LA County resident can go vote outdoors on the upper deck of Dodger Stadium overlooking home plate starting Oct. 30. That will be two days after a potential game 7 of the World Series at the old ballpark. It will be the only chance fans have to see inside Dodger Stadium this season.
The Dodger Stadium voting center is part of a historic new joint initiative between the Dodgers, LA County, the Secretary of State and Laker LeBron James' nonprofit More Than a Vote  organization. 
"No more voting in a neighbor's garage, no more voting in retirement homes. We have been looking for larger spaces to accommodate physical distancing, all the things that we need to do to keep voting safe and healthy," California Secretary of State Alex Padilla told KABC-TV at a recent stadium press event. "I think it was a great opportunity for professional sports teams and franchises to step up to the plate, literally."
Similar initiatives are being offered by the Lakers at Staples Center, the Chargers and the Rams are giving an opportunity to get an up-close look at the new SoFi Stadium and Hollywood Park, and the Clippers will hold court at The Forum. Early voting, and vote-by-mail drop off is available at each location. 
The Los Angeles County Registrar-Recorder/County Clerk assures voters that all State and County health guidelines will be followed. These include wiping and sanitizing surfaces and ballot marking devices, social distancing, and election workers wearing masks and gloves. They also ask the public to wear masks and gloves and will provide them if needed.
Lastly, students are being asked to step up as poll workers. Retirees usually make up a large portion of poll workers, but the potential exposure to COVID-19 to an at-risk population has left a deficit of available workers. Students can get a firsthand view of this historic election by signing up to be a poll worker. It will pay a stipend and will surely be an educational experience.
Latest posts by Mark Sovel
(see all)