Nervous laughter and chatter filled the hallways of the University of Irvine on Saturday, March 26, creating an exhilarating atmosphere when hundreds of community college students gathered to present the results of their research during the annual Honors Transfer Council of California (HTCC) conference.
.
Honors students from colleges throughout the state of California applied for the conference and a prodigious 41 applications from PCC students including two student groups in the honors transfer program were selected. Students displayed their research-based work in the form of either poster or oral presentations at the daylong event "Building Bridges and Constructing Futures."
"We had one of the highest acceptance rates of any community college, which we were really proud of," PCC Honors Transfer Program Coordinator Dr. Derek Milne said. "We've already got big plans for next year's conference!"
The HTCC is a non-profit organization and a forum for directors and counselors of honors programs "to share experiences and successful practices in dealing with talented and motivated students," according to its website.
Not only does HTCC host an annual conference that gives students the opportunity to present their work, the organization also negotiates transfer agreements for its community college honors students.
Students presented research conducted for classes like anthropology, history, chemistry, economics, engineering and many more.
To be considered for the conference students had to submit a 250-word abstract of their research paper. Workshops offered by Dr. Derek Milne helped students to polish their applications.
"A lot of our students invite their friends and family," Milne said. "Sharing and discussing research is one of the most important things about the research process … It's a really exciting day that showcases how much fun research can be and gives our students something to say on their transfer applications that really makes them stand out."
Once accepted, students had the opportunity to join practice sessions offered by faculty mentors and speech instructors, Josh Fleming, Cindy Phu, and Natalie Galindo.
Not only did students present their research, but three PCC students received conference awards for their research and outstanding achievements.
One of the two biggest awards given out by HTCC went to PCC honors student Roseanne Rivera, who was selected for the Juan Lara Memorial Scholarship. The scholarship is bestowed upon underprivileged students, who have overcome difficult life challenges. Rivera reminded conference attendees in her acceptance speech that education is something no one should take for granted.
"I was in shock and then I felt an overwhelming feeling of gratitude," Rivera said. "This scholarship is going to help me pay my rent for the summer so I can take a summer class instead of looking for a job."
PCC student and founding President of the Honors Club Hannah Stewart was the recipient of one of the Exemplary Achievement Scholarships awarded during the conference for not only her research, but also for her leadership.
Milne praised Stewart for her hard work and for making the honors club a vibrant organization.
"Hannah's hard work has been invaluable in building the club and supporting the growth of the Honors Program," Milne said.
When Tatiana Overly considered joining the PCC honors program she attended an orientation held by Milne, who mentioned that honors students would have the opportunity to present their research at the annual conference. As excited as she was about the option to present her research, she never saw herself in that bracket.
Encouraged by Milne, Overly applied for the conference and placed third in the poster category. She presented her poster and engage in conversations among dozens of other students in the Pacific Ballroom. Her poster visualized the research she conducted for her cultural anthropology class about West Papua and its struggle for independence.
"A lot of people don't know it's happening because the government has closed out journalists, they closed out anthropologists, virtually closed out the outside world from being able to spread the word about what's happening there," Overly said. "We can see an entire culture die off with what's happening there."
Milne, who is also the HTCC conference program and communications coordinator, was beaming with pride all day.
"The conference is the best day of the year for me," Milne said. "I feel so proud listening to [the students] and it's always really fun to meet their parents and family members. PCC students are amazing and so intelligent. They just need the opportunity to develop their research skills. That's what we try to do in the Honors Program".
The PCC Honors Transfer Program is open for application to all students eligible for English 1A and with a GPA higher than 3.2. The program offers special sections only open to honors students of a wide variety of general education classes and the opportunity to take advantage of the transfer agreements the HTCC program negotiated.
The PCC honors program consists of over 900 students and is the second biggest program in the state of California now.
This story has been edited.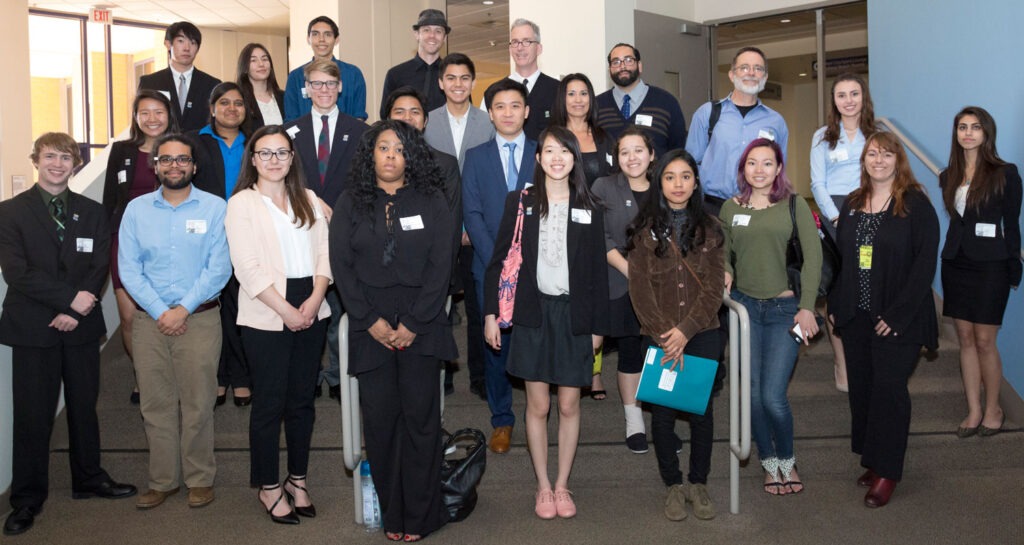 Latest posts by Katja Liebing
(see all)