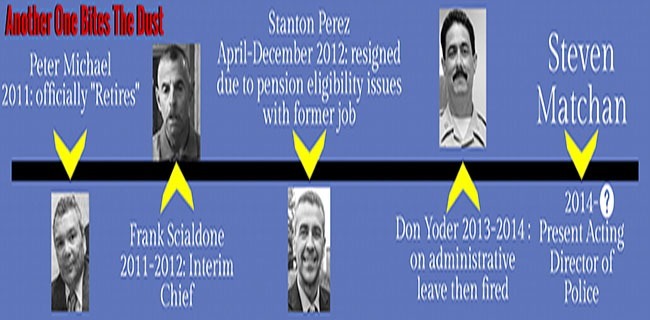 The Board of Trustees voted to terminate PCC police chief Don Yoder "with cause" Monday night, after Yoder had been on paid administrative leave since July.
Details as to why Yoder was fired have yet to be released.
"The reasons for the decision are confidential," Board President Anthony Fellow wrote in an email Tuesday. "The District respects the right of privacy of its employees and former employees and will not comment further on this matter."
The Board's vote was 4-2, with Trustees Linda Wah and John Martin voting against firing Yoder. Both Trustees declined to comment citing Board policy. Wah said that the Board had been "asked to respect Yoder's privacy."
Yoder did not return calls requesting comment on this story.
Steven Matchan will remain acting director of Police and Safety Services in the interim until a replacement can be found, according to officials.
"I just want to serve the district, staff, students, guests, and community in any capacity," Matchan said when asked if he would like to be considered for the position.
Academic Senate President Eduardo Cairo praised Yoder for his time at PCC, saying that his dealings with him had always been good.
"I found him to be professional and honest and an individual with integrity," Cairo said. "We were in the process of working together to have faculty and the police department work together for emergency training."
When Yoder was put on leave in July, PCC's General Counsel Gail Cooper said that the school couldn't comment.
"Other than confirming that Chief Yoder is on paid administrative leave, I cannot comment on personnel matters," said Gail Cooper, PCC General Counsel. "We must respect the laws that provide for confidentiality and privacy of such matters."
Yoder is the fourth police chief that PCC has had since 2011. He replaced Stanton Perez as Chief of Police in January 2013 after Perez resigned due to issues about the eligibility of his pension from his former job with the California Highway Patrol.
Before that, Frank Scialdone served as interim chief while the school searched for a new chief after Peter Michaels mysteriously went on leave and then retired.
Associated Students President Jordyn Orozco said that the Board had to look more closely at candidates for certain positions moving forward.
"I think the school is so used to rushing someone into the position," Orozco said. "We have some really good people who can hold the fort down, while we prolong the hiring and screening process."