Editor's note: This article has been updated since its original posting.
The Academic Senate has started to prepare for the spring 2015 site visit that will determine the fate of PCC's accreditation.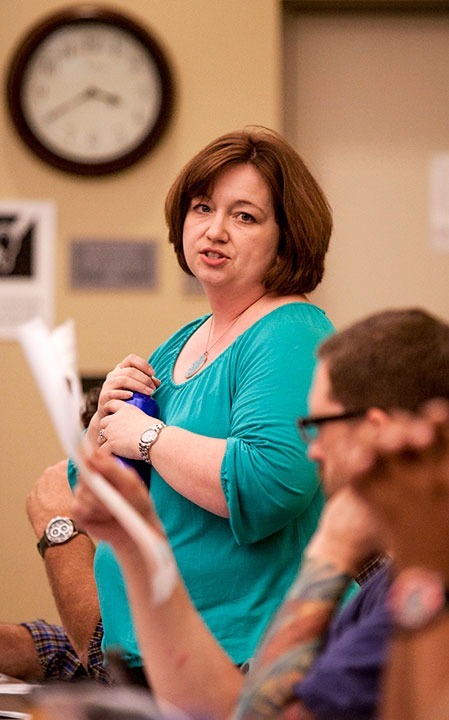 Stephanie Fleming, one of the senators, spoke for more than 20 minutes at the Senate's Sept. 23 meeting about the upcoming site visit.
The presentation was complete with handouts and charts showing past areas that needed to be improved. The chart dates back to the 1996 accreditation areas that the Accrediting Commission for Community and Junior Colleges (ACCJC) suggested the campus work on.
"Accreditation is a six-year cycle," said Fleming. Although the final decision isn't made until the end of the cycle, there is a midterm report that is due at the three-year mark.
"The midterm report was already submitted and approved by ACCJC," she said. There is a committee of faculty that writes an internal report that is submitted as the midterm report.
In order to stress the importance of the site visit, Fleming spoke of how the City College of San Francisco (CCSF) had its accreditation terminated in 2014.
According to Fleming, CCSF's accreditation was terminated due to a failure to meet some eligibility requirements. In 2012 the ACCJC found 14 deficiencies in the institution and in 2013, there were 11 of those deficiencies that had not been resolved.
According to a letter to PCC from former college president Paulette Perfumo in 2009, PCC's accreditation was not in jeopardy despite the fact that it was placed on warning by ACCJC.
"Being placed on "warning" status is the least severe of the of the several sanctions the commission might have applied, and is issued when the commission finds that an institution has a practice or procedure that raises a concern and warrants focused attention by the institution," reads the letter.
The warning was issued because of recommendation number one. "Specifically, the college needs to implement a consistent data set program review and process improvement," says the recommendation.
Accreditation was reaffirmed and the warning removed in Jan. 2011.
Professional Development Day, Oct. 1, is going to focus on meeting accreditation goals. Instructors will spend the day making plans to improve the five areas PCC has been suggested to enhance.
Latest posts by Madison Miranda
(see all)