Hometown guitar hero and Pasadena City College Class of '74 distinguished alum Eddie Van Halen has died at the age of 65 after a lengthy battle with cancer.
News of the rock giant's death broke early Tuesday afternoon in a social media announcement from Van Halen's son, Wolfgang.
"I can't believe I'm having to write this," Wolfgang Van Halen said, "but my father, Edward Lodewijk Van Halen, has lost his long and arduous battle with cancer this morning."
Van Halen was diagnosed with tongue cancer in 2000 but was declared cancer-free in 2002. Eight years ago, they discovered throat cancer and Van Halen had actively been seeking treatment for it. This week, however, the guitarist's health took a rapid decline. Doctors found his cancer had spread to his brain and other organs. Van Halen's first wife, Valerie Bertinelli, confirmed he had lung cancer.
TMZ reported the Rock & Roll Hall of Fame musician died at St. John's Hospital in Santa Monica with his wife Janie, brother and bandmate Alex, his son Wolfgang and his ex-wife Bertinelli at his side.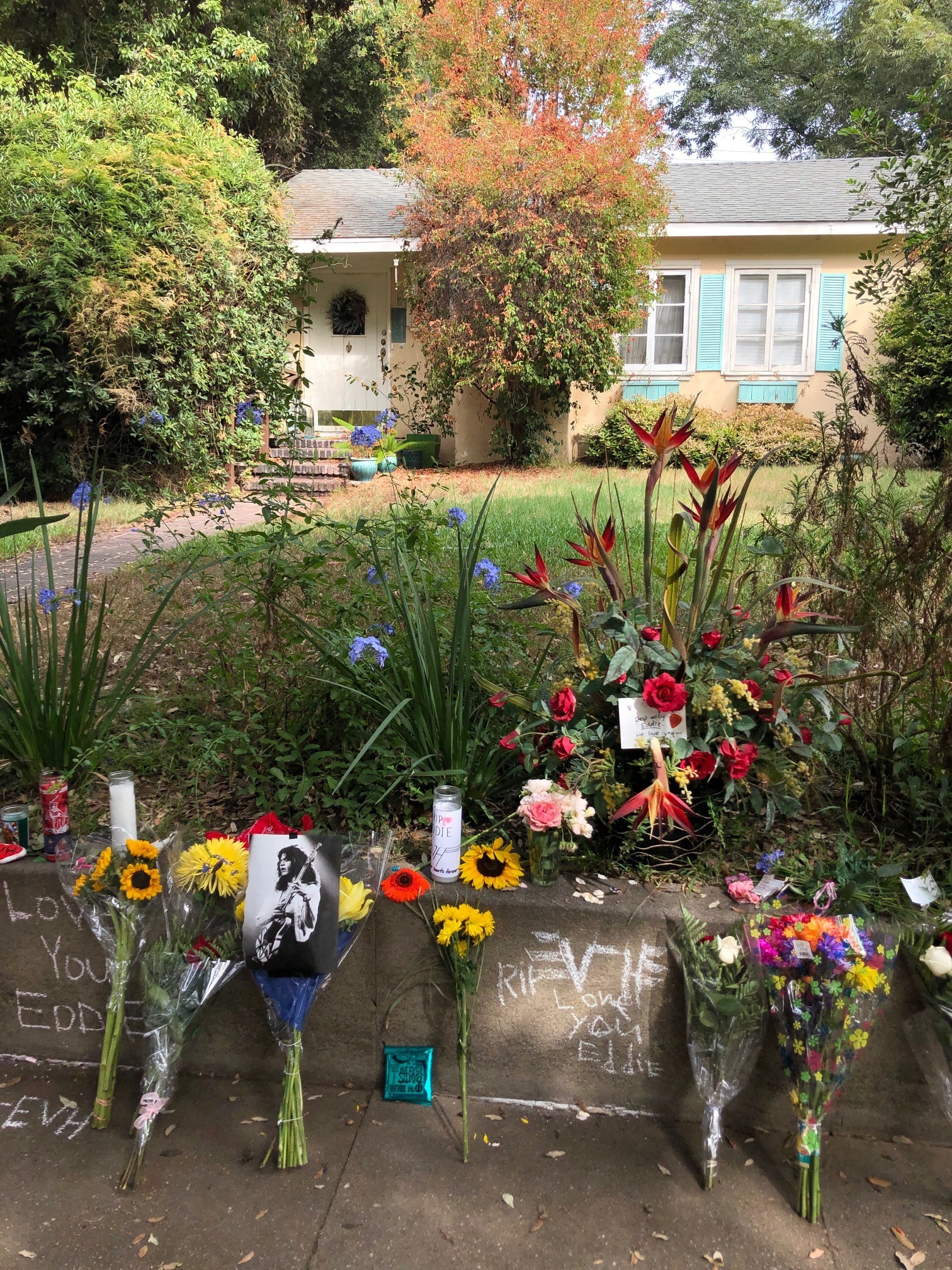 As a child, the Dutch-born Van Halen immigrated with his family from The Netherlands and settled in Pasadena. In the late 1960s, Eddie Van Halen and his brother Alex formed a band called The Broken Combs, which played its first show in the lunchroom of Hamilton Elementary School. Van Halen honed his guitar chops while attending Pasadena High School, and eventually, on the PCC campus, the band Van Halen was born.
At Pasadena City College in 1972, Eddie and Alex Van Halen met bassist Mark Stone and their future frontman, David Lee Roth. The four formed the band Mammoth and performed at PCC's Sexson Hall as an opening act for a band called Manna. Mark Stone, who left Van Halen in 1974, also died of cancer on Sept. 26.
"My first encounter with DLR was in Truman Fisher's scoring and arranging class. Dave and I got along from the get-go. But from the outside looking in it might have appeared to be a very odd pairing, as I am just a jeans and tee-shirt guy," Van Halen told PCC's own Spotlight magazine in 2015. "And Dave was dressed 'to the t' like David Bowie – from the haircut all the way down to the platform shoes."
Van Halen continued to refine his craft, taking piano lessons at Long Beach City College and music arrangement classes at PCC.
"When I was in junior college at Pasadena City, I took a scoring and arranging class with a Dr. Fisher," Van Halen told Guitar World in a 2012 article. "Frank Zappa had also been his student. Dr. Fisher was very avant-garde, and the one thing he taught me was fuck the rules. If it sounds good, it is good."
After also meeting replacement bassist Michael Anthony at PCC, the band's eponymous name became cemented, quite literally. In 1976, on the corner of Allen Avenue and East Villa Street, Van Halen etched their name in wet cement. Now there is a growing memorial of flowers and candles at the site, not far from the Van Halen's family home at 1881 Las Lunas Street, where their band began.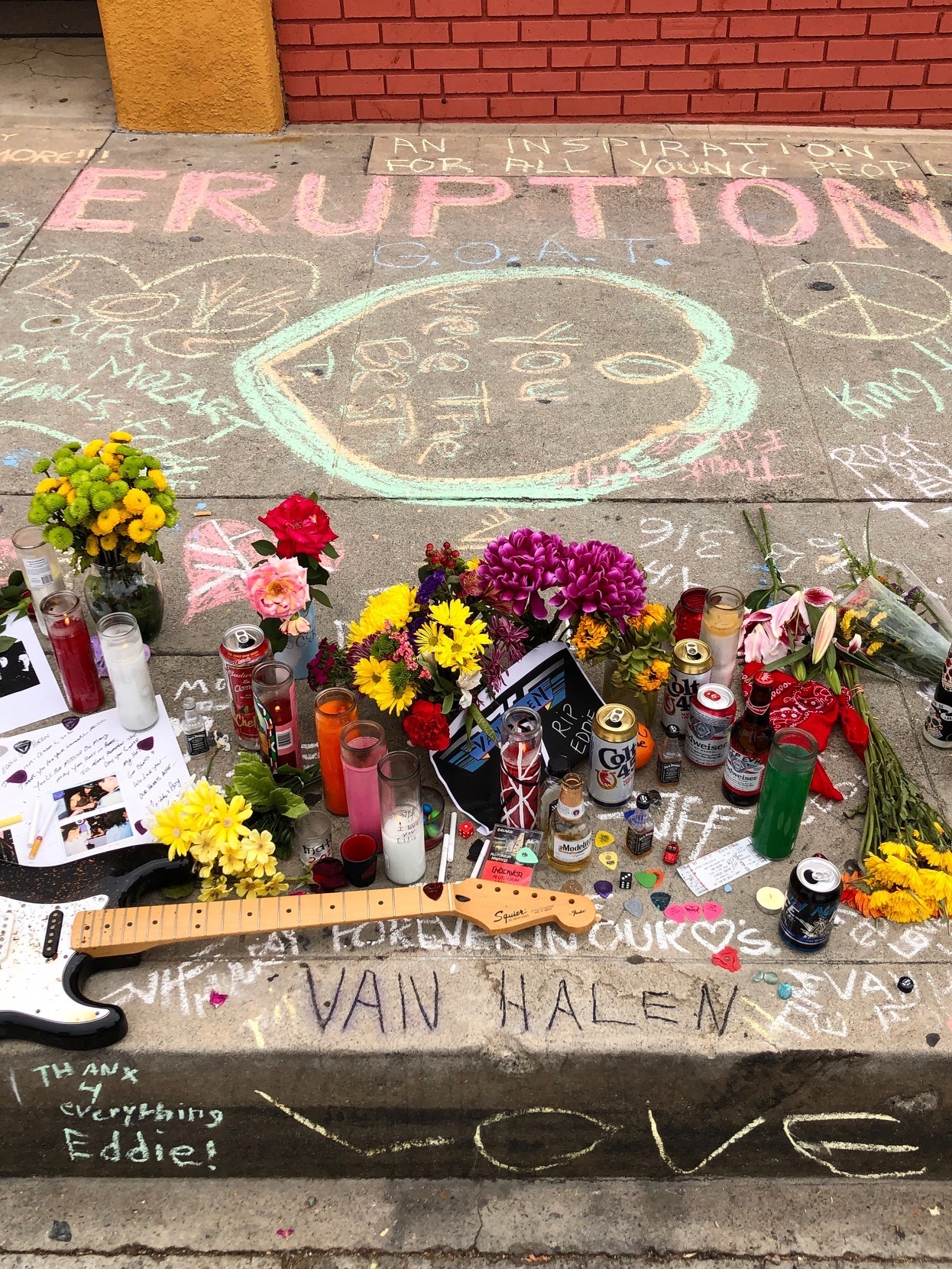 "Our experience at PCC was very odd in the respect that we would stumble into class very tired from having played clubs the night before," Van Halen said to Spotlight. "We were just trying to make a living and PCC helped in a lot of aspects, such as learning from Truman Fisher and at the same time the social part of having met Dave."
Pasadena and PCC are now awash in VH lore, but after scoring big on the Sunset Strip in 1977, Van Halen, with his trademark red and white striped "Frankenstrat," set out to change the rock world forever.
The Van Halen live shows revealed that Van Halen had crafted a new technique of "tapping" the fretboard with the fingers of both hands simultaneously and swiftly. It was a signature style that would soon become a sound to emulate.
Two months before the release of VH's fifth studio album, "Diver Down," at the request of producer Quincy Jones, Van Halen did a quick session that he thought would never be heard. He saw it as an unlikely pairing that wouldn't work well together. At that session, Van Halen recorded the now-iconic guitar solo on the Michael Jackson song "Beat It."
Now recognized as one of the greatest guitar players of all time, Eddie Van Halen's bombastic style of playing and distinctive tone changed the course of rock music. Rolling Stone magazine named Van Halen number 8 on their top 100 list of the greatest guitarists in 2015.
"Eddie has soul. It's like Hendrix," Rolling Stone magazine said. "You can play the things he's written, but there's an X factor that you can't get."
Van Halen released 12 studio albums over 35 years. The band has sold more than 56 million albums in the United States and 80 million albums worldwide.
In 2006, after numerous successful worldwide tours, bassist Michael Anthony retired and Eddie Van Halen's son, Wolfgang, took up the VH mantle as a permanent band member with his father, uncle, and for the first time since 1984, original frontman David Lee Roth.
Tributes to Eddie Van Halen continue across the globe from fans and fellow musicians, a testament to the worldwide impact of the guitar player from Pasadena.
Latest posts by Mark Sovel
(see all)