Día de Los Muertos (The Day of the Dead), an annual Mesoamerican holiday that celebrates the dead instead of mourning them, is being added to the list of events and holidays that are going virtual this year because of COVID-19. Although, there will be limited in-person events around LA County to help celebrate the holiday.
The holiday takes place every year Nov. 1 and 2 and is normally celebrated with parades, communal feasts and festivals. The tradition originated in Aztec culture and is celebrated throughout Latin America. It is an "awakening" of the dead so they can be with their loved ones.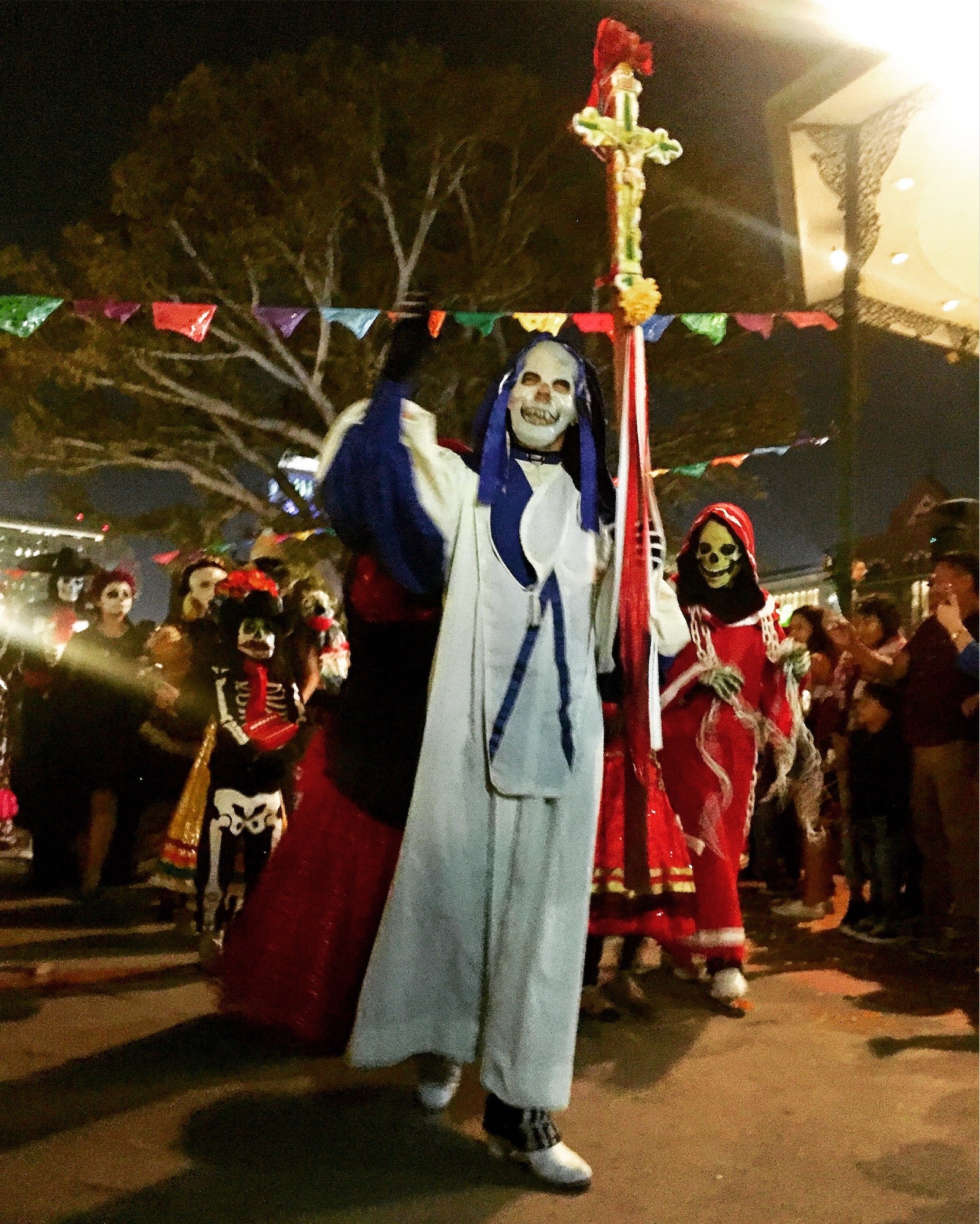 Large gatherings (even outdoors) such as ones that would take place to celebrate Día de Los Muertos remain prohibited in Los Angeles County. However, private events held outdoors are allowed to have three or fewer households gathered together. This means families in the Los Angeles area who normally celebrate the holiday with their families and friends are still able to.
In Pasadena, families and friends will be able to enjoy a drive-in movie presentation of Disney's "Coco" at the Rose Bowl parking lot-I, courtesy of the City of Pasadena. The film starts at dusk Friday, Oct. 30, and registration is required.
There will be no public or virtual events happening in Old Town Pasadena. A representative from the Old Pasadena Management District has said there will be nothing hosted this year due to a city health order.
There will be two opportunities to go out in public to remember and honor the deceased in downtown Los Angeles. Christina Mariscal Pasten of the Olvera Street Merchants Association said there will be community altars on display Oct. 25 to Nov. 1 with social distancing protocols in place along with a virtual event.
"We are finalizing details on our virtual event and will publicly announce later this week that it will be live on November 1," Pasten said. "Please keep checking our site and Instagram for details."
Merchant shops and restaurants had been closed due to the pandemic but recently reopened. If you'd like to support them, the merchants and restaurants are open seven days a week 10 a.m. to 5 p.m. with some restaurants offering later closings.
In downtown LA, Grand Park is hosting altars that were created by artists and community partners. Visitors are able to walk through the park to view the altars and learn about Dia De Los Muertos traditions. Social distancing guidelines are also in place asking the public not to gather in large groups.
There will also be a few ways to celebrate from the safety of your home on your computer. Hollywood Forever Cemetery hosts one of the largest events every year but this year's in-person festivities are canceled. Criteria Entertainment is marketing the event and Guillermo Ignacio Morales Vitola of LA record label Mercado Negro, laid out some of the plans for what will be happening virtually.
"The virtual event will be more educational this year," Vitola said. "We will have detailed explanations of why we celebrate the dead and why we create altars, what are the characteristics of an altar, why we serenade and why we leave food on the altars."
The event will also feature musical performances from Buyepongo, Tropa Magica and Los Lobos. Audiences celebrating the holiday will be able to view this virtual event for free. It will be pre-taped and available to view Nov. 1 via their website.
Lastly, if you are an art lover the Music Center will be hosting a public art installation with digital ofrendas at the Jerry Moss Plaza. For those who don't want to venture outdoors, the Downey Theater will host a virtual art festival Nov. 1.
Latest posts by Elizabeth Allen
(see all)