Enthusiasm towards voting varied while asking, "does your vote matter?" to students and staff across campus. This group included first-timers to non-voters as well. 
One student was caught on her way out of the poll place on campus at Creveling Lounge. When asked about what compelled her to vote early–or vote at all, Amelie Shelton credited her parents. 
"It's more so just the fact that my parents always made it out to be something that is important. And that always kind of stuck with me. As I've gotten older, I've realized that it is very important if we choose to see the future that we want in our society–in this country especially. I think this midterm election is very important," Shelton said. "Especially with Proposition 1 being discussed … I just figured it was very important, especially for women to be voting right now, so I wanted to do my part." 
Before showing up to vote that day, Shelton wasn't yet registered to vote. It was going to be her first time voting, ever. 
"I actually registered that same day like 20 minutes before at the same place. It made it remarkably easier because I was having a lot of trouble finding a place to register, where it was getting kind of stressful for my family and I," Shelton said. "And so, I just happened to walk in there and asked if I could and they said 'of course', and so I registered. They thanked me for being there, which was very nice. And I voted. I just walked in and did it. I didn't even really plan on it happening, but it was very convenient." 
Not all students are planning on voting this year, Alexis Zambrano gave a hard "no" when asked if he plans on voting, without elaboration. Alongside him, his peers Nick Ticas and Alex Melendez mention that they are voting. When asked if he believes his vote matters, Alex Melendez stated, "no I don't believe that," and explained "I still vote but I don't think it matters, there's so many people like out there voting, so like I don't think one person would change everything, just from one vote.
"
On a different part of the campus, The Courier met with PCC student Tony Wong. He has volunteered with an election in La Puente in the past and feels strongly about voting and its effects. He's witnessed a previous election be determined by less than 100 votes, and shared that he feels it's very important for people to vote. 
"We're really living in a generation of urgency, where we have to deal with major issues such as climate change and the affordable housing crisis," said Wong. 
Students still interested in voting can  register to vote in the Creveling Lounge until Election Day–Tuesday, November 8.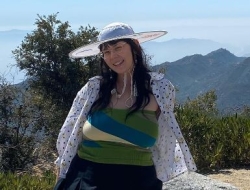 Latest posts by Casey Redd
(see all)