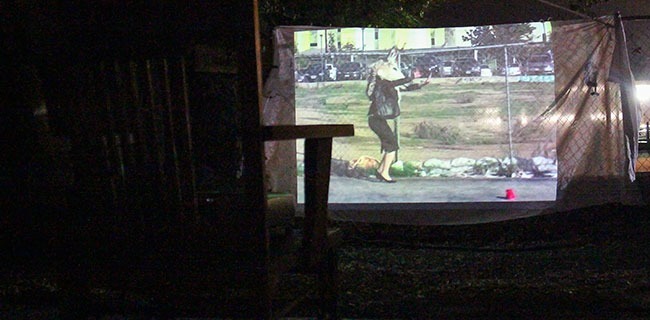 Art-centered non-profit organizations Side Street Projects and Freewaves came together for ArtNight Pasadena to create an interactive event meant to challenge people to interpret the meaning behind public art and current events.
Side Street Projects, a Pasadena-based organization, and Freewaves, a Hollywood-based organization, may have different missions, but they have often collaborated for the past 20 years.
"Side Street Projects' mission is to give artists of all ages the ability and means to support their creative endeavors, "said Emily Hopkins, the executive director of Side Street Projects. "So basically, we teach artists how to roll up their sleeves and do things themselves… We present projects with artists who often operate outside of the gallery system and work in communities, instead of galleries. We also have youth programs to teach children about art."
Freewaves has a similarly unorthodox approach.
"Freewaves tries to bring artists and the public together, not in a gallery, but in a non-conventional platform. And we try to start a dialogue about culture and art that you don't see in the mainstream media," said Cindy Rozas, a Freewaves representative.
The two different organizations were especially excited for their ArtNight Pasadena collaboration because it was one of their more unique projects that asked an important question: "How can art change the world today?"
The interactive public work exploring current attitudes toward art and world events consisted of artists' videos being looped and projected onto the surfaces of Side Street Projects and the attendees as well.
The videos displayed, which consisted of busy freeways, people dancing on the sidewalk, and even a short animation film, were all specifically curated by Anne Bray, the executive director of Freewaves.
"These videos weren't chosen randomly," said Rozas. "All these videos are questioning something… We want to create some thought and get a conversation going. We are interested in how art can be interpreted."
"We are interested in artists who use dialogue to address important problems like social justice issues," added Hopkins. "Dialogue keeps ideas flowing."
Therefore, to keep the dialogue going, it only made sense that a portion of the project was web-based on Twitter, encouraging people to tweet with the hashtag #questiontheprojection.
"It's different for us, but we felt like we could reach more people by using Twitter," said Rozas. "The Internet has such a big presence, it was a way to include others who couldn't come to [ArtNight Pasadena] to still feel included and interact with attendees and artists… We want to continue to expand the platform for artists."
Side Street Projects will be hosting a Masquerade Fundraising Ball on Saturday, October 25, 2014. To get involved, visit www.sidestreet.org/masquerade.