Seeing gator, kangaroo and turtle all on the same menu? No, you are not in the south, Australia, or South America. You are actually right across the street from PCC on Colorado Boulevard at Luigi Ortega's.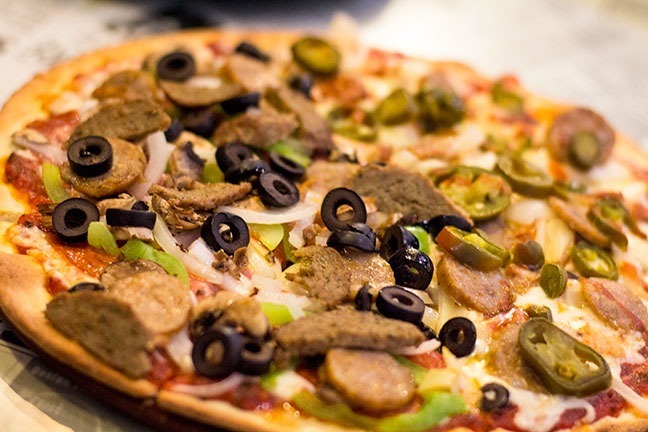 Luigi's owner Nick Auvazian says that he is has brought a lot of different food to his restaurant, such as pizza, pasta, hoagies and Mexican food so that everyone who visits can order something they like.
"The burritos are pretty popular," Auvazian said. "Also, the Italian sandwiches we make here are also items that get ordered a lot."
One of the signature pizzas on the menu is Dr. Death's Suicide Pie. Sounds a bit intimidating? That's because it is. If you don't like spicy food you will hate this pizza, but for those of you want to take a ride on the wild side, order one of these and see how long you can go without begging for water.
"The Suicide pie has six sliced habaneros on it," Auvazian said. "Death Hot Tomato Sauce, mozzarella cheese, sautéed white onions, elephant garlic, buffalo chicken chunks, sausage and jalapeños. I like spicy food, so I decided to make something really spicy."
Another frequently ordered item is the Garbage Pie. Don't let the name fool you; this thin crust pizza has many great flavors that blend together well. What makes this pizza unique is the sliced meatballs on top. This pizza screams Italy in one slice with pepperoni, salami, sausage, mushrooms and olives also on the pie.
"They have really good pizza here," said Mony Sea, undecided. "But I absolutely love their hot wings here. Today I tried the kabobs, which were delicious."
If you are feeling adventurous, LO's also has an exotic menu consisting of turtle, kangaroo and gator tacos and pizzas. The turtle has a sweet taste and is much like beef jerky, only not as dry and easier to chew.
"There is lots to choose from on the menu," Auvazian said. "People see the exotic menu, which makes them come back a second time to try one of those [entrées].
Auvazian said that much of the customers were from PCC, and came in frequently.
"I see familiar faces walking in her often," Auvazian said. "We are very thankful for the students that come in, and hope they keep coming back."
Latest posts by Philip McCormick
(see all)