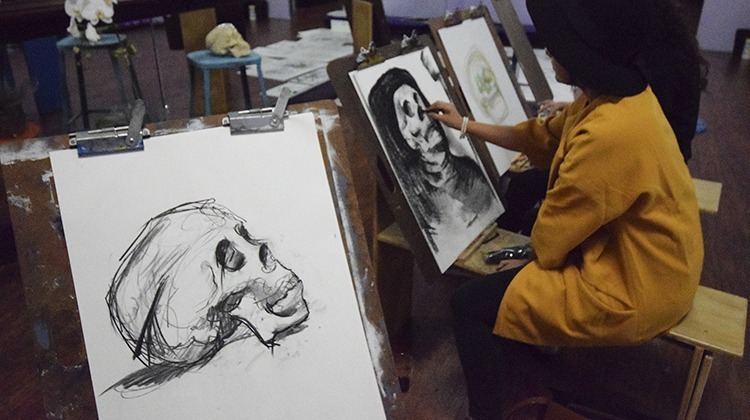 South Pasadena isn't known for its nightlife. However, the Arts Crawl, an event that teams up businesses and artists, is a way for businesses to encourage both locals and visitors to spend some time, and money, in South Pasadena. Along with later opening hours, businesses also hosted events geared towards adults and children.
The quarterly event took place on Feb. 21 from 5 p.m. to 9 p.m. and included open galleries, food trucks, and live musical performances.
The Chamber of Commerce established the Arts Crawl to give people in the community a reason to come to South Pasadena's business district and for visitors to come and explore.
"What we do is get all of the stores to open up late and to host artists and musicians," said Scott Feldmann, former president of South Pasadena's Chamber of Commerce. "We also try to create art space economic development strategy. So the more we have arts, the more it gives people a reason to come to South Pasadena to explore."
According to Feldmann, the Arts Crawls is an opportunity for people to explore South Pasadena's many independently owned shops. He wants people to discover a more relaxed and unique side to Pasadena during the Arts Crawl that will encourage them to come back.
"We have Space art center, which is our local gallery and art studio, to coordinate special events," Feldmann. "Then we have food trucks and loud music."
Space, a non-profit organization, also hosted events both in their gallery and in front of city hall. Children and adults could participate in the free paper lantern activity that was set up for them.
Food trucks were peppered along Mission Street, luring in hungry pedestrians. If ramblers didn't want to eat outside, restaurants were also open for business.
However, the main attraction for people attending the Arts Crawl were the galleries and and live musical performances that took place both in indoor and outdoor venues.
The South Pasadena Gallery exhibited works by painter Tom Field and ceramics sculptor Junzo Mori. Along with appearances by both artists, there were also free snack and drinks.
"Tom Fields and Junzo made this lovely art and it's right here in the Chamber of Commerce Gallery," said Feldmann.
Other stores also held special events. Marz, an independently run store, had Buttah Boys Bakery come and sell cookies.
"The owner of Marz invited us," said Travis Crain, one of the founders of Buttah Boys Bakery. "We're hoping to open a brick and mortar store. Hopefully in South Pasadena."
Dotted along the street and inside shops were also pop up bands such as T-Mac, Flood and the Bounty, and Pieces of My Heart.
"We do original Americana folk tunes that criminally romantic," said Deb McCurdy, one of the band members. "It's so satisfying. Even if we play for only a handful of people."
The South Pasadena Library Community Room hosted musicians. Trumpeter Mark Hatch performed with vocalist Chazz Fritchtel. The Arts Crawl Ensemble also made an appearance.
However, for business owners, the Arts Crawl was more than just luring in potential customers. It was also a way to bring the community closer together.
"It's nice to have all the local businesses involved in doing things," said Heather Aruka, one of the founders of Mix n' Munch. "We try to get the community involved by letting them draw and put their art up. We're not necessarily known for our night life so it's cool to start bringing in other people."
Besides the mini gallery of paper and crayon on drawing, Mix n' Munch also hosted teenager Ryan Soohoo's handmade duct tape wallet event. Customers could buy a wallet and children could craft one of their own with the many colorful tapes that Soohoo brought with him.
"I stated three years ago when my cousin showed me some duck tape stuff," said entrepreneur Soohoo. "It's fun cause I get to show my stuff here. It's cool that people walk through here and look at my crafts."