[box style="0″]
"Suddenly, I woke up in the middle of the night from a horrible commotion. I thought someone had fallen down the stairs. Gretel proved me wrong. It was actually an air raid and it was really close by in the forest. 9 bombs had fallen as we learned the following day. Well, that was a close call."
[/box]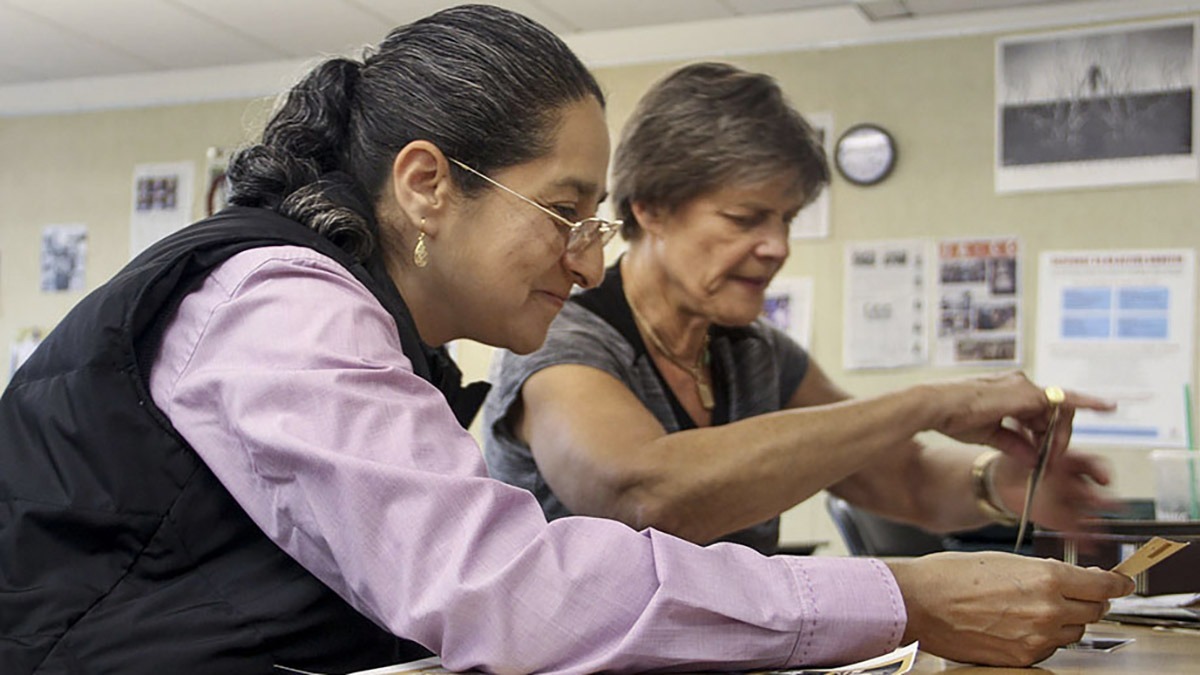 Last summer two girls from the Germania club took up the colossal task of translating a diary kept by a 17-year-old German girl during World War II, along with poetry she had written during the 1940s.
Suzy Moser, a San Marino resident and the daughter of the diary's author, Marlis Haas, was never taught German by her mother. So when she discovered a handwritten diary and poetry after her mother's death, she couldn't read the thoughts and memories her mother once brought to paper during a time of war in Germany.
Moser wondered who could help her with the task at hand and while browsing the PCC website she came across the Germania Club.
When Olivia Bueno and Laura Benitez were first approached by Moser, they were initially apprehensive and thought the task was out of their league.
Benitez and Bueno presented the project to other club members, who backed out when they heard all the material was in German cursive handwriting, which is notably difficult to decipher for the untrained eye. However, Benitez and Bueno could simply not let the opportunity pass by.
"We met with Ms Moser and we're getting excited," Bueno said of their initial meeting. "We are touching the material and we are seeing the quality of the paper and we are realizing 'This is history!' And while taking pictures, we are saying to ourselves, 'Wait a minute, only scholars get an opportunity like this.'"
Bueno took it upon her to translate the diary portion that spanned the two weeks of vacation time shortly before Haas was drafted for "Reichsarbeitsdienst," the Empire Labour Service.
In her last year of school, Haas went on a two week trip to Austria with a friend to make the most of the last long summer holidays. Such long vacations wouldn't be possible once she was drafted for labor service. During World War II, women over 18 had to work for a year on farms, in offices, traffic and arms production to replace the missing male workforce.
For months Bueno and Benitez spent endless hours on deciphering the handwriting and giving meaning to the words on the worn pages.
"The most challenging part for me was making sure I got the meanings of the poems right," Benitez said. "For every one German word there are several different words in English that it can be translated into. I wanted to get the feeling right for each poem. I was most concerned with the message of the poems since they are such personal words and I wanted to be respectful of what Marlis Haas had written. And I wanted to be as accurate as possible."
The war raged while Haas and her friend Gretel, both from Neureut near Karlsruhe, traveled from city to city, and Haas admired the beauty of the landscapes and the old architecture, which she describes as being stunningly beautiful in her diary and poems.
But the air-raids were ever present, and at times Haas describes them almost as an inconvenience. While shopping they suddenly hear the aviator alarm and have to take cover for hours. Then life goes on and they enjoy swims in the lakes and the people they meet.
Despite the horrors of the war going on around her, and having lost her father and brother during this time, in the diary she is still a 17-year-old girl enjoying her summer holidays and taking in the beauty around her.
"When you are reading this information, it is like an escape," Bueno said. "You can see her perspective for nature through her diary and how she is able to see all that beauty. She keeps a beauty for herself to keep her sane."
Haas tries to make sense of what is happening around her. Despite never quite being able to escape the war, she does her best to enjoy the beautiful cities she visits, like Vienna and Salzburg.
"These were the last two weeks of her freedom before she had to go to this Reichsarbeitsdienst."
Haas eventually gets drafted to the labor camp near Lake Constance, but escapes with two other girls when steal a boat and row across the lake, according to Ms Moser. They got news about the foreign forces moving in and needed to get home before they were cut off from their families.
The diary and poems hold Haas' dreams, memories, and her loves and fears.
"Laura and I had a life changing experience to do this, but we need to share it," Bueno said. "The message is there and it relates to us young generations and to the creative minds and how she survived tough moments in her life."
Both Bueno and Benitez describe the experience of getting the opportunity to translate first source material from World War II as life altering. Benitez learned in school, where she minored in German, about World War II and the events in Germany during those times. She said she gained a completely different perspective by studying someone's personal accounts and learn about their thoughts.
"The experience has been an amazing one," Benitez said. "Going into it, I never imagined how rewarding it would be … We worked on this for months and all the hard work and long hours spent trying to decipher whether a letter was an e, or an i, or even an l, were worth it … Ms. Moser was so grateful and that has been the most rewarding part. Helping her read her mother's words and understand what she was going through during that time is amazing. This is something I won't forget."
Moser was immensely thankful to Benitez and Bueno, who had "done the best job [she] ever could have expected." She could finally read the diary and poems her mother wrote to perpetuate her memories, thoughts, and emotions.
"It's really nice to see the diary and poetry," Moser said. "The thread that went all the way through was this creativity and this love of beauty and this desire to make it, whether it was a poem or an illustration or a beautiful home. She was always making life better and prettier and more beautiful. I think it's a swell story."