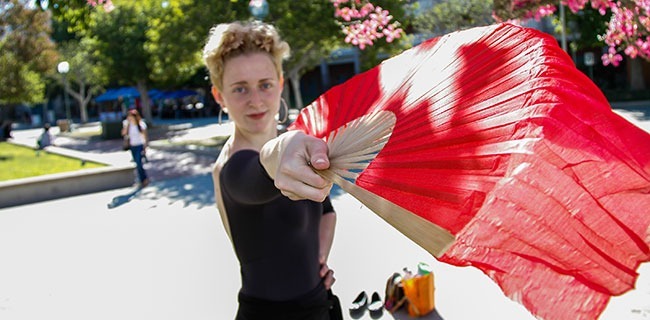 She rehearsed the piece for over a year, and when she got up on stage her mind went blank for the first eight counts of the song. It was traumatizing. She stared at the judges, lost, and then she regained her composure. She stayed on stage, and she danced.
Backtrack some years. She was 8 and she begged and begged her mother to let her dance. Her mother signed her up for one week of class. The first thing she did in class was cry, as she had no idea what she was doing in a class full of 6-year-olds. By the end of the week, she was in love with it.
By the age of fourteen Jessica Taylor trained seriously, on a scholarship, for 40 hours a week and competed at Youth America Grand Prix in New York.
"Dance is my life. I know everyone says that, but I don't know any other way to live. At one point, I worked almost 40 hours a week at a retail job and I wasn't really able to dance for that period of time," Taylor said. "I just couldn't function. It wasn't me. I have to dance—it's what I do. It's everything I do. I stop what I'm doing and dance and my friends are like 'Oh my God! She's dancing again!' It's who I am."
Since she was 8, Taylor has competed at dance competitions, trained in professional ballet companies, performed with companies in major productions, made appearances on talk shows like Good Day L.A. and Bonnie Hunt, and performed as a dancer in the movie Honey 2.
"Students come to me, and sometimes I need to re-train them, that's not the case with Jessica," said Ellen Davis, Taylor's performing/communication arts instructor.
All of this success wasn't always meant to be. Initially, Taylor's mother didn't want her to pursue a career in dance. She wanted to shield her daughter from the potential destructive forces to self-confidence that dance can sometimes be known for.
"Dance is competitive, it's hard, it's based on what you look like-your weight, all of that," Taylor said. "When I was 11, they would ask my mom, 'Are you not feeding her? She looks so skinny.' And then when I got older, it was 'Oh, don't eat sugar, don't eat bread, don't have soda.' You hear that all the time, 'What is wrong with you?'"
Taylor did not let the stereotypes or the judgments weigh her down. She trained hard and still does today. She may be classically trained, but she doesn't feel like a traditional ballet company swings to her beat.
"I'm classically trained, so my 'calling' is [joining a] ballet company," she said. "But in my experience, it's a very hardcore, judgmental field. So if you don't fit certain molds, then you're not going to get picked."
Ballet can be extremely judgmental, but Taylor isn't shy about having found her own voice and using it.
"For me, I cannot just overlook things like that. It just pisses me off. I have an opinion about things and I don't like when people 'judge a book by its cover,'" Taylor said. "Just because I don't fit the mold, that doesn't mean that I'm not properly trained. It doesn't mean that there's something wrong with me."
In a world based on typecasting, Taylor doesn't like to self-identify.
"If I listen to what everybody says about me and what I represent I would just be, 'I don't know who I am, how I dance, what I'm doing,'" she said.
Taylor did not get to attend a normal school growing up. She received a full education and got her high school diploma but never experienced an on campus life. Today she is studying dance at Pasadena City College and hopes to transfer to Cal State LA and receive a degree in theatre arts and dance.
She was initially unable to take higher level courses despite her professional background. The school structure required her to take introductory courses before she could get into the advanced class. She is still learning a lot, however, and her art form is constantly growing.
"A good student with a good attitude can get a lot out of a beginning class. She's got a great attitude," Davis said. "She's a lovely person and student. She's the real deal."
Whether it is with a larger scale ballet company like American Ballet Theatre, a smaller one like Lines Ballet, or a new and unique dance group, there is definitely no other option than dance in Taylor's future.
"I have respect for a lot of major ballet companies. But a lot of those are based on sort of a cookie-cutter format and I don't know that I fit that," Taylor said. "So probably, if it wasn't with a contemporary kind of ballet company. [I'd like] being a part of a diverse group of people collaborating, choreographing."
With the evolution of the artistic fields, the proverbial 'beaten path' isn't necessarily a bad one, but it definitely isn't the only one. If it's what you love, you don't give up on it.
"Anything you do that you love tests you," Taylor said. "You can't second-guess yourself."