Passion for film and television came at an early age for Instructor William [Rod] Foster. Growing up in Los Angeles in the 1950s, Foster watched television shows and movies from the 1930s and 1940s.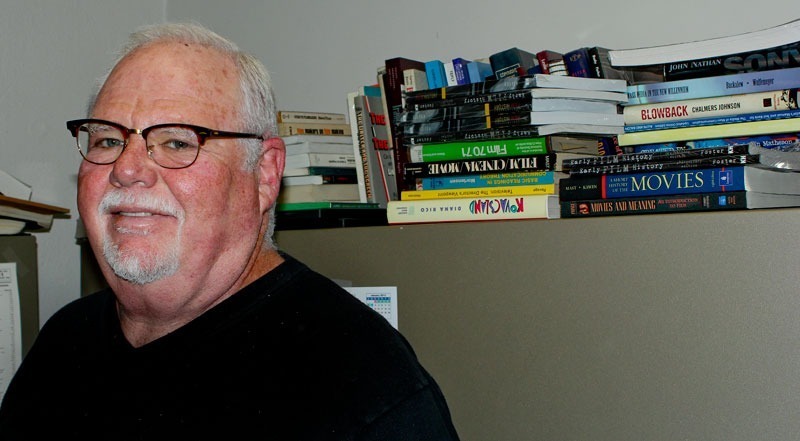 Sitting in his office chair, remembering his childhood, Foster smiles. "[I watched] everything from cartoons to John Wayne films," he said.
In 1964 Foster attended San Diego State University right out of high school at the age of 17. Although he had a passion for film, he didn't pursue that field right away.
Foster was in the fraternity Alpha Tau Omega. He had fun partying with his fraternity brothers and meeting the sister sorority girls. He wore nice suits with a tie to dances and parties. "This was before [the culture of] the hippies. That wasn't until the late 60s when the Vietnam War started," said Foster.
Although he enjoyed student life, he still kept a B average in his classes.
Foster was also on the debate team. He said that everyone on the debate team wanted to become lawyers, so he declared his major to be pre-law with the rest of them.
Eventually he changed his mind and left SDSU. He spent time surfing and joined Vista, which is a part of the peace corps. When he went back to college at Chapman University, he was a different man and student.
He was a matured 22-year-old who was a straight A student and a serious reader. He graduated Chapman in 1970 and majored in Communications at graduate school.
He worked at CSU Fullerton for nine years and in 1985, started working at PCC.
Today he is an instructor for Communications 1, Theater Arts 7A, and 7B. He wrote the book "Early Film History" and "Contemporary Film History" which are used in all the theater arts 7A and 7B classes.
Best thing about college: "[When in college] the best thing was just having fun. Now that I look back, [the best thing] was [gaining] the intellect.
Worst thing about college: "The dorm food."
Most interesting thing about college: "[My] professors."
If you could go back and change one thing about yourself, what would that be?: "[I would] take time [off] before high school and college. I was young, I was 17."
What do you know now that you wish you knew then?: "Savor every minute of [the experience]."
Student Opinion: "[He is] interesting. He makes the lessons really interesting. You look forward to his class and learn something every time you attend," said Timothy Herrera, film.
Latest posts by Alumni Staff
(see all)