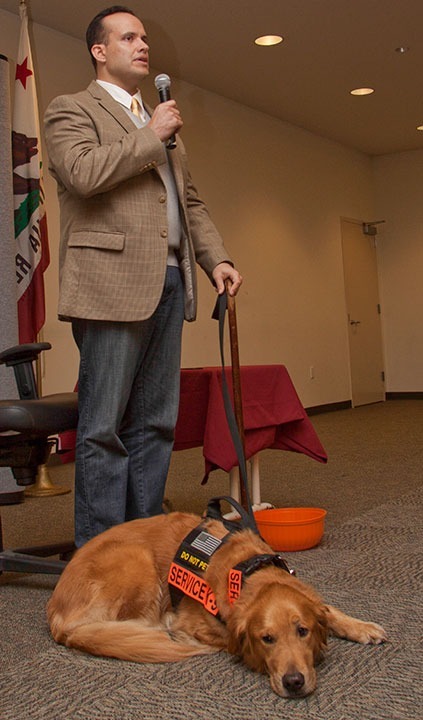 Imagine tossing and turning from a horrific nightmare, heart pounding and covered in sweat, then being gently awoken by a cold nose and soft fur nuzzling at your neck.
"It's love on top of love and it's the best way to wake up from something like that," said retired Army Capt. Luis Montalvan, who penned his memoir "Until Tuesday: A Wounded Warrior and the Golden Retriever Who Saved Him" with Bret Witter.
Hosted by the Veterans Resource Center, Montalvan, a decorated Army veteran who won two Bronze Stars, the Purple Heart, the Army Commendation Medal for Valor and the Combat Action Badge, was on campus Tuesday to present his award-winning memoir to faculty and students, many of whom were also veterans.
In his New York Times best-selling memoir "Until Tuesday," which was published in 2012, Montalvan tells the story of the injuries he sustained, both physical and psychological, and of the service dog named Tuesday who helped him along the road to recovering and reinserting himself as a functioning member of society.
"After a couple tours of duty in Iraq and 17 years in the Army, I was burnt toast… I was drinking a liter of rum a day, reeling from the effects of PTSD, holed up in a Brooklyn apartment," Montalvan said.
Montalvan said that it was hard to cope with his shift in identity.
"To go from being physically and mentally tough to being broken and disabled is a psychological shift that many don't ever make," he said.
In November 2008, Montalvan was suffering from several physical injuries as well as a brain injury and crippling post-traumatic stress disorder when he met Tuesday, a golden retriever who had been trained to assist the disabled.
Now he and Tuesday are best friends and Tuesday assists him in everyday tasks like getting ready in the morning by fetching his shoes or cane.
"The more amazing things he does are psychological," Montalvan said. "He knows exactly how I'm doing. He can smell my perspiration, he can distinguish whether it's fear-based perspiration or joy-based perspiration or relatively okay perspiration."
According to Montalvan, Tuesday can anticipate things like when he is about to have a panic attack and provides him the comfort he needs to help prevent the attacks.
"To know that I was going to get a dog that I could not only give my love but would also love me and help me live my life, get out of my apartment and just live was life affirming. It was salvation," Montalvan said.
Alana Johnson, biology, who attended the event, said that her grandfather, a World War II veteran, recommended the book to her when she was going through a difficult time.
"Even from a non-veteran's standpoint, it can be inspirational, especially to someone trying to overcome psychological disorders," Johnson said.
"It's hard to understand the emotional distress [veterans] go through when they serve in a war and continue to suffer through when they come home, so any form of therapy and relief they can get is great," Johnson added.
Montalvan's memoir won the 2012 USA Best Book Award in the Autobiography/Memoir and the Audiobook Non-fiction categories and he was a finalist for the 2012 APA Audie award alongside Michael Moore and Tina Fey, according to Patricia D'Orange-Martin, coordinator of the Veterans Resource Center, who introduced Montalvan before his presentation.
Montalvan is also a vocal public advocate and has received the 2011 Voice Award and the 2011 Invisible Hero Honors Award for his efforts to educate the public about the trauma that veterans and people with disabilities experience, said D'Orange-Martin.
Latest posts by Aubrey Quezada
(see all)