Amidst the hustle and bustle of midterm week, with sights such as students bolting across the Quad with a Scantron in hand, a small jazz trio eased the tension.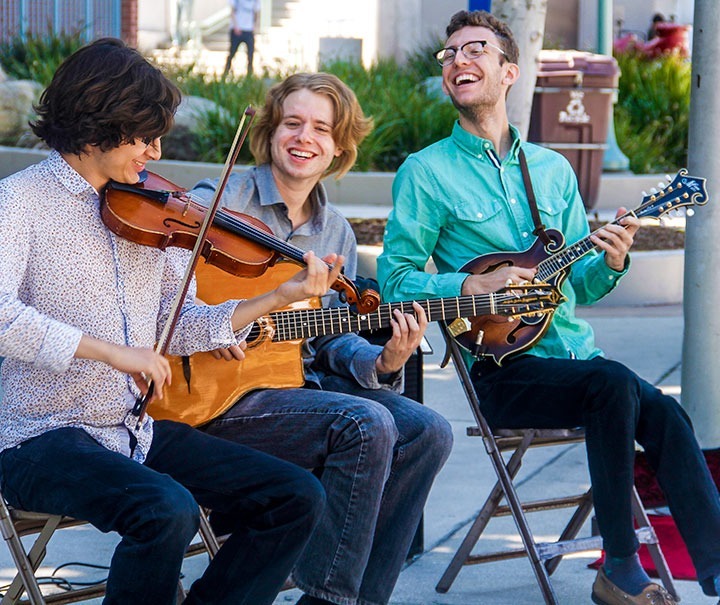 Composed of three music majors—Francesco Canas, Bryan Dedlow, and Alex Heflin— the group calls itself "Strings Attached."
The camaraderie that exists between the musicians suggests they spent years playing gigs together, but the group actually formed at the beginning of the semester.
"One day we just got together with a couple beers and were playing and we were like, 'we should do something," Canas said.
Heflin laughed his way through every set and exchanged banter with his band mates.
"That's just his face, when he plays stuff," Dedlow said. "Like he'll just laugh like 'oops didn't mean to do that' or 'that was cool.'"
The type of jazz they were playing loosely falls in the subgenre of gypsy jazz but is more contemporary than anything.
They explained that real gypsy jazzers wouldn't take them too seriously.
Playing a violin, mandolin and guitar, this group obviously favors strings and brought a taste of New Orleans to PCC.
Many students took a minute out of their day to stop and listen but one person, Kendra Dalton, stayed for almost the entire hour they played.
"I've never seen musicians talk and play, they're really good," she said remarking on the groups trademark multitasking.
"I like classic jazz myself. I saw on the calendar that they were having this concert, so I decided to come I like this style of jazz," Dalton said, who works in the Human Resources department.
As hundreds of students walked by, those who didn't have their earphones in got to listen to actual instruments.
One student passing by inquired if they would be there all day and walked away visibly disappointed when they replied no.
The trio packed up and said they would be playing Lancer Radio on Oct. 29.
The jazz had stopped but the banter continued on.
"Dedlow is a super jazzy name. When you die they're going to bury you extra low," Canas said to his band mate.