The inaugural production in the Little Theatre inside the Center for the Arts will be Stephen Sondheim and George Furth's "Company," a popular musical comedy that explores the nature of relationships.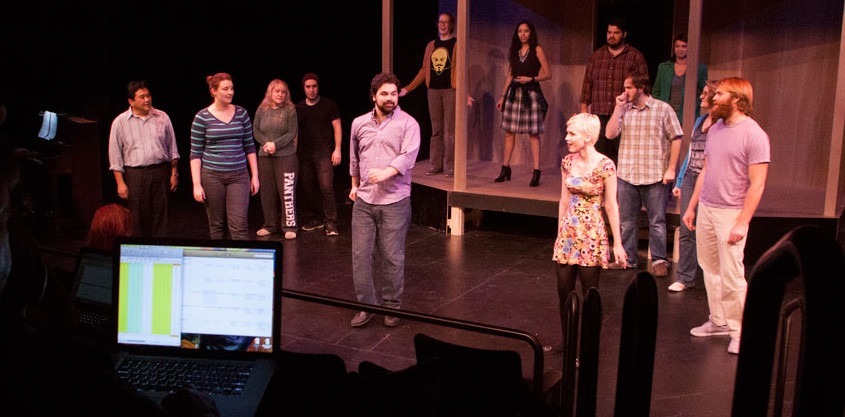 At the center is Bobby, a single man, whose 35th birthday party connects a series of vignettes that feature five couples – his friends – and their relationships.
Whitney Rydbeck, director and theatre arts professor at PCC, is a purist when it comes to adhering to the script, and feels that one particular song sums up what "Company" is all about.
"I think the theme is stated in Sorry-Grateful," said Rydbeck. "You're always sorry. You're always grateful. Which really says what it is. Relationships don't work themselves. Both parties have to work at making them work. And then the benefit and the prize come from that."
The scent of freshly cut wood hovers with the sounds of set construction and crews hustling to complete in time for rehearsal. The approximately 100-seat "thrust" theatre, where the audience surrounds the stage on three sides, is glossy with newness and dozens of virgin Leko light fixtures line up like soldiers above the sparkling new grid secured above the stage.
A solid dozen cast members, prepared to sing and perform dance numbers, assembled around the newly-constructed set designed to hold an orchestra atop. With opening night just a few weeks away, during a back-stage line run between two actors, an actress had a physical mishap, twisting her knee while rehearsing. But in line with the familiar mantra, "the show must go on", she returned – crutches in hand to support a sprain – rejoining the rehearsal.
Given the contemporary nature of the original play written in 1971, there are references to the use of marijuana in one particular scene, which features the characters Bobby, David and Jenny. Rydbeck reiterated his stance that he plans to adhere to the script.
"We are doing it as written," he said. "There's nothing censored in this. There's no reason to censor that. It's a very funny scene."
In his first production at Pasadena City College, velvet-voiced Oscar Gubelman, who hails from Seattle, spoke about his insight into his character, the commitment-phobic Bobby.
"Bobby is me, which is why I was so attracted to this part," he said. "He's a good guy. Everyone likes him. He is slightly selfish, I think, but not in a malicious way. He doesn't know what he wants, which is why I think this play is so relatable."
Actress, Keri Seymour, tall and self-assured, recently returned to PCC to complete her degree after a 10 year stint in New York theatre. She plays Joanne and lovingly describes her character as "a drunkard", "witty" and "Queen of Zingers." Seymour is poised to perform the quintessential Sondheim number – the comically-bittersweet "Ladies Who Lunch."
"It's typecasting!," she laughed. "It's probably the best typecasting. You can ask the cast. [Like Joanne] I come off really brash. I'm loud, I swear more than my mother would like, and well I live up to my Irish-Sicilian roots – I can drink. But the vulnerability and the fear that she has – I can really relate to."
"Company" opens Friday, Feb. 21 in the Little Theatre.
Latest posts by Monique LeBleu
(see all)