Along the sidewalk in the blazing hot sun a Metro bus rolls by and stops at a corner of a busy intersection. As a grimy cloud of dust and hot air clears, a sign appears: "Lost? Find yourself at PCC," it proclaims.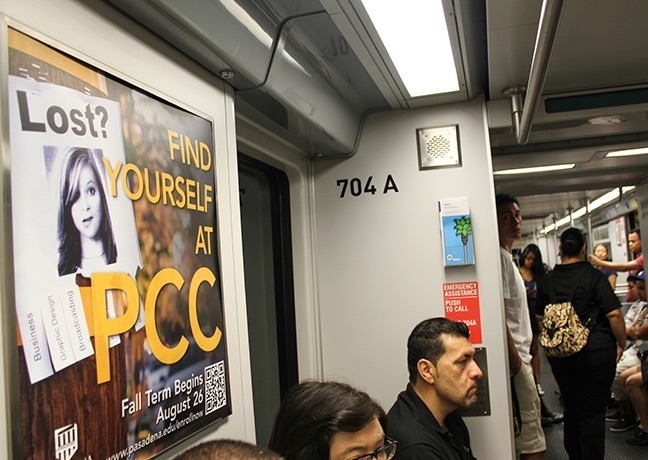 "[The ad] definitely caught my attention," said frequent Metro rider Luke Baffo, 18. "At first I thought it had something to do with a missing child, but after I took a better look at it, it made me think about seeing what the school has to offer."
Baffo, who recently graduated from high school, is taking a semester off school before pursuing his college education and hopes to enroll at PCC in the upcoming spring semester.
"I'm from this area, so PCC is probably where I would have ended up, but it's cool to see their advertisements up all over Los Angeles," Baffo said.
According to Juan Gutierrez, director of public relations, this is the first time since 2007 that PCC has advertised around the city.
"We did the bus ads just to get around districts and the nice side effect of that is that it goes all over Southern California and we pull 65 percent of our students from outside our district," Gutierrez said.
Along with the advertisements on busses, PCC has also used buttons on Facebook and Google AdWords to promote the recent summer and the ongoing fall terms and has advertised on such radio stations as KIIS-FM and Power 106, which are the top two radio stations for 18-to-20 year olds, according to Gutierrez.
"With radio you got the air spots, you got the satellite radio like iHeartRadio, you've got banners on their websites, you got printed in their programs, so you got across the board. They would just smash you in there, which is great," Gutierrez said. "We also did traditional media, like newspapers, to get non-traditional students because unemployment's really high. Non-traditional students are older than 24 and 25 and tend to read the newspaper more, so we hit them as well," he added.
Davina Garcia, a graphic designer who was part of the team that worked on the advertisements, said that they were always brainstorming to come up with ideas that would appeal to potential students.
"For the 'Find Yourself' ads we got ideas from students posting ads on bulletin boards about finding new roommates. Students are always looking at that and we wanted something that resonates with students so our message might come across easier," Garcia said.
According to Gutierrez, in the fall of 2012, PCC had a total of 20,661 students. This fall semester, enrollment is at 23,848, a rise of more than 3,000 students.
"We're close to 100 percent capacity and I don't think we would have been there without being able to market and advertise in the community," Gutierrez said. "We're open for business. We have the classes you need, come and get them."
Latest posts by Aubrey Quezada
(see all)