Nature is often seen as a place of peace and quiet, but artist Pierre Picot perceives nature in a completely different way. Picot paints his own form of nature by taking it to another reality. Instead of painting nature in a traditional representation, he paints nature in an imaginary world with a splash of colors and chaos.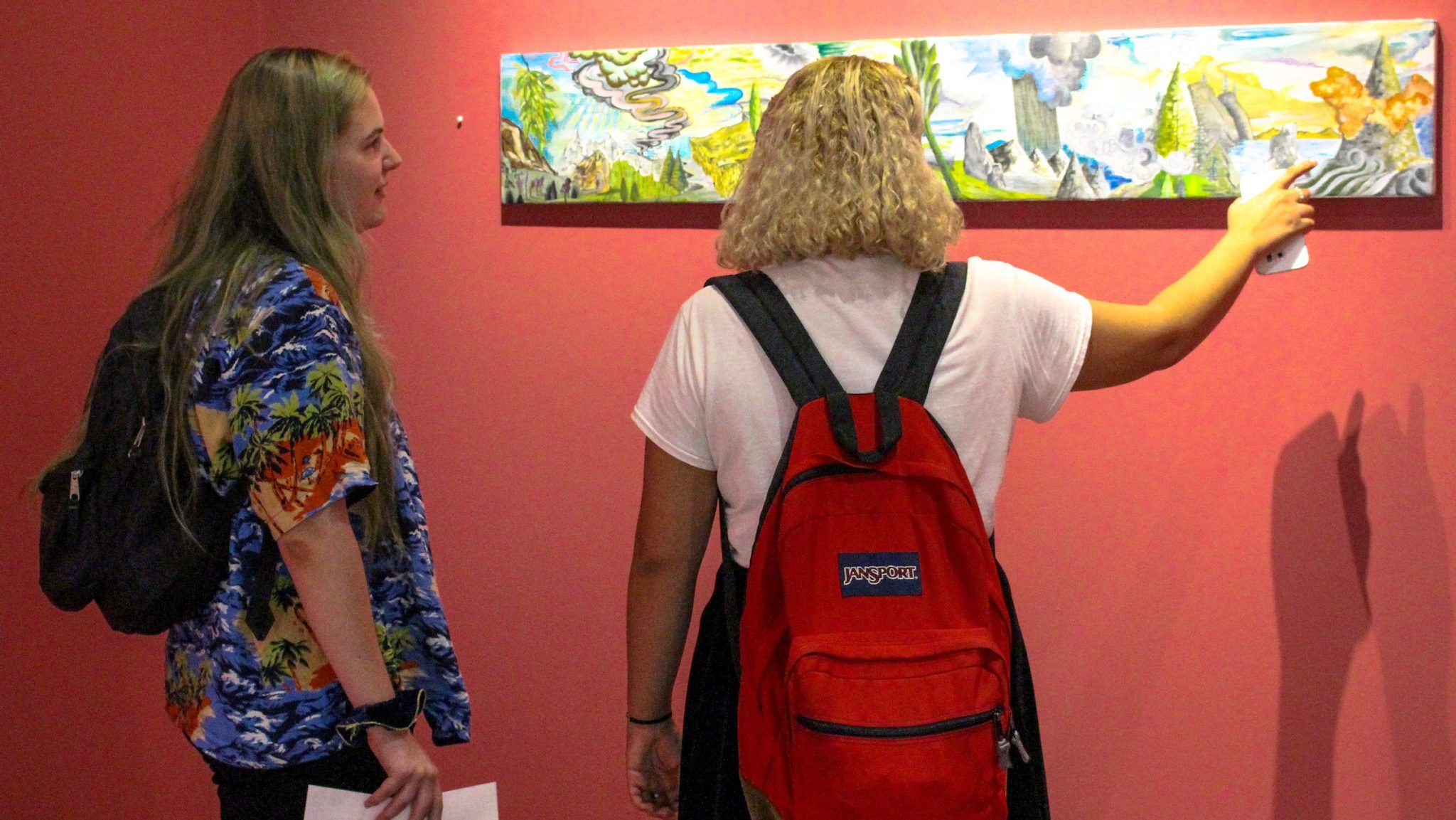 "That landscape is "imaginary," yet even though it contains the features of landscape it is far removed from the actual, lived out physical "reality of witnessing nature in real time," said Picot.
Picot is a French artist who moved to the states at the age of 12 and is now currently residing in France. He was a professor at USC and at the Art Center.
His exhibit "Take Me There" is focused on his love for nature. His inspiration and love for nature all began when he was a teacher in Brittany, France in 2006. He was setting up his studio in a small village when he noticed the forest across the street.
"The forest is called 'The Forest of Love' and I went into that forest and thought, 'This is amazing.' I'm not going to go back to the studio," said Picot.
After his first visit to the forest, he consistently went back and drew there and never worked inside the studio again during his time there.
While chatting with his long time friend – Rick Dubov at the opening reception Friday, October 9th, they reminisced about when they were young in art school.
"I love his paintings, we've known each other for so long and this is the best work he's done so far I think," Dubov said. "I really think so."
Not only does Picot's inspiration come from nature but Asian art as well. In the paintings shown at the exhibit you will see colorful landscape paintings filled with chaos and overwhelming beautiful scenes of nature. As for his love for Asian art you will see that some of his paintings are influenced by the way some of the clouds are painted and have similarity to Asian painting. You will also see in some of his paintings that some aren't on canvas but they are on paper and drawn with ink.
"I love Asian art – I think it's beautiful, and yeah it inspired me," said Picot.
For his exhibit, he did ask for one thing specifically: to have walls painted red.
"The exhibit is wonderful. Pierre requested that the walls be painted red and it beautifully highlights the works. Our gallery manager, Charles Jones, did a fine job of installing and lighting the exhibition," said Mahara T. Sinclair, Gallery Director at PCC.
The reason behind having colored walls behind a painting, he explained, is that it challenges the idea of contemporary art and that art has to be in front of a white wall.
On Monday, Picot gave a lecture at Westerbeck Recital Hall and there he showed paintings he's been working on since the beginning of the year, paintings that were not at the exhibit, and others that were.
Picot talked about his life in France and in the states and how he always carries a notebook or small notepad with him everywhere he goes to jot down any idea or notes on something he can draw or paint.
Picot said he wants people to look at his paintings and think, "Wow!" because that's what real people do and feel when they see something amazing.
The gallery will be open from Oct. 7 – to Nov. 6 in V-108.