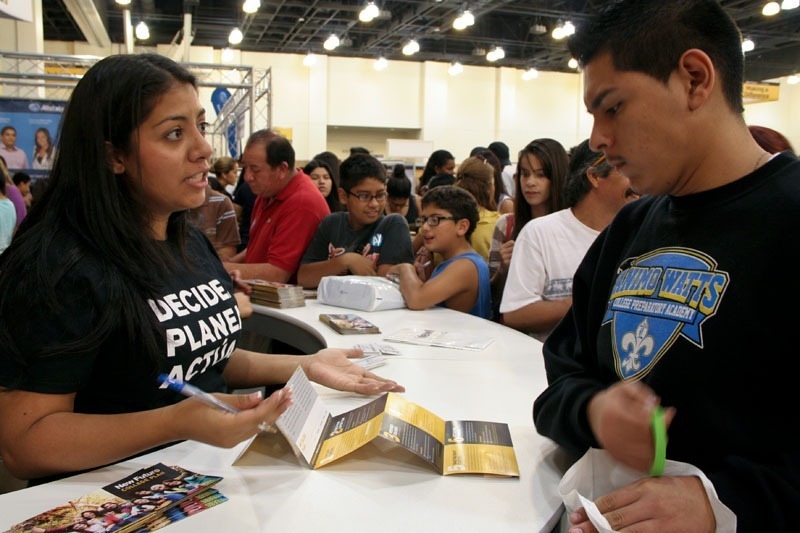 Thousands of students and family members gathered Saturday at the Pasadena Convention Center for one of the largest educational summits put together by New Futuro.
Geared to help Latino students accomplish their dreams through education, New Futuro's summit aimed to bring awareness to the Latino community in gathering knowledge on how to prepare for, attend, and pay for college.
"The summit is geared to Latinos but it is open to anyone who wants to know more about furthering their education," said Brand Ambassador of New Futuro, Karen Aguirre.
The summit included speakers, workshops, college representatives, and health services for everyone in attendance.
"We have to connect to Latino families to take the mystery out of education. We want [families] to believe in their dreams, and we can help make [them] possible," said New Futuro CEO and Co-Founder Pete Wilkins.
The conference included two speakers; Gabe Salazar, a youth motivational speaker and finance expert, Mike Periu. Both gave information to parents on how to apply to college and finding funds to attend college. The speakers also interacted with parents by answering questions.
"I am not a college graduate, but I want my children to have an education and [New Futuro] gave me the information I needed," said mother Sonia Young.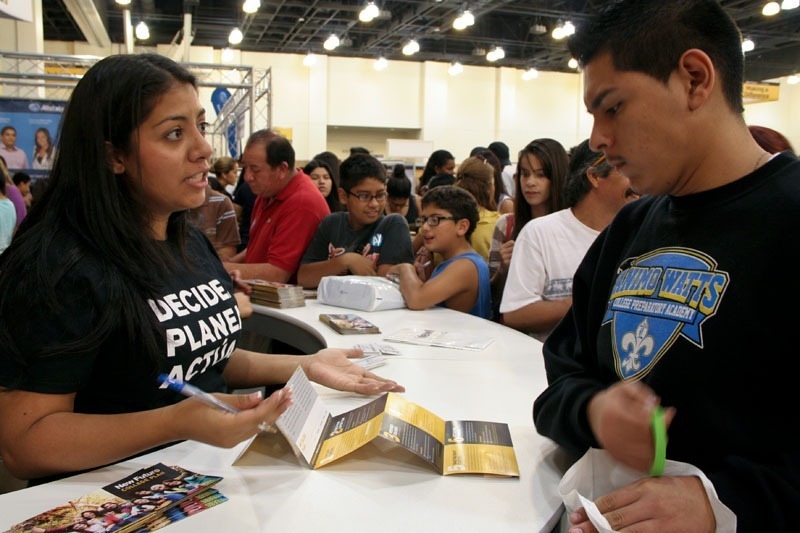 Scholarships were given to students in attendance as well. Allstate, New Futuro's biggest sponsor, presented the biggest scholarship of $4,500. Other scholarships were also given by Burger King, Jostens, and H&R Block.
The summit was bilingual so that Spanish speaking parents were able to also participate.
"It was inspiring. I didn't know there were so many colleges, scholarships, and workshops available. I didn't know all these possibilities existed," said father Mario Gutierrez.
Not only did the summit offer information about colleges but it included information on how to stay healthy, with booths that ranged from health services to student insurance.
"The Latino community is hungry for information, and we're here to give them resources they need," said Director of Public Relations Jose Munoz.
New Futuro began its mission by attending college fairs in order to bring awareness all around the country. The organization began a year ago and has reached great success said Wilkins.
"I was enlightened about New Futuro at a college fair. I had so much information at my disposal," said Jeryl Gutierrez, senior at Palisades High School.
New Futuro is a Chicago based organization that wishes to provide information needed to help students further their education by attending college said Munoz. New Futuro co-founder Wilkins comes from an immigrant background. The other co-founder is Martin R. Castro, who was appointed by President Barack Obama as chairperson of the United States Commission on Civil Rights.
New Futuro will continue its summits as well as college fairs next in Houston, New York, Miami, and finishing in Chicago said Munoz.