The clock hit 10:17 a.m. when the alarms went off in the library and C and D Buildings on Thursday morning. Students and staff scrambled for the exits in the C Building as PCC campus police officers and cadets held the doors open for them, ushering them to safety.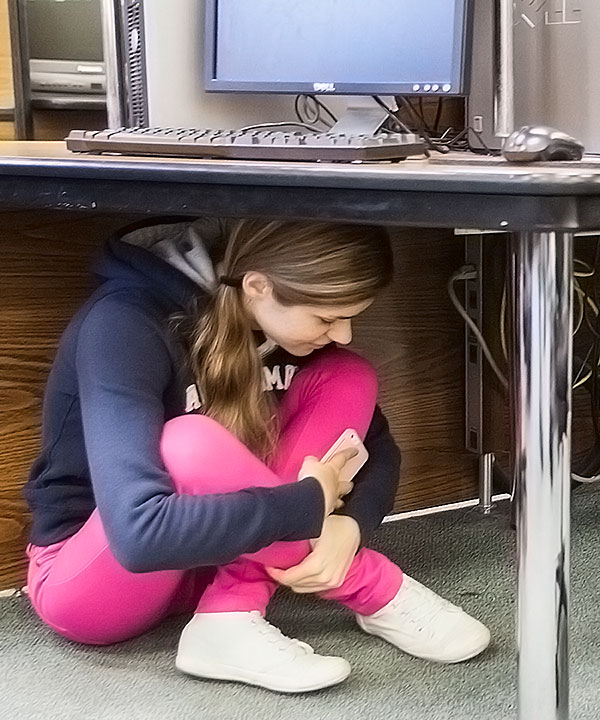 A massive earthquake had just hit Southern California and it took police officers fewer than three minutes and thirty seconds to get everyone out of the C building, according to Chief of Police Don Yoder.
Good thing it was just a drill.
"It went well," Yoder said. "It was good to prepare for something like this, and actually have a drill. Also, it educates these students in case a large earthquake ever happens."
Students, administration and staff in the designated buildings participated in the Great California ShakeOut drill. Although only the C Building was evacuated, by cadets and officers instructed students and staff in the library and D building to drop to the ground, take cover under a table or desk and hold on for 60 seconds, according to Sgt. Bill Abernathie.
The students in the C Building were directed to gather near the Mirror Pools until campus police had searched the entire building to make sure everyone was out and safe.
"The whole purpose of getting involved in the ShakeOut is to get people to think about what they would do if an earthquake were to happen right no," Abernathie said.
The 2013 ShakeOut drill was the largest preparedness event in U.S. history, according to www.ShakeOut.org. Approximately 9.6 million residents in California registered and participated in the drill.
"We just want to have the safest campus possible," Yoder said. "We will be having similar drills at the Community Education Center and the Child Development Center."
The Great California ShakeOut began in 2008 primarily in Southern California but has now been expanded to the entire state as well as more than 20 regions. According www.ShakeOut.org, five million more people participated in the drill in 2013 than in 2012, totaling 24.7 million (18.8 million being in the U.S.)