Former PCC student Eric Lilavois' attachment to the Crown City, and its culture, diversity and potential as an entertainment hub extends into his business as a music producer, studio owner, musician, and songwriter.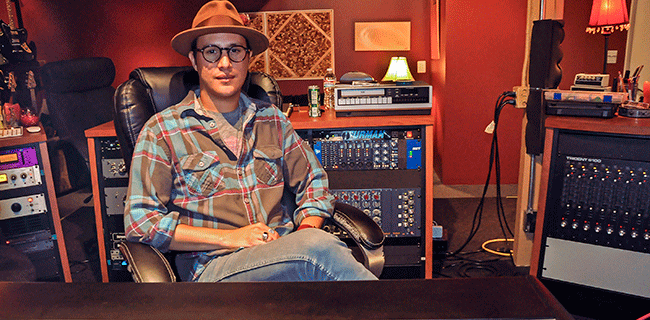 "I went to PCC very briefly," said Lilavois, owner of Crown City Studios in Pasadena. "My education in music has all been in the studio."
But his connection with PCC did not end there.
In 2010, Lilavois' brother, Randy, served as the head coach of the PCC Women's Soccer Team before moving on to Alabama recently.
"Going to see him coach and catch the Women's Soccer Team there was like a whole other reintroduction [to PCC]," Lilavois said.
A self-taught musician, he spent time in the band The Days In Between before he began working with friend's and local bands in studio sessions helping them arrange their music.
"That started leading to more paid gigs," he said of his transition toward music studio engineering.
"There was a friend of mine who wanted to start a studio, so I kind of became a silent partner," said Lilavois. "I didn't necessarily want to be in the studio business, but I wanted to be a producer. And having my own space was kind of integral to that."
In that, he divides his time between his two studios—Crown City Studios in Pasadena, where he produced tracks for bands such as My Chemical Romance, Mad Gear and The Missile Kid and the London Bridge studios in Seattle which he runs with partners Jonathan Plum and Geoff Ott.
He also does television composition for shows on the History Channel, such as "Pawn Stars" and "American Restoration" with writing partner Andrew Dewitt.
With a tight pulse on upcoming bands, Lilavois began working to bring bands such as Surfer Blood and St. Motel to the Make Music Pasadena music festival, the "brainchild" of previous event manager Kershona Mayo and music publicist Josie Mora, in a collaboration with Old Town Pasadena and The Playhouse District.
"This last year I was able to curate the line-up between the main stages," he said of the collaboration that brings the massive community music event to Pasadena annually. "I like that I live in a city that's open to throwing a free festival where 50,000 people show up. That's incredible to me."
His work with the annual music festival brought much praise.
"Eric has been instrumental in producing and releasing phenomenal music from up and coming as well as established artists," said Mayo, of the Mora May Agency. "He has also been instrumental in Make Music Pasadena, booking top-tier talent for the cities largest summer festival."
With his partners Plum and Ott at London Bridge, the start of a new record label, London Tone, began with the project 52/52: Year in Your Ear, which releases a single from a new artist every week, for 52 weeks.
"It's kind of taking from the Motown playbook where the studio is the label," Lilavois said.
One of the currently released singles is his own, "God in Our Glass."
"It's come full circle," he said. "I'm back to a point where, 12 some years later, I am back to my own music and I'm not as worried as to how that informs the projects I produce. I didn't want to be pigeon-holed as a rock producer or because of my own music, because of what I was creating. Taking that break from being an artist helped me develop my producer chops and it helped me realize how much I wanted to be an artist as well."