The three-week controversy over who would be the 2014 commencement speaker finally came to a close Friday night, when Oscar-winning alumnus Dustin Lance Black spoke to 2,469 graduating students.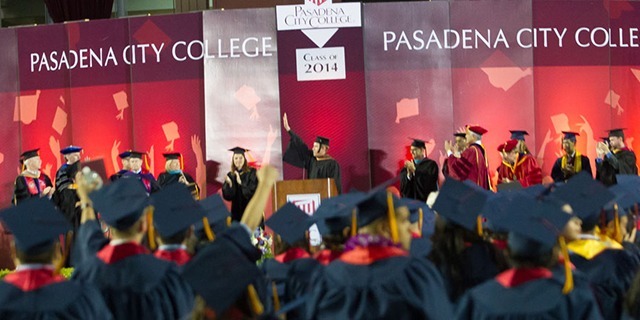 "Whoa! I made it," Black said to the sea of students. "I've been blessed with honors, I've been blessed with invitations to speak at esteemed institutions around the country around the world. But I say, that if you measure the weight of an honor by the amount of work it takes to get there, then this might damn well be the biggest honor of my entire life."
Black had been re-invited by the Board of Trustees after they had rescinded what Black thought was an invitation because board members and administrators feared that sexually explicit photos of Black on the internet would tarnish the school's reputation.
Black didn't waste any time getting a jab in at the administration for the controversy.
"I'm going to take a few minutes," Black said. "A few minutes more than [superintendent/president Mark Rocha] might like, to tell you about myself."
Black didn't disappoint with the rest of his speech. He captured everyone's attention while at the podium with stories of his early upbringing and college life, according to Associated Students president Jordyn Orozco.
"The responses I got were all positive and they were moved by Mr. Blacks speech," Orozco said. "He was here for our students and thats who, I think, he catered his speech to. I know I was moved and empowered by his speech."
Orozco said he thought it was a beautiful speech. He thought that Black voiced a lot of what needs to be said in a time of progress and change.
"Even though some people were uncomfortable with the speech," Orozco said. "It needs to push peoples boundaries to create a change. It really was about taking your own destiny and shaping it to your own and not caring about other peoples opinions because you are the only one that matters."
After the speech, Orozco and student trustee Simon Fraser presented Black with a framed poster of the movie 'Milk' which was signed by PCC students.
Summa cum laude grad Barbara Beaser spoke after Black and gave a speech that complimented Black's.
In Black's speech, he talked a lot about how being different made someone who they are, and he said as much in his closing line.
"Congratulations to the class of 2014… Let your freaky, beautiful differences shine!" Black said, as the students erupted in cheers.