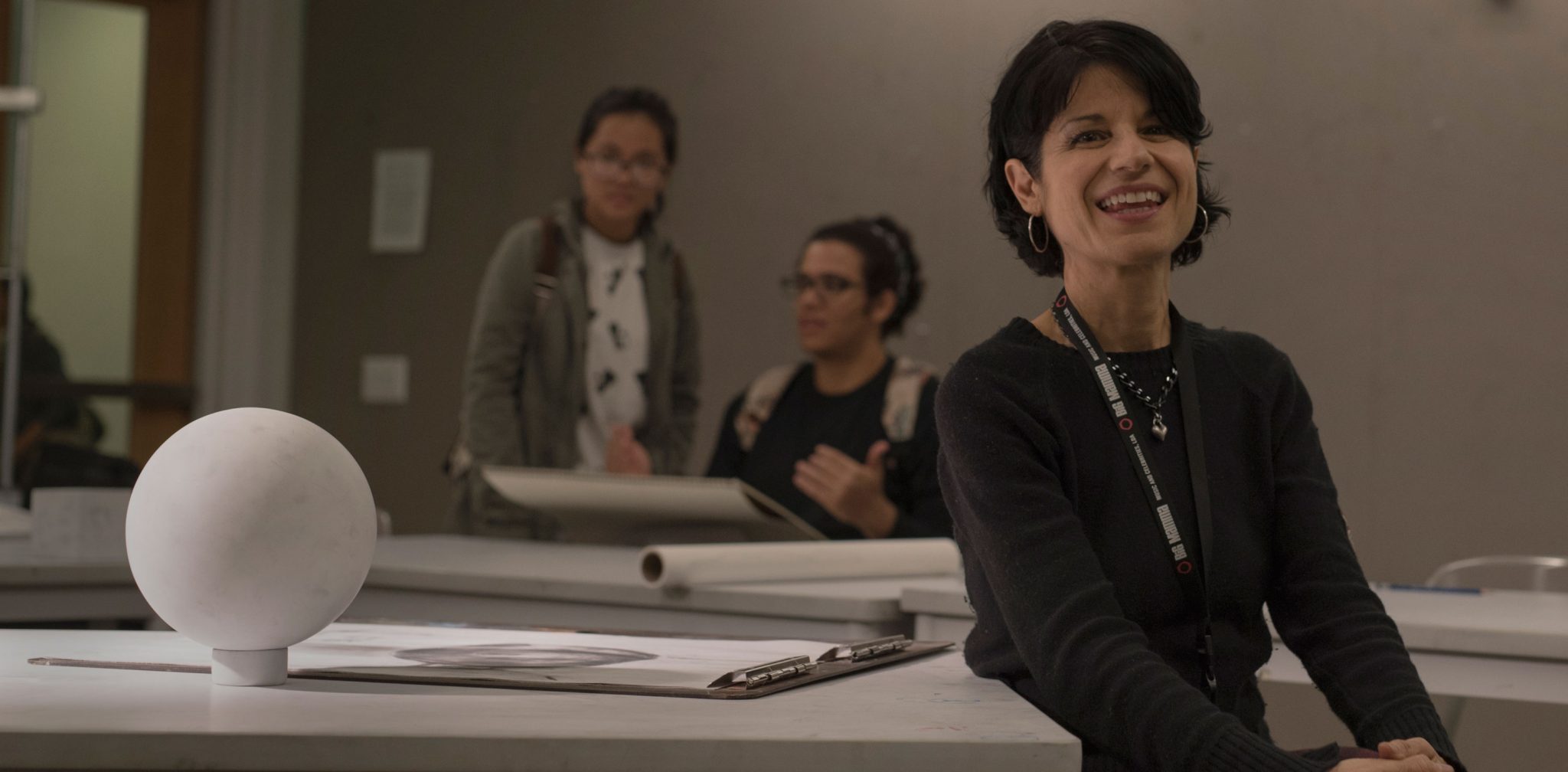 When asked why she pursued art, Claudia Carballada, a former student and current art professor at PCC, responded, "I just followed my heart."
In between jobs at the time, Carballada described herself as "unhirable" due to injuries to her hand and neck. She previously worked in the art departments of ad agencies and design firms. Although Carballada could not hold a pencil at the time, she chose to take art classes at PCC.
Growing up, Carballada loved to finger paint. That branched into sketching the kids she babysat and designing menus in her free time.
Heading into PCC Carballada never expected to take more than a couple classes. However she kept showing up and eventually the art professors got to know her.
"One of the teachers in the studio class was like, 'What are you doing here.' And after a while they were like, 'Let me see your work,'" Carballada said. "After a while I just kept coming back into class and they became…mentors."
Carballada had a bachelor's in science with a minor in art at the time, and her professors suggested she to apply to graduate school. She would go on and finish her Masters in Fine Arts at Claremont Graduate University in 2011.
"Everything's a stepping stone. It's a path. For me it was. Coming to school here, going back to school," Carballada said. "After coming here, I did want to go back to school. I met wonderful people here and I had fun. It really set the stage for graduate school"
Although Carballada previously worked in fields that included her art, here at PCC she rekindled her passion and breathed her art.
"Well, I find it (art) in everything. I find it cooking and preparing food. I find it in walking out to my car and driving, Carballada said. "I think I'd say that art to me is kind of a mystery. It's mystical. It's trying to translate those things that are non-tangible that you really have no words for."
"And I think that's probably what influences me the most in my art practice. Those ideas of something being mystical and mysterious," she continued. "How you capture the essence of something you can't."
Recently, Carballada has returned to school once again. This time not as a student, but a professor.
Carballada teaches classes as an adjunct art instructor in the new art building across from the student store.
"Teaching was something I didn't think I'd do… There was more than, 'I really like this.' Having a conversation with students about art and how they felt about things and what part of them went in the art," Carballada said. "They created an expansiveness in the student. It was really profound to me and I was there to guide it and I think that's what changed my mind about teaching. And here I am, and I'm very happy here."
Many of Carballada's students reciprocated her enthusiasm.
"She's definitely made it (art) fun. I can talk about art different ways besides 'blah blah blah.'" said Sage Chavez. Just the ways things look on a piece a paper can look more 3D because of texture and feel."
Cruz Flores, who previously did not enjoy art classes, said she enjoys Carballada's class.
"She's given me a different perspective," she said. "I liked art, but I never liked art class. I didn't like learning it, but she's taught me that a line isn't literally just a line and neither is a dot."
When kicked down by life, many stay on the floor, afraid to fall again. However, Carballada picked herself up.
"Life is a challenge. My art practice continually challenges me," Carballada said. "Everything is dualistic in life, there's a challenge and the rewards you reap when you emerge are so bountiful. And that's what I experienced here."
StudentAdjunct